Conical doube twin screw barrel

Techinical Parameter
Materials of injection screw and barrel
Base Materials

1)38CrMoAlA(JIS SACM645) 2)Cr12MOV(JIS SKD-11)
3)4Cr5MoSiV1(JIS SKD-61)4)42CrMo(AISI 4140)

Bimetallic

1)Fe-based alloy 2)Ni-based alloy
3)Co-based alloy 4)NiCo-based alloy
5)Tungsten carbide/Wolfram carbide

Tungsten Carbide

Level A - containing Tungsten of 40%

Level B - containing tungsten of 25%

Level C - containing tungsten of9.5%
Plastic material application
Plstic material application

1)General Plastics

2)ABS,PA,PC,PE,PET,PP,PS,EVA,PU,PVC,U-PVC,etc

3)PA + GF(Glass Fiber)

4)Flame-resistant Reinforced Plastics

5)Modified Engineering Plastics

6)All kinds of Mixed Recycled Material(in Scrap orGranule),etc
Surface Treatment

Heat Treatment

High Frequency Treatment

Nitriding treatment(150 Hours)

Depth of Nitrided Layer: 0.5-0.8 mm

Hardness of Nitrided Layer: HV1020-1070

Hard Chrome Plating treatment

Thickness of Hard Chrome Plating Layer: 0.05-0.10mm

Hardness of Hard Chrome Plating Layer: ≥950HV

Bimetallic treatment

Bimetallic Barrel/Cylinder: Centrifugal Casting (InlayAlloy)

Bimetallic Screw: Plasma Alloy Coating Spraying

Depth of Bimetallic Layer: >2mm

Hardness of Bimetallic Layer:HRC55°-72°
| | |
| --- | --- |
| Roughness of the surface | Ra0.4um |
| Linearity of the screw | ≤0.015mm |
| Linear axis limit | ≤0.02mm |
| Hardness after Hardening & Tempering | HB240-280 |
| Fragility of Nitration | ≤Two class |
| | |
| --- | --- |
| Roughness of the surface | Ra0.4um |
| Linearity of the screw | ≤0.015mm |
| Linear axis limit | ≤0.02mm |
| Hardness after Hardening & Tempering | HB240-280 |
| Fragility of Nitration | ≤Two class |
PRODUCTS SHOW

About conical twin screws barrel, we HUACHEN have three classes:
Nitrided screws & Nitrided barrel

Exrusion section bimetallic + total niriding screws & Extrusion section bimetallic + total nitriding barrel

Total section bimetallic + nitriding screws & Extrusion section SKD inner case + total nitrided barrel
And about bimetallic, we HUACHEN also have 4 classes:
HC-A grade: Tungsten carbide 40%

HC-B grade: Tungsten carbide 25%

HC-C grade: Tungsten carbide 15%

HC-D grade: Bimetallic without tungsten carbide
Bimetallic screws show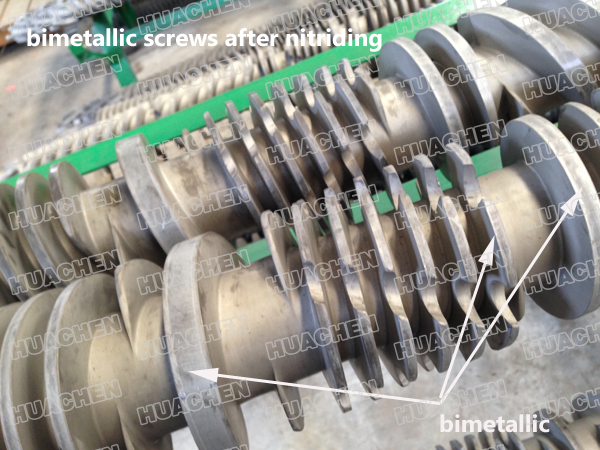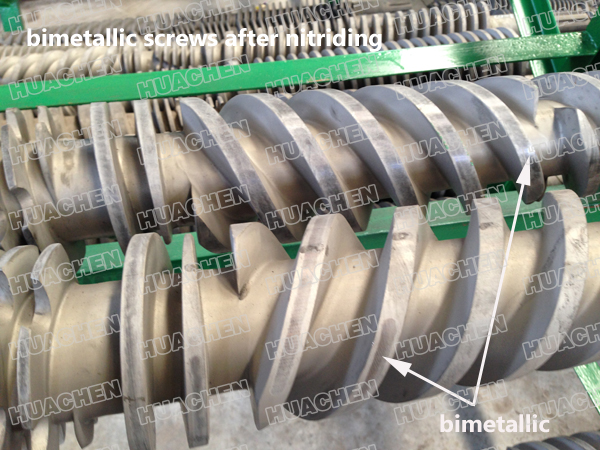 Bimetallic & SKD inner case barrel show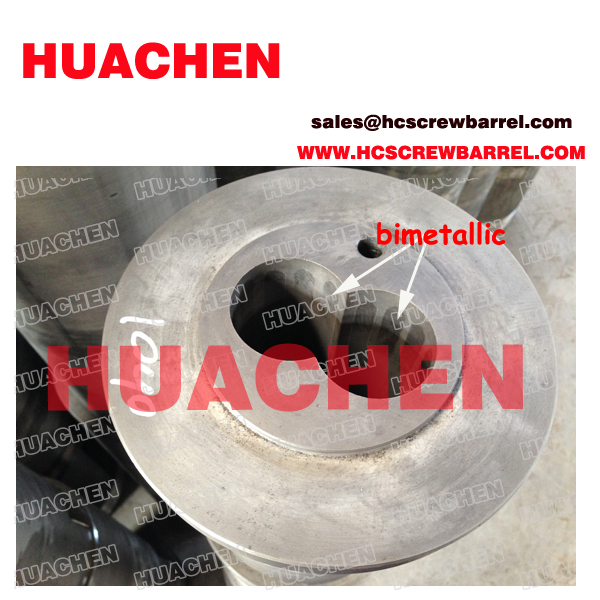 About HUACHEN
Processing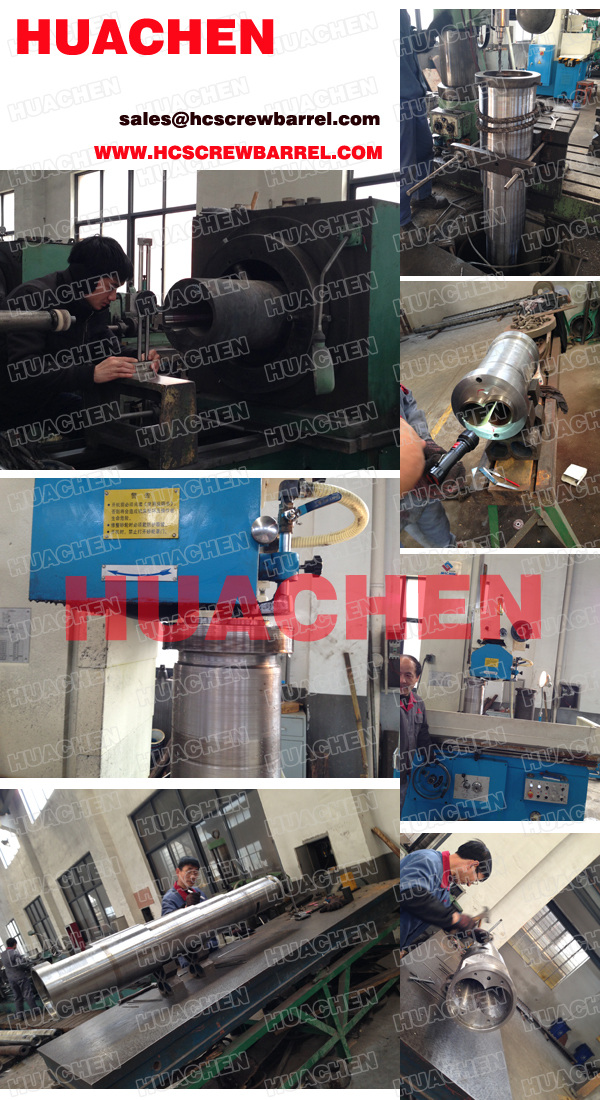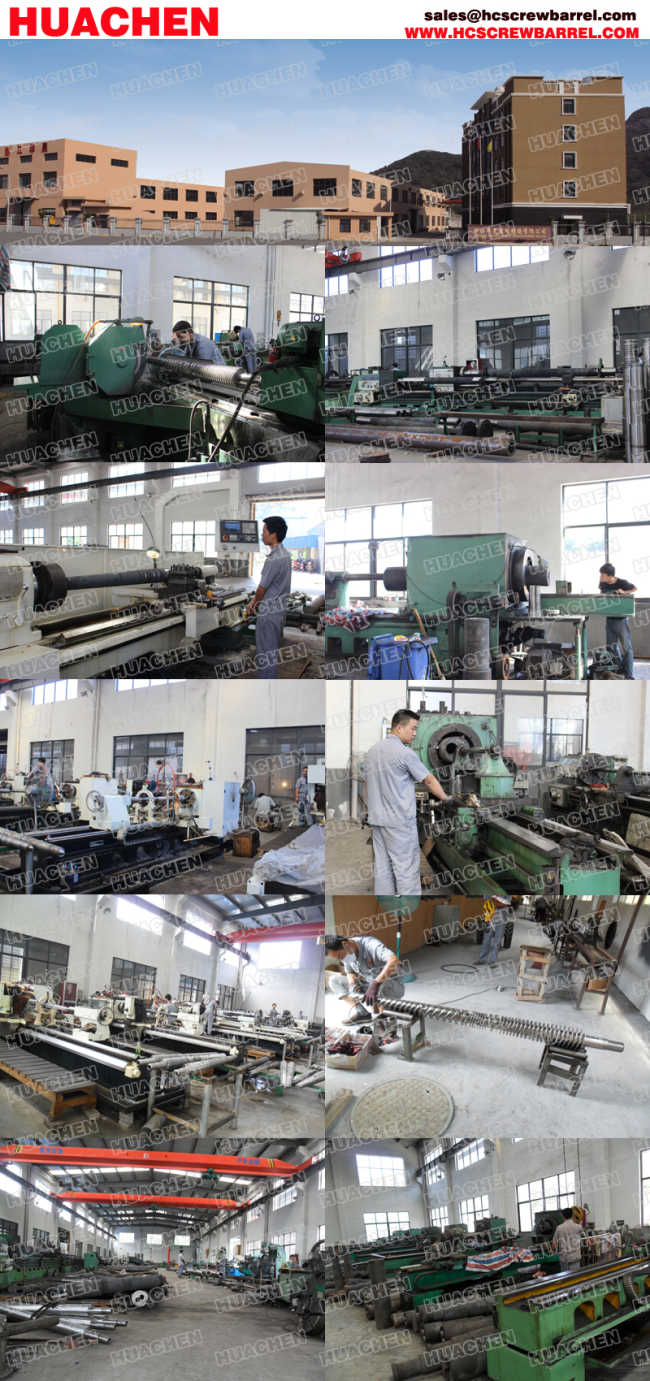 What are our SCREW and BARREL advantages:
First: Creative in designs, our designing team is very strong, since we have unique culture to motivate them, in order to meet requirement, we work closely to our customer and market!
Second: We have 20 years' experience of manufacturing varied screws, barrels and spares. We are keeping improving our production system day by day on the delivery, quality control, all the efforts have improved the customers' satisfaction!
Third: We are located along the beautiful East China Sea, Pearl,Zhoushan,Zhejiang,China's screw Town-Jintang, close to Ningbo Port and Shanghai Port!
Finally, We assure the customer benefits, we supply best quality and competitive price, also best customer service!
Exhibition show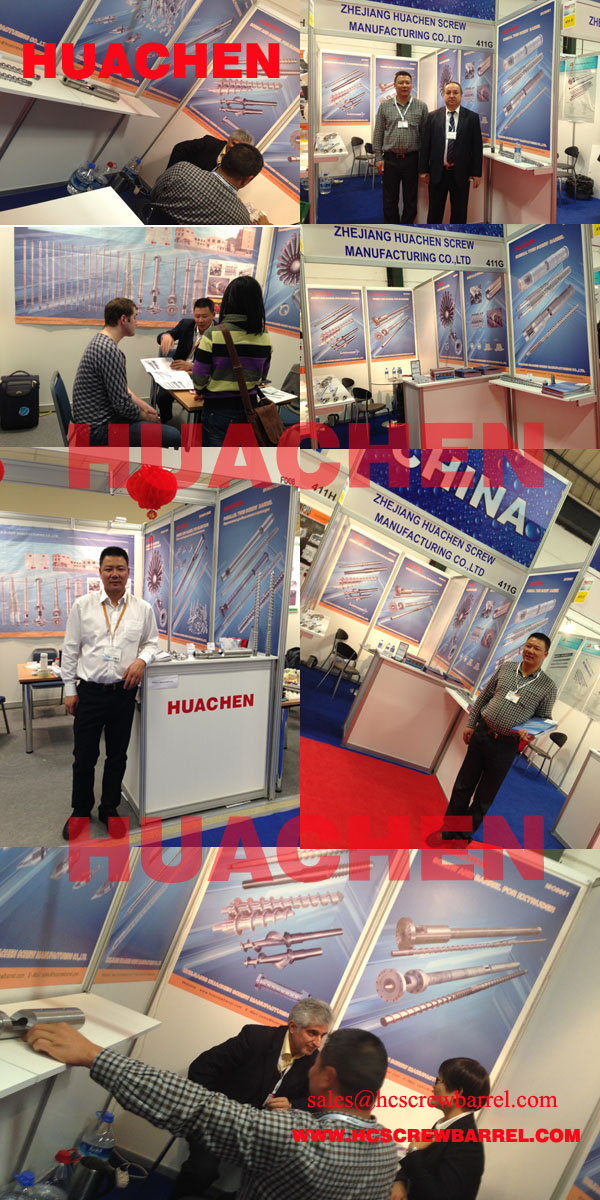 ISO Certificate: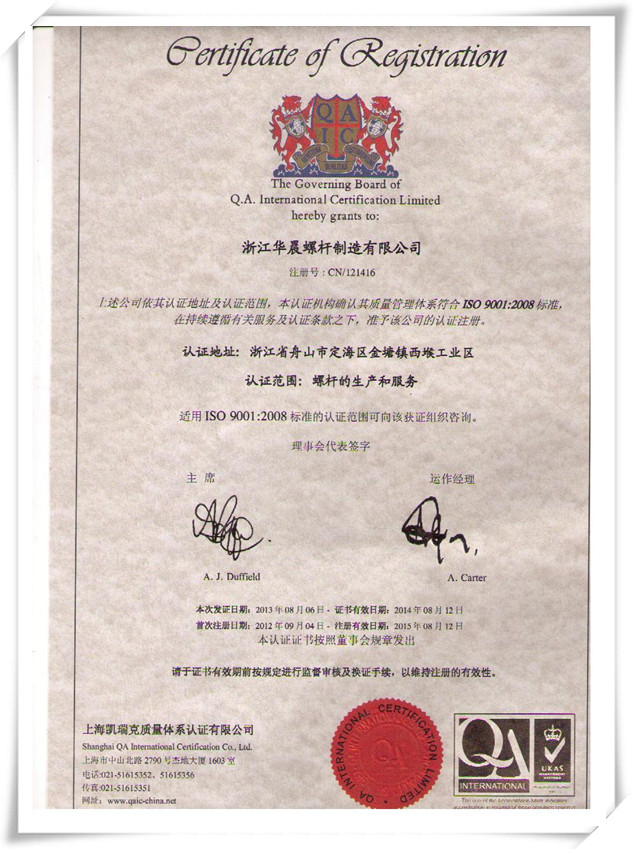 We want to approach the plasticizing business as a partner, not only as a supplier.
HUACHEN designs and produces all components for polymers transformation, like screws, barrels and all mechanical accessories.
Your targets, your applications, your materials are our working parameters for wastes reducing and quality improvement.
HUACHEN produces high quality products by optimizing the plasticizing process, reducing time, with the lowest percentage of wastes and at the lowest possible cost!
Our long experience in designing and producing all components of plasticizing groups, together with our knowledge of the melting process,allows us to understand your needs and to offer our best solutions at avery reasonable price!

Please contact us,if you have any questions. Mail,phone,skype all are OK.
My skype:lillianyao0421
Wechat:0086-18768075565
WhatsApp:0086-18768075565