1.Product Introduction:
To help customers reduce the cost of petroleum pumping and energy consumption, improve equipment efficiency, reduce staff on-site work, hiconics specially designed the integrated drive to , provide users with Frequency + Electrical control overall solution.
2.Advantage
a. It can be convenient to realize remote centralized monitoring, and convenient to test system operation condition.
b. It can realize multi control modes: panel control, external terminal control, serial communication control.
c. In order to make sure the motor's stable operation, it has these protection functions; over voltage, over current, under voltage, over load and short circuit etc..
d. Support multi bus solution at the site.
e.It can realize the remote intelligent monitoring of the pump, enhance security of the oil recovery system and efficiency of the system, achieving energy saving and efficiency improvement. And it can make continuous and reliable running in the wild. The protection level can reach IP54.
3.High quality parts
a)Elements Brand
| | | | | | |
| --- | --- | --- | --- | --- | --- |
| NO. | Name | Low Power | Origin Place | High Power | Origin Place |
| 1 | IGBT | Infineon | Germany | Infineon | Germany |
| 2 | Rectifier Bridge | SL(Siling) | China | SL(Siling)/Infineon | China/Germany |
| 3 | Electrolytic Capacitor | Jianghai/Kingbox | China/Japan | Jianghai/Kingbox | China/Japan |
| 4 | Hall Sensor | Zhong Xu | China | LEM | Switzerland |
| 5 | ICEL | CDE | America | CDE | America |
| 6 | DC Contactor | Tianshui | China | Tianshui | China |
| 7 | Fan | ADDA | Taiwan | ADDA | Taiwan |
| 8 | DSP | TI | America | TI | America |
b) Spare Parts
| | | | | | |
| --- | --- | --- | --- | --- | --- |
| NO. | Spare Parts | Specification | Quantity | Price | Manufacture |
| 1 | Electrolytic Capacitor | matching with VFD | matching with VFD | | SL(Siling) |
| 2 | IGBT | matching with VFD | matching with VFD | | Infineon |
| 3 | Rectifier Bridge | matching with VFD | matching with VFD | | SL(Siling) |
| 4 | Cooling Fan | matching with VFD | matching with VFD | | ADDA |
| 5 | DC Contactor | matching with VFD | matching with VFD | | Tianshui |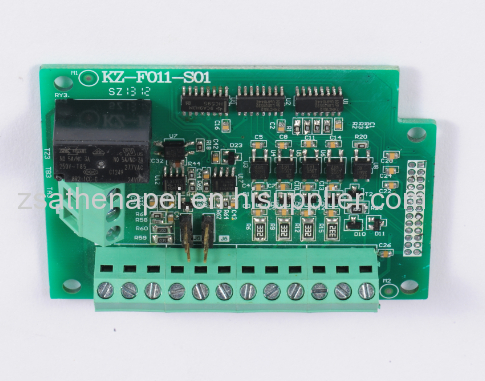 4.Product Model
| | |
| --- | --- |
| Input rated voltage/ frequency | 3P AC380-480V; 50Hz/60Hz |
| Allowed voltage range | 3P AC323 ~ 528V |
| Rated capacity | 11 – 75kW |
| Output frequency range | 0Hz - 300Hz |
| Output frequency resolution | 0.01Hz |
| Overload capacity | 150% for 1 minute, 180% for 10 seconds, 0.5 seconds 200% |
| Acceleration and deceleration time | 0.1 - 36000s |
| Cooling method | Air-cooled |
| Enclosure protection Grade | IP54 |
| Operation mode | local, remote, automatic |
| Ambient temperature | -25 ℃ + 55 ℃ |
| Relative humidity | 20% -90% RH non-condensing |
| Altitude | 0-2000 m, 1000 m above derating for each 100 m, rated output current is reduced by 1% |
| Weight | 170kg or so |
5. Our factory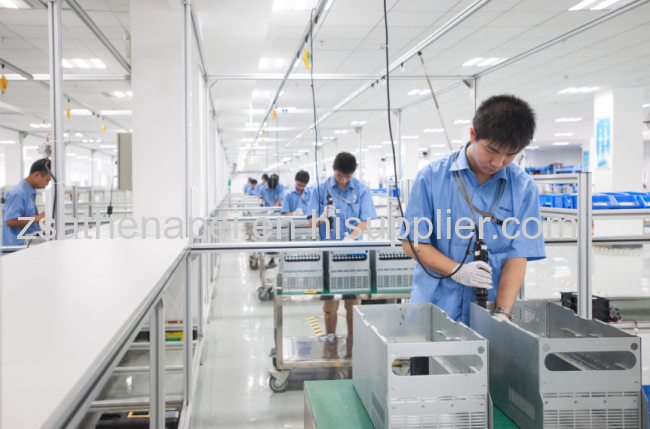 6. Application fields