1. Product name: silicone hose High Temp Reinforced 1 Foot Long Silicone Coupler Tube Hoset)

The silicone hose has advantages such as ageing resistant performance, high temperature resistant perfomance and high vibration resistant performance etc.
the suitable operation temperature ranges from -50℃ to220℃.
the working pressure ranges from 0.3Mpa to 0.9 Mpa,and the burst pressure is 2.0 Mpa.
The products are widely used in mechanical industry, automobile industry and aviation industry.

SLAENT hose is a silicone rubber construction with smooth surface,
It's thickness ranges from 2mm to 10mm.
The hose with one to ten mesh polyster, Nomex layers or glass fabric enable high temperature and pressure than the original rubber hose do.
It is excellent resistance to UV, water, ozone and oxygen
2.silicone hose High Temp Reinforced Silicone Coupler Tube Hose 1 Foot Long Black / Blue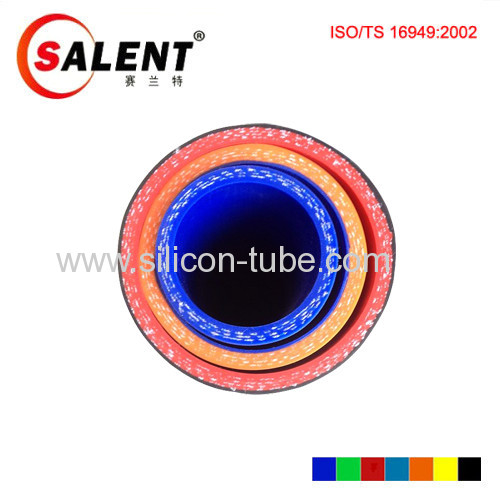 3. SALENT High temperature 4-Ply Reinforced 2" (51mm),2 1/2" (63mm), 3" (76mm) Straight Silicone Hose Coupler Red / Black / Blue ( 1m Length)
| | | | | | | | |
| --- | --- | --- | --- | --- | --- | --- | --- |
| Item No. | Inside Diameter | Length | Length | Length | Reinforced Layer | Thickness | Color |
| SHL6.5 | 1/4" (6.5mm) | 1 Foot | 3 Feet | 1m | 4-ply | 5mm | Black , Blue , Red |
| SHL8 | 5/16" (8mm) | 1 Foot | 3 Feet | 1m | 4-ply | 5mm | Black , Blue , Red |
| SHL9.5 | 3/8" (9.5mm) | 1 Foot | 3 Feet | 1m | 4-ply | 5mm | Black , Blue , Red |
| SHL11 | 7/16" (11mm) | 1 Foot | 3 Feet | 1m | 4-ply | 5mm | Black , Blue , Red |
| SHL13 | 1/2" (13mm) | 1 Foot | 3 Feet | 1m | 4-ply | 5mm | Black , Blue , Red |
| SHL16 | 5/8" (16mm) | 1 Foot | 3 Feet | 1m | 4-ply | 5mm | Black , Blue , Red |
| SHL19 | 3/4" (19mm) | 1 Foot | 3 Feet | 1m | 4-ply | 5mm | Black , Blue , Red |
| SHL22 | 7/8" (22mm) | 1 Foot | 3 Feet | 1m | 4-ply | 5mm | Black , Blue , Red |
| SHL25 | 1" (25mm) | 1 Foot | 3 Feet | 1m | 4-ply | 5mm | Black , Blue , Red |
| SHL28 | 1 1/8" (28mm) | 1 Foot | 3 Feet | 1m | 4-ply | 5mm | Black , Blue , Red |
| SHL30 | 1 3/16" (30mm) | 1 Foot | 3 Feet | 1m | 4-ply | 5mm | Black , Blue , Red |
| SHL32 | 1 1/4" (32mm) | 1 Foot | 3 Feet | 1m | 4-ply | 5mm | Black , Blue , Red |
| SHL35 | 1 3/8" (35mm) | 1 Foot | 3 Feet | 1m | 4-ply | 5mm | Black , Blue , Red |
| SHL38 | 1 1/2" (38mm) | 1 Foot | 3 Feet | 1m | 4-ply | 5mm | Black , Blue , Red |
| SHL41 | 1 5/8" (41mm) | 1 Foot | 3 Feet | 1m | 4-ply | 5mm | Black , Blue , Red |
| SHL45 | 1 3/4" (45mm) | 1 Foot | 3 Feet | 1m | 4-ply | 5mm | Black , Blue , Red |
| SHL48 | 1 7/8" (48mm) | 1 Foot | 3 Feet | 1m | 4-ply | 5mm | Black , Blue , Red |
| SHL51 | 2" (51mm) | 1 Foot | 3 Feet | 1m | 4-ply | 5mm | Black , Blue , Red |
| SHL54 | 2 1/8" (54mm) | 1 Foot | 3 Feet | 1m | 4-ply | 5mm | Black , Blue , Red |
| SHL57 | 2 1/4" (57mm) | 1 Foot | 3 Feet | 1m | 4-ply | 5mm | Black , Blue , Red |
| SHL60 | 2 3/8" (60mm) | 1 Foot | 3 Feet | 1m | 4-ply | 5mm | Black , Blue , Red |
| SHL63 | 2 1/2" (63mm) | 1 Foot | 3 Feet | 1m | 4-ply | 5mm | Black , Blue , Red |
| SHL65 | 2 9/16" (65mm) | 1 Foot | 3 Feet | 1m | 4-ply | 5mm | Black , Blue , Red |
| SHL68 | 2 11/16" (68mm) | 1 Foot | 3 Feet | 1m | 4-ply | 5mm | Black , Blue , Red |
| SHL70 | 2 3/4" (70mm) | 1 Foot | 3 Feet | 1m | 4-ply | 5mm | Black , Blue , Red |
| SHL76 | 3" (76mm) | 1 Foot | 3 Feet | 1m | 4-ply | 5mm | Black , Blue , Red |
| SHL80 | 3 1/8" (80mm) | 1 Foot | 3 Feet | 1m | 4-ply | 5mm | Black , Blue , Red |
| SHL83 | 3 1/4" (83mm) | 1 Foot | 3 Feet | 1m | 4-ply | 5mm | Black , Blue , Red |
| SHL89 | 3 1/2" (89mm) | 1 Foot | 3 Feet | 1m | 4-ply | 5mm | Black , Blue , Red |
| SHL95 | 3 3/4" (95mm) | 1 Foot | 3 Feet | 1m | 4-ply | 5mm | Black , Blue , Red |
| SHL102 | 4" (102mm) | 1 Foot | 3 Feet | 1m | 4-ply | 5mm | Black , Blue , Red |
| SHL105 | 4 1/8" (105mm) | 1 Foot | 3 Feet | 1m | 4-ply | 5mm | Black , Blue , Red |
| SHL108 | 4 1/4" (108mm) | 1 Foot | 3 Feet | 1m | 4-ply | 5mm | Black , Blue , Red |
| SHL110 | 4 5/16" (110mm) | 1 Foot | 3 Feet | 1m | 4-ply | 5mm | Black , Blue , Red |
| SHL114 | 4 1/2" (114mm) | 1 Foot | 3 Feet | 1m | 4-ply | 5mm | Black , Blue , Red |
| SHL127 | 5" (127mm) | 1 Foot | 3 Feet | 1m | 4-ply | 5mm | Black , Blue , Red |
| SHL140 | 5 1/2" (140mm) | 1 Foot | 3 Feet | 1m | 4-ply | 5mm | Black , Blue , Red |
| SHL152 | 6" (152mm) | 1 Foot | 3 Feet | 1m | 4-ply | 5mm | Black , Blue , Red |
| SHL165 | 6 1/2" (165mm) | 1 Foot | 3 Feet | 1m | 4-ply | 5mm | Black , Blue , Red |
| SHL178 | 7" (178mm) | 1 Foot | 3 Feet | 1m | 4-ply | 5mm | Black , Blue , Red |
| SHL190 | 7 1/2" (190mm) | 1 Foot | 3 Feet | 1m | 4-ply | 5mm | Black , Blue , Red |
| SHL200 | 8" (200mm) | 1 Foot | 3 Feet | 1m | 4-ply | 5mm | Black , Blue , Red |
| SHL254 | 10" (254mm) | 1 Foot | 3 Feet | 1m | 4-ply | 5mm | Black , Blue , Red |