PP compression valve with pressure 1.6MPa
***Product Features:
PVC ball valve is mainly used for cut off or connected line of medium , can also be used for the regulation and control of the fluid, it is compared with other valves, has the following advantages. 1, the fluid resistance is small, the smallest one of all ball valves in fluid resistance , even reduced diameter valve , the fluid resistance is quite small. And UPVC ball valve is based on the needs of a variety of corrosive fluid conduit and the development of a new material ball valve products. Advantages : light body weight , corrosion resistance , compact structure and beautiful appearance , light weight, easy to install body , corrosion resistance , a wide range of applications , health , non-toxic materials , wear-resistant, easy to disassemble , easy to maintain .
Apart from PVC plastic ball plastic material , and RPP, PVDF, PPH, CPVC and the like. PVC ball valve excellent corrosion resistance . Seal with F4. Excellent corrosion resistance and prolong life. Rotating flexible, easy to use. PVC ball valve ball valve leaks as a whole less , high strength , easy connection ball valve assembly and disassembly . Ball valve installation : When both ends of the flange and pipe connections , to tighten the bolts evenly to prevent deformation caused by leaking flange . Rotate the handle clockwise to off to on and vice versa . Only be used for drying , flow , flow regulator should not have . Hard particles containing liquid tends to scratch the surface of the ball .
***Specification of Material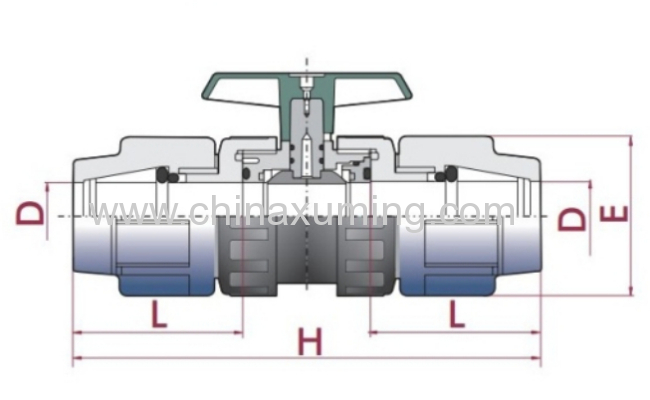 | | | | |
| --- | --- | --- | --- |
| NO. | PART | MATERIAL | QUANTITY |
| 1 | Body | PVC | 1 |
| 2 | Connector | NBR | 2 |
| 3 | Spring | NONE | 0 |
| 4 | Gate | PP | 2 |
| 5 | Seal | EPDM,FPM(NBR) | 2 |
| 6 | Body | PP | 1 |
***Dimensions
NO
Size

15mm
20mm
25mm
32mm
40mm
50mm
NPT
14
14
11.5
11.5
11.5
11.5
BSPT
14
14
11
11
11
11
JIS(d1)
22
26
32
38
48
60
BS(d1)
22
26
34
42
48
60
ANSI(d1)
21.34
26.67
33.4
42.16
48.26
60.33
DIN(d1)
20
25
32
40
50
63
D
31
35.5
41
50
63
75
D1

43.7
43.7
55.1
79
92
105
I
31.0
32.5
35
47
41
205
L
137
141
148
195
205
226
***Packing Deta:
Size (mm)
PCS/CTN
Measure (cm)
15mm

64
43

33
25
20mm
56
47

38
28
25mm
36
47

32
32
32mm
30
45

38
35
40mm
16
43

29
38
50mm
8
50

33
23.5
***Factory and products range: