Prepara Chef's Bottle Kit as seen on tv
The people at Prepara certainly did! This innovative company was borne from a Thanksgiving family dinner, when loved ones preparing a feast, (which consisted of peeling clove after clove of garlic) decided they could do much better than the archaic garlic press that was a mainstay of theirs and many other kitchens.

A family of engineers, product designers, MBA graduates and keen cooks, they first set about creating a new, improved garlic press. The rest is history, and Prepara now creates a range of ingenious and most importantly, practical kitchenware products which make food preparation easier, and more fun.

Beautifully designed from quality materials, you will love adding a Prepara touch to your kitchen!

Chef's Bottle Kit features:
Designed in the USA.
Made from heat-resistant silicone and BPA-free plastic.
These chef's bottles are perfect for decorating, adding dressings or sauces, basting, and you can even use them as a pastry brush.
Each bottle features measurements on the sides.
Includes three nozzles - a fine tip, thick tip and brush tip.
Also includes two air-tight caps for easy storage.
Wide mouth bottles are easy to fill.
Microwave safe.
Dishwasher safe.
Prepara Chef's Bottle Kit as seen on tv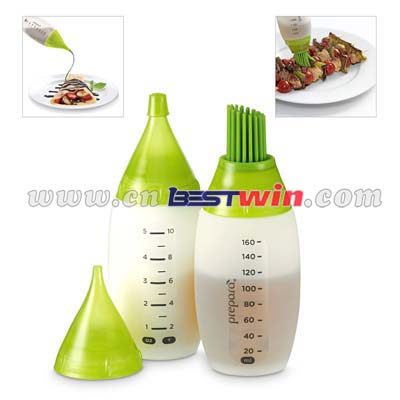 Prepara Chef's Bottle Kit as seen on tv