So Cute Blue Color Printed Arts Egg Shell Sticker Label,7x7 cm Size Eggshell Stickers Customized
Manufacturer directly supply blank eggshell stickers,also can custom egg shell sticker with your design,just contact us withEmail:helen(at)szminrui.com or Skype:helen.he86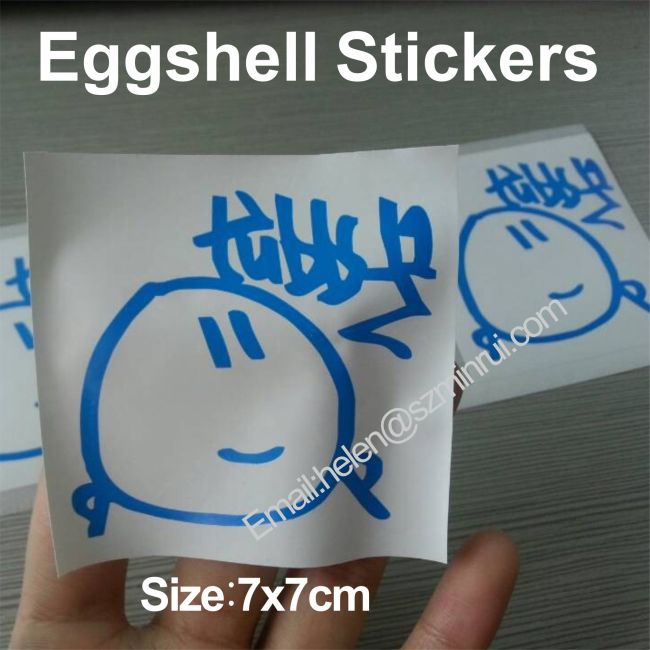 Printed arts graffiti design egg shell stickers,7cm width by 7cm length size,just one blue color printed,looks like use pen write on it,but in fact,this is pinted with our clients arts graffiti design.
Why he not write with the pen,if just one color,since I also ask him this question,but he tell us he want it looks like use pen arts graffiti but each eggshell sticker need the same,if use pen wirte,it can not sure everything is the same as the first eggshell stickers write.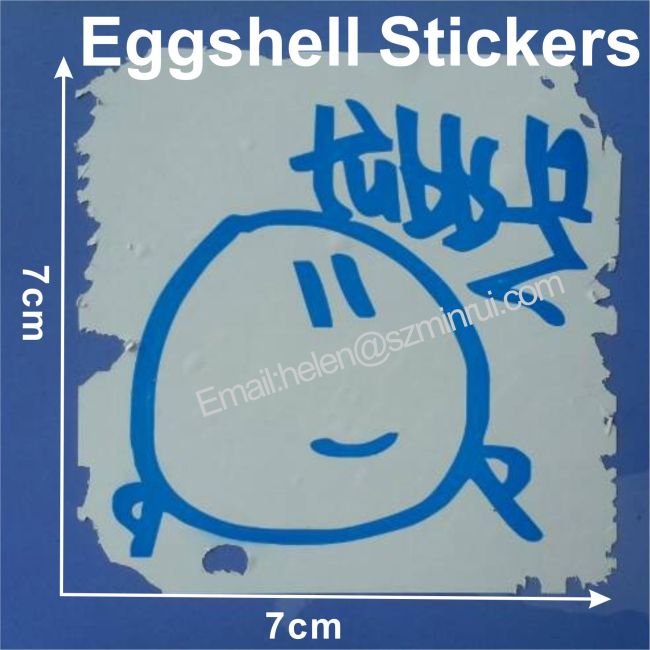 We test it on my book,and then try to peeling it off by nails,you can see this so cute looks like blue egg can not remove.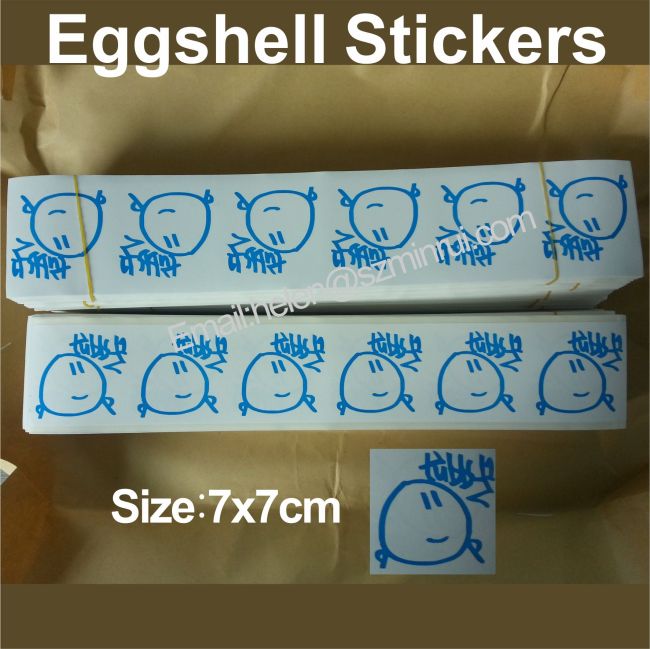 This is one of my United States clients customized this printed arts graffiti eggshell stickers from us,total 5000pcs,we packing it on sheets,and 6pcs per sheet,total 900 sheets.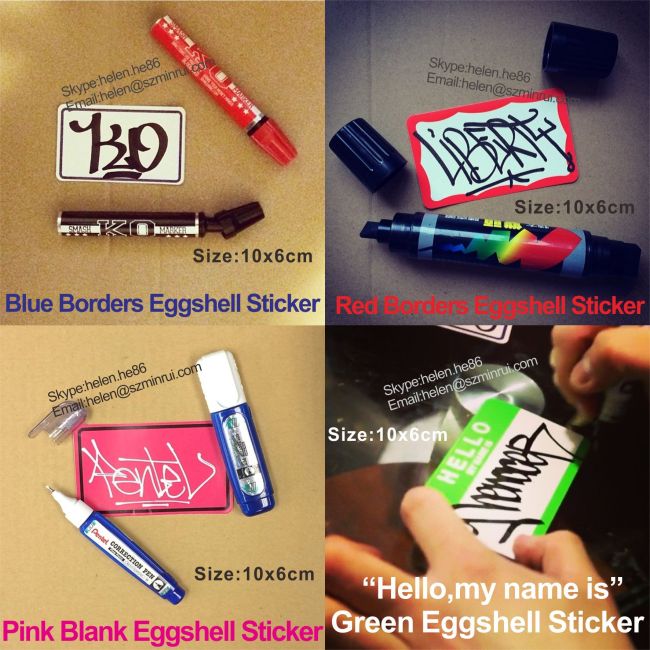 Those are hot sale blank ultra destructible eggshell stickers for graffiti arts use,this is cool work,use ultra destructible vinyl as facestock,but someone also call it as eggshell paper,why?becasue this is ultra thin vinyl,when you stick it on your products and also could be in any surface,it is very difficlut peeling it off.and once you try to tampered it,itself will be broken into tiny pieces,so looks like eggshell,is very thin and easy fragile.
Feature of blank ultra destructible eggshell stickers:
Writable:the eggshell stickers surface can be write with pen or paint.

Difficult Remove:eggshell stickers use super strong adhesive,it is very diffcilut remove once you stick.

Destructible:will break into tiny pieces if anyone tries to remove the eggshell stickers.

Any surface:egg shell stickers can be used on any surface,but please make sure it is clearn and after 24-48 hours then to tampered it.

Windly:indoor use eggshell stickers or outdoor use eggshell stickers,used as outdoor advertising,warning tags or indoor arts graffiti sticker.

Simply:eggshell stickers is very easy to use,because they are self adhesive stickers,so just peeling it from the liners,then stick on your products it ok.
What we provide for your blank ultra destructible eggshell stickers:

Variable data printing: Able to print sequential numbering, barcodes, and individual elements on each label.

Colours: These labels could be printed with spot colours or full colours.

Die Cut: Labels could be cut to rectangle, square, oval, circle or other shapes on request.

Lamination: Gloss or matte finish to provide extra protection for the labels.

Packing: Labels could be supplied on rolls or on sheets,or according to your requirement.
We can offer custom service of ultra destructible eggshell stickers:
Any size:10x10cm,10x7cm,10x6cm etc.

Any colors:CYMK/RGB.

Any design:PDF/CDR/AI.

Any quantity:1000pcs/2000pcs/5000pcs/10000pcs ect.

Free samples:some A4 blank eggshell papers with some printed eggshell sticker samples.

Free design:just tell us your ideal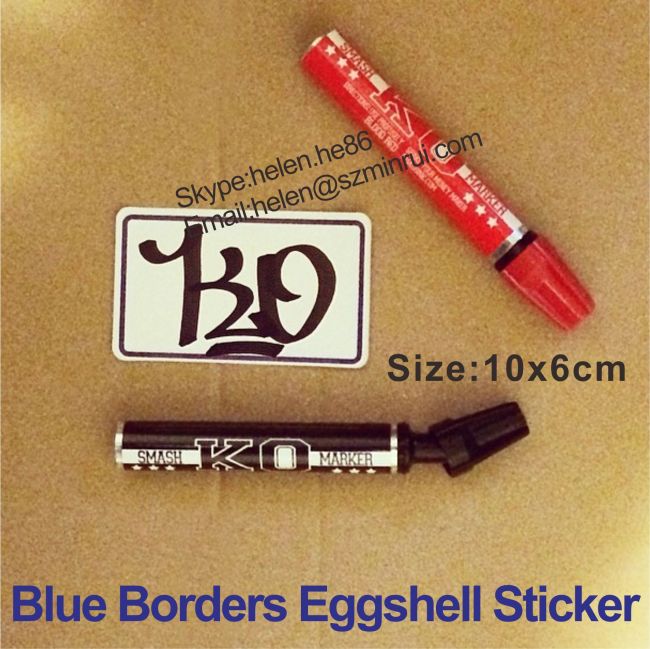 This is the hot sale blue border blank egg shell stickers,the normal size is 10X6 cm,but it can customize to any size,such as 10x7cm,10x8cm,6x8cm and so on.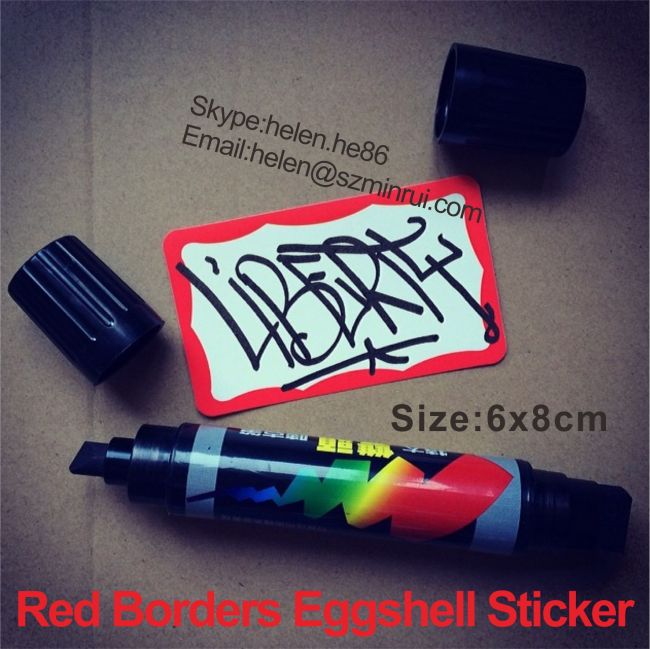 This is a most classic egg shell blank stickers,the waves of the red as the borders,with blank white part in the middle,give full space play to your imagination to graffiti design a to belong to your tag.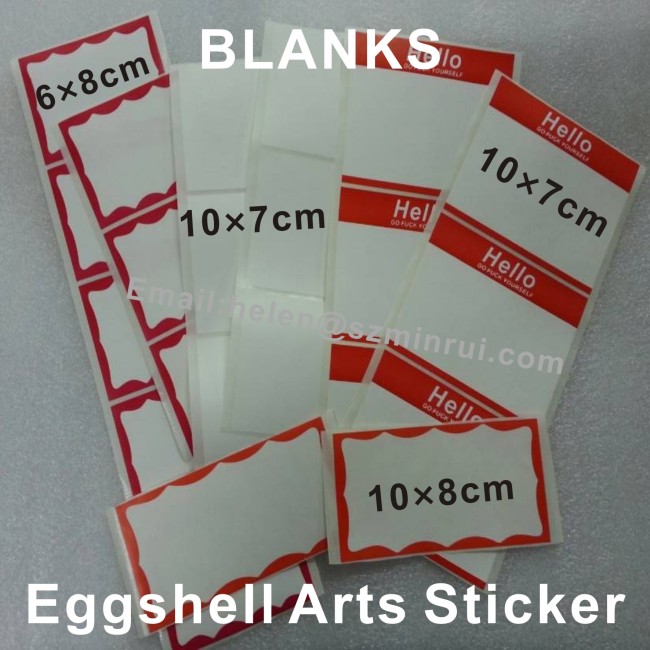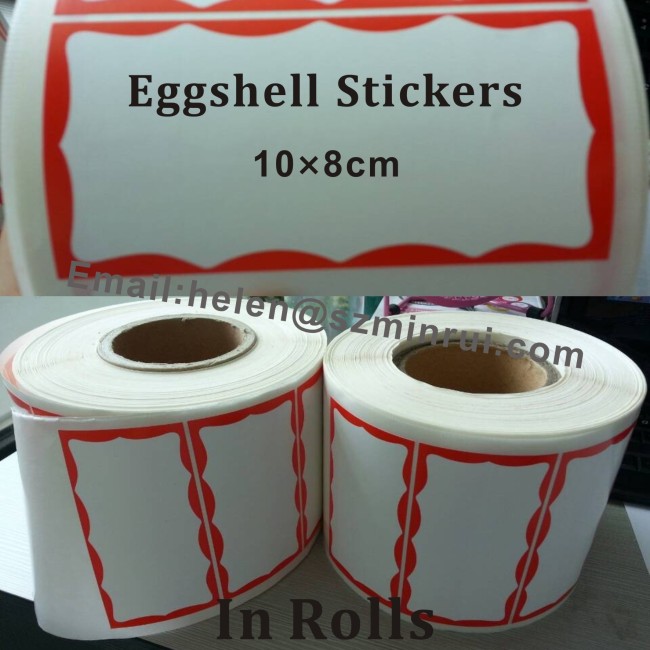 Eggshell Stickers is printed with ultra destructible vinyl material as facestock,coated with special strong adhesive on the back of the facestock rupture strength is far lower than the adhesive bonding ability; When the security destructible material eggshell label lifted back again after being labelled as base material,the material fracture without rules, shows that the product packaging has been opened, and unable to recover.
Breakable Eggshell Stickers Perameter
| | | | |
| --- | --- | --- | --- |
| Materia: | Eggshll Paper/Ultra Destructible Vinyl | Size: | 7*7cm/custom |
| Face: | 0.1mm thickness matte white | Color: | CYMK/RGB |
| Adhesive: | Strong water-based glue | Packing: | In roll/on sheets |
| Liner: | 80g glassine liner/180g white coated liner | Design File: | CDR/AI/PDF |
| Usage: | suit for any surface(metal,paper,wooden,glass) | Quantity: | MOQ:1000pcs/custom |
1)classic border egg shell stickers write with pen(doodles or art graffiti)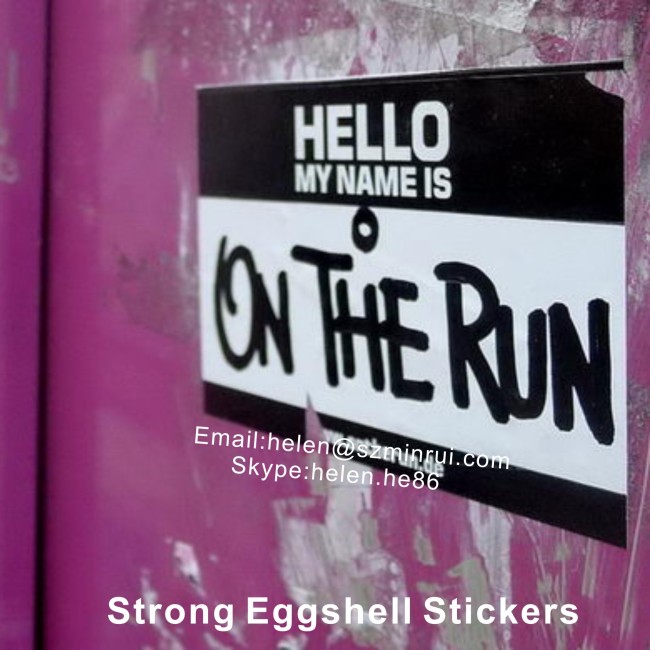 black blank border eggshell stickers with "hello,my name is" printed.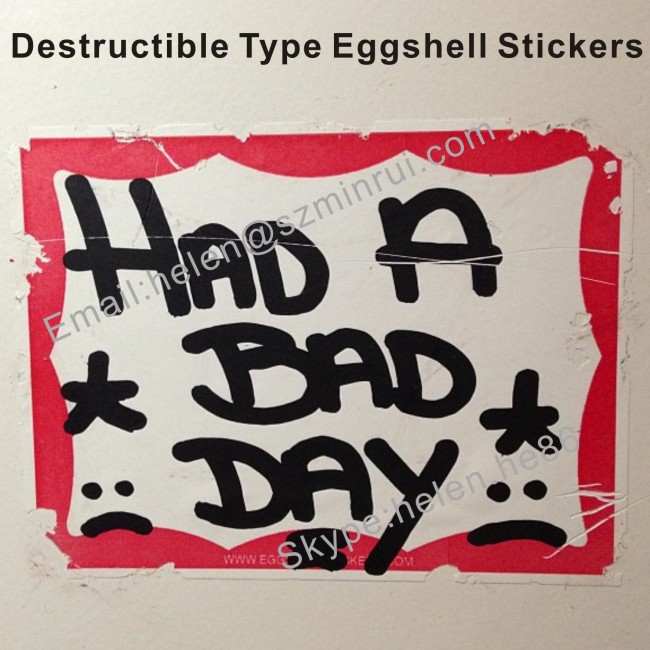 Classic red name badge egg shell stickers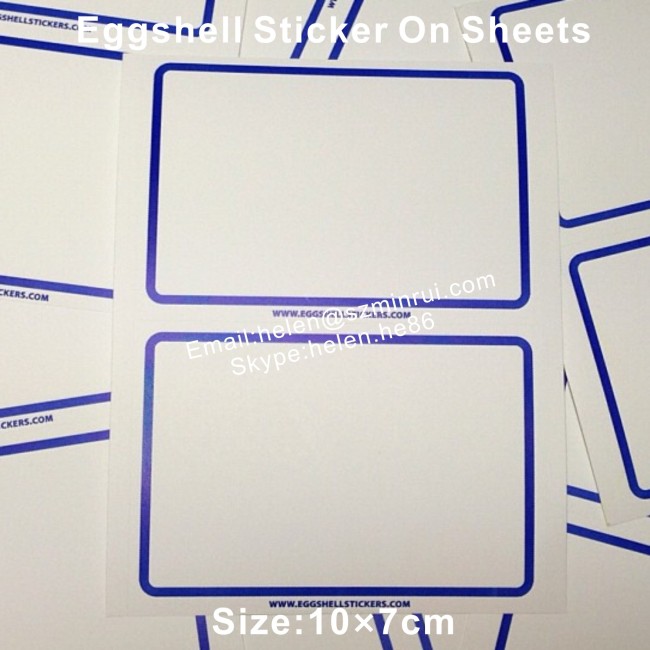 Standard size blue border eggshell stickers

2)Black ink on white eggshell stickers(with custom offered design printed)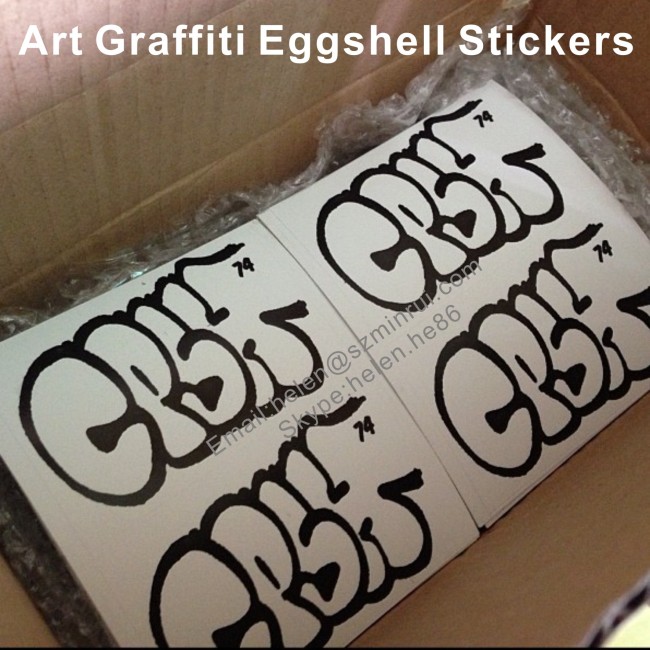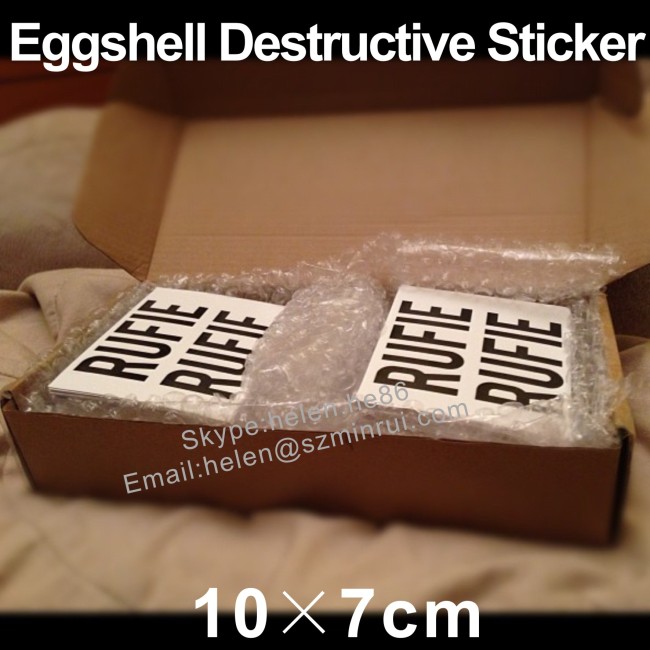 Eggshell stickers test ondifferent surface show:



1)eggshell sticker test on the paper carton surface 2)eggshell sticker test on the wooden desk surface 3)eggshell sticker test on the glass bottom surface
Certification
Package&Shipping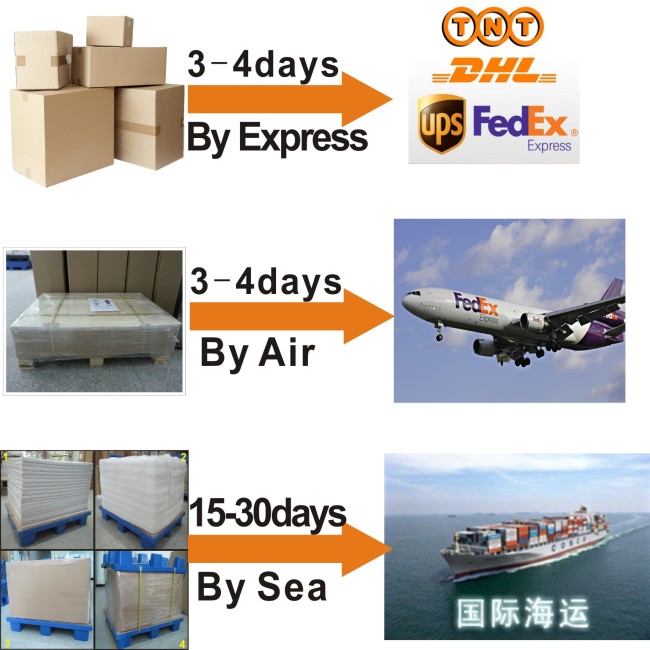 Payments&Delivery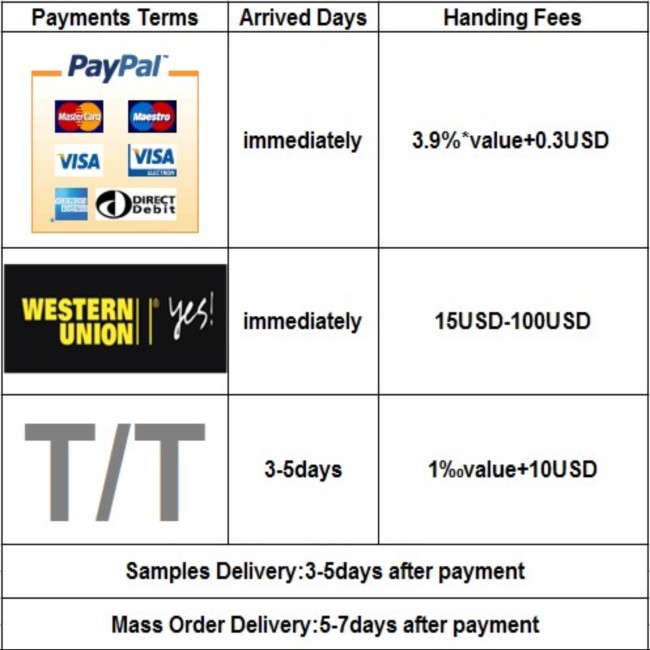 Company Information
Shenzhen Minrui Adhesive Products Co., Ltd. is manufacture and leader of destructible labels in China,the destructible labels are a kind of security labels by the way of into pieces(bit by bit)when the labels torn down from something.we own 70% market in China which covers an area of 20,000 square meters Minrui Industrial Park. We have two production bases in Shenzhen city and Shantou city.Our company has intellectual proprietary rights for our destructible security label paper formula and relevant manufacturing process.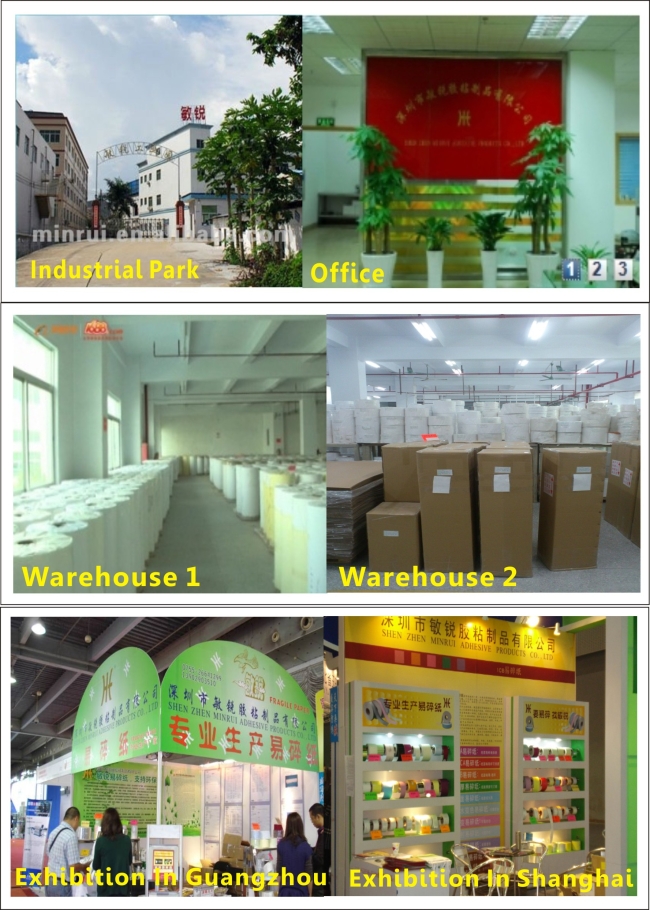 Our company is able to produce various destructible vinyl label papers with different fragility, viscosity, brightness, smoothness, thickness, etc. We can also produce unique, beautiful and metallic fiber destructible security label paper . With continuous introduction, digestion, assimilation and innovation since the foundation, our company has had a coordinated process from raw material purchasing to manufacturing. Our production efficiency has largely been improved. Our annual production capacity is 5,000,000 square meters.
"High-quality products and perfect customer-oriented service" is the foundation for our survival. "Customer satisfaction" is our pursuit. Our company will work with new and old friends to create a better future.
FAQ
Q1:Eggshell sticker belong to paper or vinyl?
In our China,we call it at destructible paper sticker,but in other areas pepole like call it as ultra destructible vinyl sticker.For now days,many United States pepole like call it as eggshell sticker.
In fact,this is a new type of self adhesive label material,neither belong to the paper, nor belong to the vinyl,it is through the chemical formula.More resilient than paper, but there was no vinyl so good scalability.
Q2:Are you a manufacturer?
Yes,we are the largest manufacturer of ultra destructible vinyl in China,own 13 years from 2000.
Q3:Can you offered custom service?
Yes,we also have years printing factory,help our clients custom security stickers,tamper evident labels,destructible vinyl stickers and asset tracing stickers,eggshell stickers.
Any design are workable for us,just send your design in CDR,AI,PDF file for custom.
Q4:How many days can get the samples,and mass production?
Samples delivery is 3-5days after payment, and mass order need 5-7days.
Q5:How to order from us?
1.send inquiry to us by email:helen(at)szminrui.com or skype:helen.he86,the requirment should be including size,material,colors,printing content and quantity.
2.design confirm
3.quotation
4.make payment
5.produce
6.take photos for confirm
7.delivery
8.after service
Q6:What advantages do you have?
1.13 years professional:we are the professional manufacturer of ultra destructible vinyl/eggshell paper in China,not only can supply you the material,but also can be stickers.
2.High Quality(surface/adhesive):our material surface is 0.1mm thickness,but others only have 0.7mm;our adhesive use strong water-based glue,but others maybe oil-based glue.
3.SGS/MSDS/Reach 138 Report Support: we have passed SGS,MSDS,Reach 138 test.
4.Free Design:if you have not the design,just tell us your ideal,we can help you make the design by free.
5.Free Samples:if you need,free samples are ready for you,just tell us your shipping address,we will send to you soon.