Available in a full range of styles and materials, our spiral wound gaskets are manufactured in accordance with ASME B16.20 for use in all industry flanges, including ASME/ANSI B16.5, ASME B 16.47, Series A & B. American Seal & Packing assures strict adherence to these specifications as routine inspection procedures are applied throughout the manufacturing process. In addition, we maintain trace ability of all materials used in our gasket construction to provide material certifications as required.

Normal Pressure: from 150# to 2500#
Normal Diameter: from 1/2'' to 60''

Usage: Flat and raised faced diameter flanges up to and inclusive of Class 2500.
Technical Benefits: >Metallic winding suited for cyclic loading
>Outer ring center gasket
>Inner/outer ring provides additional blow-out strength
>Inner/outer ring provides a compression stop
>Prevents flange erosion
>Prevents inward buckling
>Reduces turbulent flow
>Recommended for high pressure/temperature applications
Applicable Standards: >ASME B16.20
>BS, JIS,DIN
>Suited for ASME B16.47 series A/B flanges
Construction

| | | | | |
| --- | --- | --- | --- | --- |
| Style | Structure | Hoop material | Filler | Inner & outer ring material |
| SWG | With inner & outer rings | 304(L),316(L),321,317(L), 31803,Monel,Ti,Ni,INC, Hast. C/B Zr702,Etc. | Graphite,PTFE, Asbestos,Non-asbestos, Mics,Monel,etc. | CS,304(L),316(L),321,317(L), 31803,Monel,Ti,Ni,INC, Hast.C/B Zr702,Etc. |
Metallic Strip
The standard thickness of the metallic strip is 0.2 mm.

Filler
Filler is normally used for thickness from 0.5 mm to 0.6 mm.
- Flexible graphite 98%
- Flexible graphite 99.85%
- PTFE
- Ceramic
- Asbestos

Centering ring
The centering ring does not come into direct contact with contained fluid. It is normally made of carbon steel and electro plated or painted to avoid corrosion. Other materials are available on request.

Inner ring
Inner ring is used to avoid excessive compression due to high seating stress in high-pressure service and it is also used to reduce turbulence in the flange area. It is normally made of the same material as the gasket metallic srtip.

Dimensions

Manufaturing sizes
This limitations are general and can vary according to the special customer.
Thickness
The standard manufacturing thickness for spiral wound gaskets are: 3.2 mm; 4.5 mm; 6.5 mm (measured across metallic strip not including the filler, which protrudes slightly beyond the metal).

Manufacturing tolerances
The tolerance of the gasket diameters (d1, d2, d3, d4, s, s1) are stipulated by ASME B 16.20 and DIN 2632-2638 standards. The gaskets designed for non-standard flanges meet the recommendations by the ASME B 16.20.

Dimensions
The dimensions of the standard SWG meet the ASME, BS and EN (DIN) standards.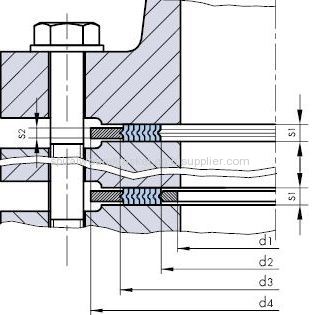 Production Flow
Shearing==>Punching==>Lathing==>Drilling==>Assembling==>Packaging
Work Shop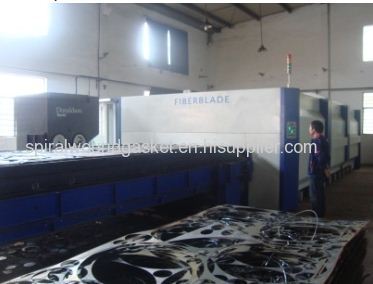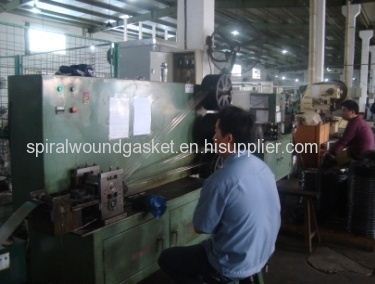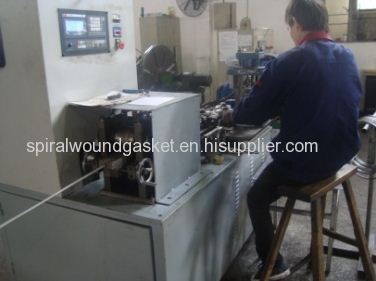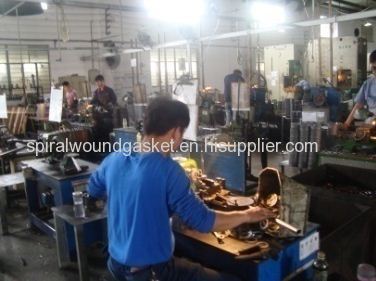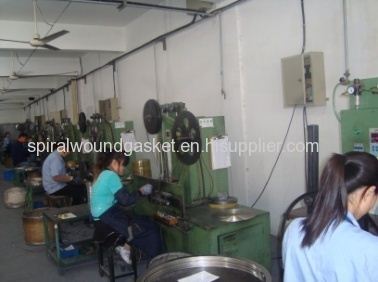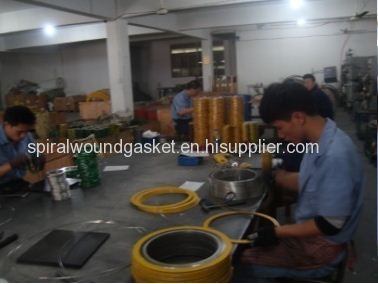 why choose us?
1)world class gasket
2)standard/no standard gasket
3)genuine products with excellent quality
4)after sales service and technical assistance:
Rilson provide after sales service as the customer's requirement and needs.
5)quick delivery:
Rilson provides just-in-time delivery with its steamlined supply chain.
6)less cost of purchase:
Rilson is a direct importer and agent of manufacturers around global, so there are no intermediary costs involved.
If you are interested in our products, please free feel to contact me in Email and I will reply to you as soon as possible.
My target of service is to satisfy your requirements.
My Email: sales02 at rilson.com.cn