COMPANY INFORMATION
History: Founded in 2007, more than 6 years specializing in the production of sealing material. We have customers all over the world
Product material: metal, asbestos /non-asbestos, graphite, PTFE, etc
Main products : spiral wound gasket, ring joint gasket, metallic/non-metallic gasket, asbestos/non-asbestos rubber sheet, packing, etc.
PRODUCT DESCRIPTION

spiral wound gasket is suitable for sealing spots where the alteration of temperature and pressure are frequent. It is widely used in pipe, valve, pump, thermal, exchanger, condensing tower, plain hole and man hole of flange, etc.
Please offer the detailed drawing, while the gasket is used in thermal exchange if it with some ribs.
1.Material: SS304with graphite, non asbestos ,ceramic and PTFE etc.
2.Centering Ring Thinkness: 2.97mm~3.33mm
3.Shape: with inner ring, with outer ring, with inner & outer ring
4.Feature: high mechanical strength, temp resistance, convenient application
PRODUCT DETAILS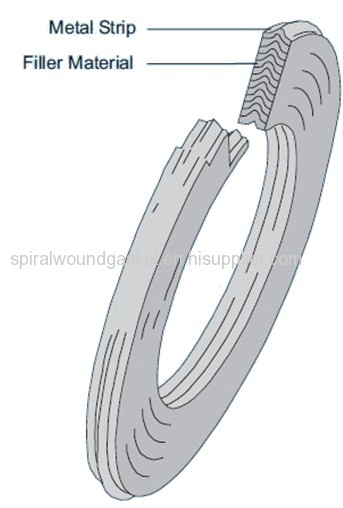 Style R - Basic construction type. Inner and outer diameters are reinforced with several plies of metal without filler to give greater stability and better compression and sealing characteristics. Suitable for tongue and groove or male and female or grooved to flat face flange assemblies.
PRODUCTION MACHINERY
MACHINE NAME

BRAND&MODEL NO.

QUANTITY

NUMBER OF YEARS USED

CONDITION

Cutting machine

No information

3

5

acceptable

Laser cutting machine

MESSER

1

2

acceptable

Shearing machine

Q11Y-6*25

1

6

acceptable

Punching machine

JH21-125,

JD23-25

6

3

acceptable

Instrument machine tools

SHENHUO&C0650

13

7

acceptable

Slot milling machine

No information

6

4

acceptable

Bending machine

No information

7

1

acceptable

Winding machine

FEIXIANG&PX500B

11

5

acceptable

Automatic winding machine

No information

4

1

acceptable

Laser printing machine

TIANHONG

2

2

acceptable
TESTING MACHINE
| | | | | |
| --- | --- | --- | --- | --- |
| MACHINE NAME | BRAND&MODEL NO. | QUANTITY | NUMBER OF YEARS USED | CONDITION |
| Universal testing machine | GRANDTRY&WA-E | 1 | 3 | acceptable |
why choose us?
1)world class gasket
2)standard/no standard gasket
3)genuine products with excellent quality
4)after sales service and technical assistance:
Rilson provide after sales service as the customer's requirement and needs
5)quick delivery:
Rilson provides just-in-time delivery with its steamlined supply chain
6)less cost of purchase:
Rilson is a direct importer and agent of may manufacturers around global, so there are no intermediary costs involved.
Note:
the photo above shows a small selection of our company, which carried to suit our customers' individual requirements.
we look forward to being of service.
To get further information, please visit our website:
http://www.rilsongasket.com
My Email: sales03 at rilson.com.cn
If you are interested in our products, please feel free to contact with me directly, thank you!