Flexible Packaging Films Heat Seal Testing Machine For Plastic Pouch Double Heating Jaw
Brand : SYSTESTER
Applies to best parameters determination of heat seal ability of various kinds of film. Heat seal ability of film depends on temperature, pressure and heat time and the HSL-6001 heat seal tester SYSTESTER is widely used in food and pharmaceutical packaging industries.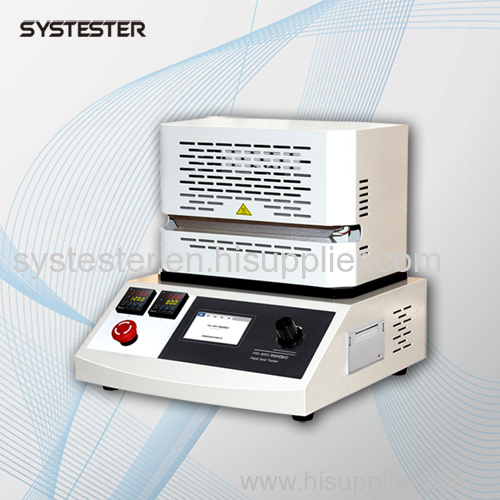 Flexible Packaging Films Heat Seal Testing Machine For Plastic Pouch Double Heating Jaw
Main Features:
1: Own technology ,Embedded system control, Touch screen operation
2: TFT LCD display, UI flattening design, easy to operate
3: Dual heat jaws, temperature controlled independently
4: Pressure easy to adjust, and wide range.
5: Emergency stop button, safety design to prevent burns
6: Over temperature protection, over pressure protection
7 Micro-printer built in
8: DB9 RS232 communication port.
9: Ethernet communication available. (optional)
10: Bar code scanner available.(optional)
11: LMIS system is optional(Laboratory Management Information System), easy to share test data.
Flexible Packaging Films Heat Seal Testing Machine For Plastic Pouch Double Heating Jaw
Technical indexes
| | |
| --- | --- |
| Heat temp. | 8~300°C |
| Accuracy | 0.2°C |
| Dell time | 0.1~999.9s |
| Pressure | 0.05MPa~1.1MPa |
| Heat surface | 265mm × 12 mm(optional) |
| Heat mode | independently |
| Gas source pressure | 0.05MPa ~ 1.1MPa (provide for yourself) |
| Gas source interface | Ф6mm |
| Outer dimension | 410 mm (L)×396 mm (B)×416mm (H) |
| Power supply | AC 220V 50Hz |
| Net wt. | 41kg |
Standards
QB/T 2358(ZBY 28004),ASTM F2029,YBB 00122003
Configuration
Delivery: main unit, footswitch, micro-printer
Optional: matched software ; communication cable ;DSM LMIS
Relevent product:
Universal Tensile Tester,Free-falling Dart Impact Tester,Free-falling Ball Impact Tester,Water Vapor Permeability Tester,GTR transmission rate Tester