PPR Short Bypass Bend Pipe Fittings
***SPECIFICATIONS
Size
Net Weight (g)
PCS/CTN
MOQ (cartons)
20mm
28g
450
10
25mm
45g
300
10
32mm
75g
150
10
***Features of Green PPR Short Bypass Bend Pipe Fittings
Green PPR short bypass bend pipe fittings in addition to general plastic tube with a light weight , corrosion , scaling , long life and other characteristics, but also has the following main features:
1 , non-toxic , health . PPR raw molecules only carbon and hydrogen elements , no harmful toxic elements are present , reliable health, not only for the hot and cold water pipes , but also for pure drinking water systems .
2 , thermal insulation . PPR pipe thermal conductivity 0.21w/mk, steel is only 1/200.
3 , preferably heat resistance. Vicat softening point PPR pipe 131.5 ℃. The maximum operating temperature of up to 95 ℃, water supply and drainage construction to meet the requirements of the specification using hot water system .
4 , long life . PPR pipe operating temperature 70 ℃, working pressure (PN) 1.OMPa conditions , the service life up to 50 years ; room temperature (20 ℃) life of up to 100 years.
5 , easy to install , reliable connection . PPR has good weldability, pipes, fittings can be melt and fused connection , easy to install , reliable joints connecting parts is greater than the strength of the strength of the pipe itself .
6 , the material is recyclable . PPR waste cleaned , crushed and recycled in pipe, tube production . Recycled material
The amount does not exceed 10% of the total , does not affect product quality.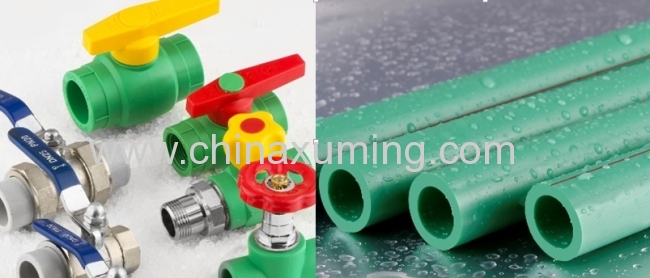 ***Use of Green PPR Reducer Pipe Fittings
1, building hot and cold water systems, including central heating systems;
2, the building heating system, including flooring, siding and radiant heating systems;
3, can be directly purified drinking water supply systems;
4, Central (centralized) air-conditioning systems;
5, transfer or discharge of chemical mediators such as industrial piping systems.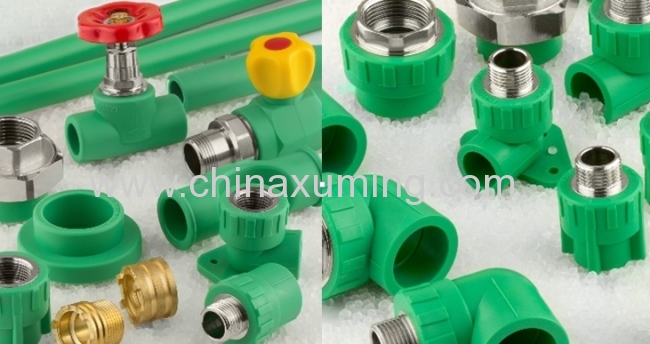 ***Reference Table of Melt Connection Technology
Reference Table of Melt Connection Technology

Pipe Diameter
Welding Depth
Heating Time

Processing Time
Cooling Time
mm

mm
Second
Second
Minutes
20x2.8

14
5
4
2
25x3.5
15

7
4
2
32x4.4
17

8
6
4
40x5.5
19

12
6
4
50x6.9
21

18
6
5
63x8.7
24

24
8
6
75x10.3
27

30
8
8
90x12.3

29
40
8
8
110x15.1
32
50
10
8
125x18.0

35
60
10
9
Note:

If the ambient temperature is less than 5, the heating time increased by 50%
***OUR FACTORY