We are a small plastic injection molding machine manufacturer of which clamp force ranges from 25T to 168T
Main parameters of 32T small plastic injection molding machine as below;
Items

Parameter

Unit

Parameter Value (SSF320)

Injection Unit

Screw diameter

mm

A

B

22

25

Screw L/D ratio

L/D

17.7

15.5

shot volumn (theoretical)

Cm3

30

38

injection weight(PS)

g

27

34

plasticizing capacity

g/s

2.6

3.3

injection rate

g/s

25

32

injection pressure

Mpa

185

143

screw speed

rmp

165

Clamping unit

clamp force

KN

320

open stroke

mm

155

space between bars (W*H)

mm

245*195

max mould height

mm

260

min mould height

mm

80

ejector stroke

mm

40

ejector force

KN

13

ejector number

PC

1

mould align diameter

mm

55

Others

max pump pressure

Mpa

14

pump motor power

KW

3

heating power

KW

2.5

machine dimension

m

2.75*0.86*1.35

machine weight

T

1

oil tank capacity

L

85
The plastic machinery is featured with;
1.Double-cylinder balanced injection system;
2.Multi-stage pressure &speed injection;
3.Back pressure adjustment device;
4.Low pressure mold protection;
5.Single hydraulic core pulling and inserting;
6.Multiple hydraulic ejector knock-out;
7.Mechanical, electrical safety device;
8.Auto lubrication system;
9.Hydraulic pressure full proportional control;
10.Computer control system;
11.Molding data memory system;
12.Automatic mould adjust function.
13.Energy saving with variable pump;
14.Bi-metallic screw to anti-corrosion, which is applicable to nylon or glass material.
15.Five-point inward moving toggle system ensure high rigidty and precision for mold clamping and also reducing stress and stain effects;
16.Oil pipelines are positioned for aesthetic appearance and easy for maintenance;
17.The moving platen is fitted with adjustable slide support system to improve platen parallelism and provide better tie bar and mould protection and lengthen the working lifetime;
18.Nozzle alignment is provided using a simple mechanism with fine adjustment for accurate centering.
This small machine is widely applied to make small plastic parts such as plastic gears, color chips, medical surgical operation parts such as inner clip,outer clip,double clip and pistons, the machine is fully manufactured to ensure products made by the machine can be used safely on medical care;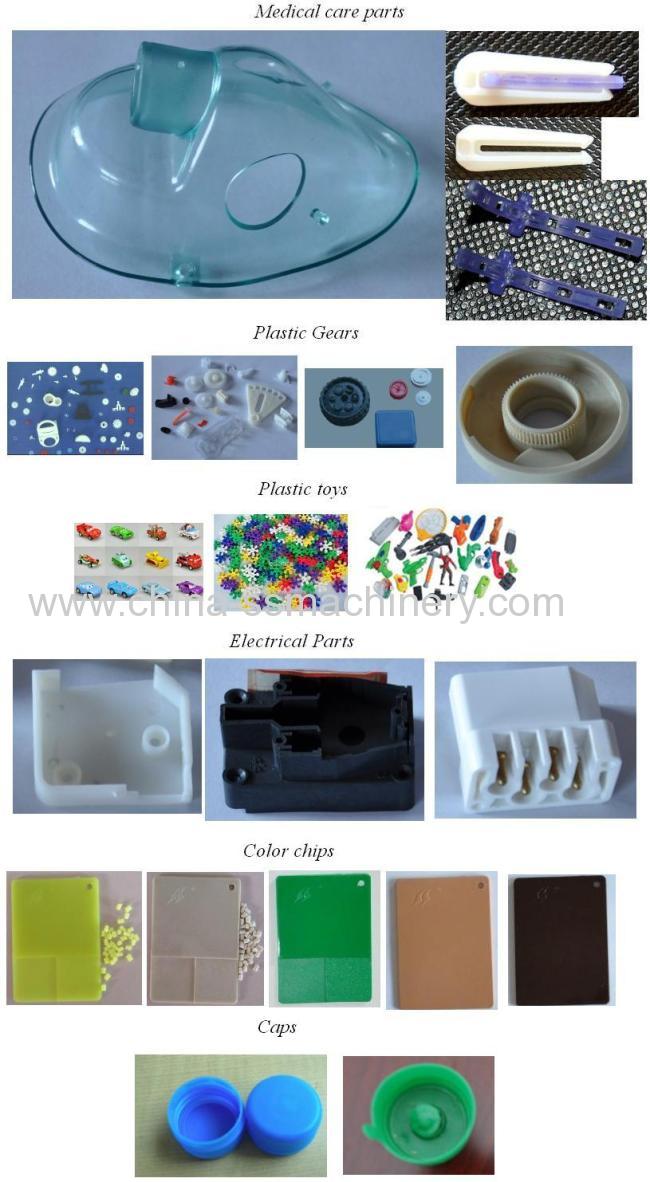 Backside of the machine;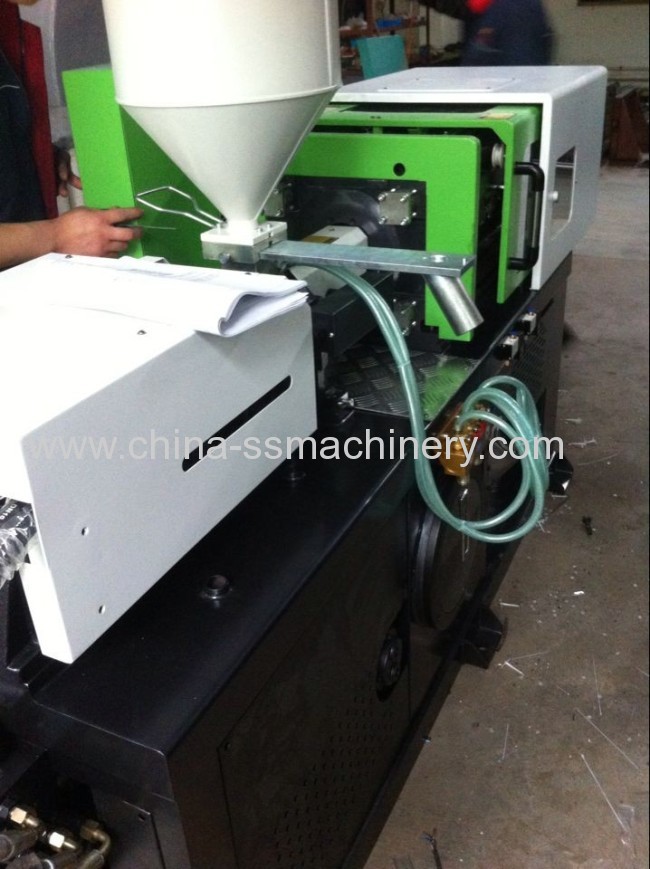 This small machine is favored with small shape but precision, preferred by many gears making manufacturers.
Our Shuangsheng brand small injection molding machines, established in 2002 and now has winned market locally and internationally.
In order to expand more of our markets, we warmly welcomed distributors that has full experience in plastic machinery to join with us.