Pumpkin Seed P.E.
Botanical Source: Cucurbita pepo L.
Used Part: Seed
Specification: 4:1
Appearance: Fine powder
Test Method: TLC
Bulk density: 0.4-0.75g/mL
Moisture:<5%
Ash:<5%
Description:
The pumpkin seed kernels are rich in many nutrients, Including carotene, protein, Zinc, Vitamin A and E, and the precious Omega 3 and Omega 6 fatty acids. It can remit the mental tension, enhance the immunity. The Zinc found in pumpkin seeds plays a vital role in enhancing memory and thinking skills.
Function:
1. Pumpkin seed is used medicinally to help improve bowel function by ridding the intestinal tract of parasites and worms.
2. It can help to prevent the prostate disease.
3. The cushaw seed extract have much acid, this acid can relax the rest angina, and have a function to low the high blood liquid.
4. The cushaw extract is also a laxative, which can help to moisture the skin, is indeed a good beauty food for women.
Application:
1. Applied in food field
2. Applied in health product field
3. Applied in pharmaceutical field
Packing&Storage:
Package:Double plastic bag inside, aluminum foil bag or fiber drum outside.
Delivery Detail:Within one week
Storage: Stored in a clean, cool, dry area; keep away from strong, direct light.
Shelf Life:Two years when properly stored.
Supply Ability:
a. Production capacity: 1000kg/month, large stock available;
b. Supplying conventional and customized plant extract products
Producing Process:
Plant==>Raw Material==>Extraction==>Filtration==>Cool Down==>Spray Dry(much methods to dry) Into Power==>Sifter Powder==>Packing
Advantages:
1. Small order is acceptable
2. Free sample for you
3. Have self-export rights
4. Have right to do commodity inspection
Certifications:

About DN biology
DN biology is specilized in supplying full lines of herb extract products and natural nutritional ingredients. Our products are widely used in food, dietary, beverage, pharmaceutical and Nutritional additives.
Our factory is located in Yongshou Town of Xi'an , China. With the 4 lines of stainless-steel refined equipment, we are able to deal with botanical raw materials about 1500ton a year, allowing us to deliver both distinctive products and professional service at the most competitive price.
Our Commitment
At DN biology, we strive to exemplify professionalism and leadership in the herb extract and natural botanical ingredients industry by exceeding the expectations of the people we serve. This is achieved through diligent attention to detail and strict adherence to deadlines.
For a closer look, please visit our website: www.dnbiology.com
Our Mission Statement
To be an industry leader providing first class service to buyers and clients by meeting their needs and exceeding their expectations through honesty and reliability, resulting in long lasting sustainable relationships.
The factory: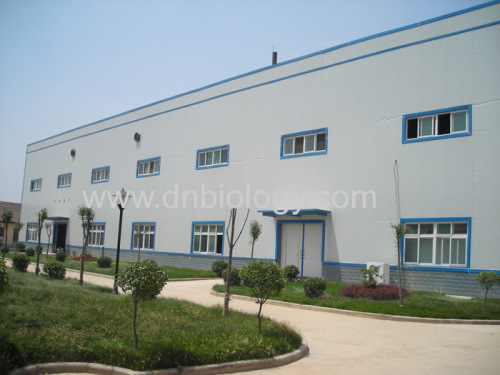 The interal figure of factory :