25-70mm² Earth Wire ground wire Stringing Blocks are used for stringing overhead ground wire in transmission line stringing operation.
1.Ground wire Stringing Blocks
2.Stringing Rollers screw Stroke:65mm
3.Outer Dia.:100mm
4.Rated Load:10KN
5.Breaking Load:20KN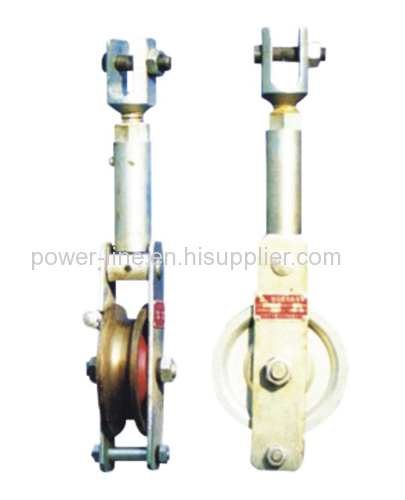 Adjustable Stringing Blocks for Earth Wires
Item No.

Rated Load (KN)

Breaking Load (KN)

Stranded steel rope Range (mm²)

Outer Dia. of Sheave (mm)

Sheave Width (mm)

Screw Stroke (mm)

Material

10251

10

20

25-70

Φ100

30

65

Aluminum

10252

10

20

Nylon
Application: Used to string earth wires. Fittings can be attached to the lead screw which length is adjustable.
Note:
1.Hook fitting, round eye fitting, and clevis fitting are optional, please specify in the order contract. Customized blocks could be supplied on request.
The data in the model means the outer diameter of sheave X width of sheave (mm).
2. All the sheaves are mounted on ball bearings. The frame of blocks is made in galvanized steel.
Nylon sheave blocks are our best-selling stringing blocks.
The advantages of Nylon sheave blocks:
1.Light
2.Wear resistant
3.Lower price
4.Nylon can effectively reduce the damage to conductors when stringing
5.Long lifespan.
The cross arm mounted stringing blocks are used for installation small conductors on transmission line.