Conductor Stringing Pulley Blocks with grounding devices
1.Stringing Blocks with Grounding Roller
2.Attached with an Aluminum pressure roller
3.The datas of the stringing blocks pls refers to 508-1040mm.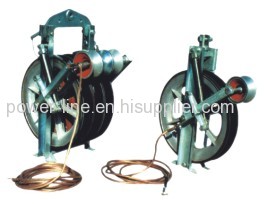 Stringing Blocks with Grounding Roller
The conductor pulleys with grounding device is used for eliminate the static current during stringing operation. The grounding roller is made of aluminum alloy.
Item No.

Model

Dia. of Sheave (mm)

Sheave Width (mm)

No. of sheaves

10301

SHD508D

Φ508

75

1

10302

SHS508D

3

10303

SHW508D

5

10311

SHD660D

Φ660

100

1

10312

SHS660D

3

10313

SHW660D

5

10316

SHDN916D

Φ916

110

1

10317

SHSQN916D

3

10318

SHWQN916D

5
Features: The stringing block is attached with a aluminum pressure roller which maintains continuous grounding by means of a grounding copper wire.The datas of the stringing pulley blocks pls refers to 508-916mm stringing Blocks.The bigger sizes can be ordered too.
Why we should use conductor stringing blocks?
In the age of electric and information, conductor line transmission becomes more and more necessary. Conductor stringing blocks can make line stringing more flexible and easily with its pulley wheels.
What characteristics should be included to be qualified stringing blocks?
1. The design,manufacture and testing should be in compliance with the industry standard.
2. The safty factor should ≥3
3. The stringing block should be easy for maintenance
4. The Friction coefficient should ≤1.015
5. The stringing block can pass throuhj the running board, Connecting tube protector and rotary connectors smoothly.
6. The steel wire sheave should be designed to reduce the damage to pilot stringing wire.
7. The surface of the block should be smooth, no sharp corners, no sharp edges. There should be no parts trachoma, pores, cracks and porosity and other defects. Welds should be nice and smooth, no burrs, no cracks, no folding, no overheating or burning defetcs to lower the intensity
8. The frame structure should be reasonable and firm,its strength and rigidity should be in accordance with the requirements. It should be made of high-strength materials to reduce the overall weight of the multiple sheaves block.The joints should be set with safe stop device, and ease of disassembly. A reasonable ceiling hanging ring is necessary too.