Plastic pipe production line introductions:
Stable extrusion capacity single screw extruder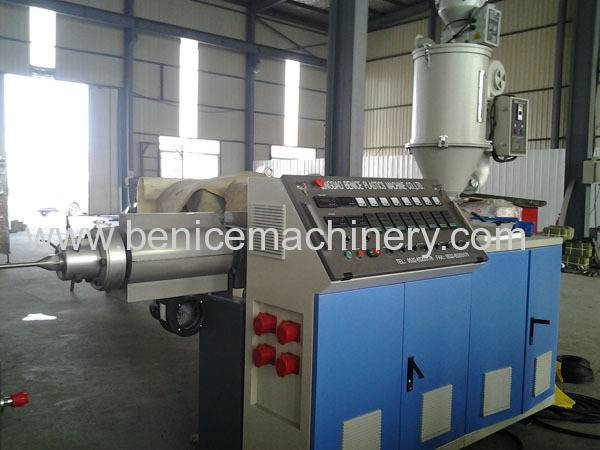 This production line is mainly used for producing water supply pipe and drainage in the field of agriculture and construction, cable etc.Changing the mould types, this machine can produce different sizes pipes for water supply or sewer.
Process flow of PE pipe production line:
Vacuum feeding material dryer → pe pipe making single screw extruder → color extruder →PE pipes mould → calibrator → spray vacuum calibration tank → spray cooling water tank → spray cooling water tank → printer → haul-off machine→ cutter →pe pipe stacker
Technical parameters of PE pipe production line according to customer's requirement to offer:
Model

Screw diameter
mm)

L/D

Pipe range
mm

Machine motor power
kw

Total power
kw

line length
m

PE-63

65mm

33:1

16-63

37

80

24

PE-110

65mm

33:1

75-110

55

110

30

PE-160

75mm

33:1

90-160

90

150

32
Plastic pe pipes production line features:
High speed, high efficiency extrusion single screw extruder is specially designed for extruding PE etc. material, equipped with the lower noise, high speed and hard gear reducer. The Special grooved feeding bush with water cooling system results in increasing compression and filling factors. Specialized screw designs for high output, low melting temperature, good plasticization effection, lower energy consumption.
Spiral diffluence type extrusion die is specially designed for PE extrusion. Unique design of low-pressure inclined flow passage spiral/lattice basket die head, ensures low temperature and high plasticizing extrusion of PE pipes; Special designed die core spiral temperature control, ensures the performance of PE pipes; Multi-layer co-extrusion die offers the advantages of low cost and flexibility of layer structure with different material. it features in easy adjustment and even extrusion, ensures that melting pressure and flux are uniformity, the surface of pipe is smooth and shapely.Plastic pipes single screw extruder
There are stores in factory, welcome to order!