HDPE Ground Source Heat Pump Socket Double U Type Head Fitting
Ground source heat pump system is environmentally friendly use of shallow geothermal energy
utilization systems capable of heating and cooling energy use of new technologies. Ground source heat
pump systems are usually transferred underground soil heat or cold to where it is needed, but also take
advantage of the huge underground heat storage in soil storage capacity, winter ground source heat
transferred from the soil to the ground inside the building, then summer cold underground transferred to
the building, an annual form a thermal cycling system to achieve energy saving features.
***Classification

1.Direct use of underground well water source heat pump system
Its biggest advantage is very economical , small footprint, but pay attention to the following
conditions must be met : good water quality ; abundant water ; meet the standards.
2.Underground pipe ground source heat pump system
For vertical pipe system , its advantages are: small land occupation , less piping and pump power , he drawback is the higher drilling costs ; For horizontal pipe system , its advantages are: the
installation costs than vertical buried pipe system is low, wide application , the user is easy to
grasp , its shortcomings are: large area , by the ground temperature impact , large pump power
consumption.
3.Surface water heat pump
Its advantages are: 10 meters or deeper in the lake , which provides direct cooling 10 ℃ , the ratio
of investment to small underground pipe system , lower pump energy consumption, high reliability, low
maintenance requirements , low operating costs, in the warm area , the lake can do heat, its
shortcomings are: in shallow lakes , the coil can easily be destroyed , because large changes in water
temperature will reduce the efficiency of the unit .
4.Hybrid ground source heat pump system
Suitable for small space , you can not separate heat exchanger system using underground buildings,
cooling towers and closed-loop cooling system combined with cost savings ; facts prove that the system is a high efficiency ,low cost .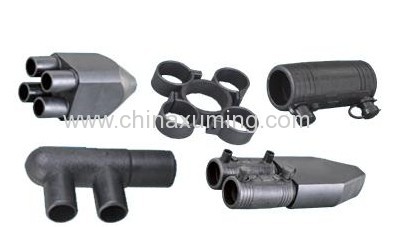 ***GSHP Socket Doulbe U Type Head Pipe Fittings advantage
1.Energy efficient , stable and reliable
The temperature of the surface of shallow geothermal energy or geothermal resources is relatively stable
throughout the year , soil and air temperature difference is usually 17 degrees higher than the ambient
air temperature in winter and summer temperature lower than the ambient air , the heat pump is a good
source of heat and cold air conditioning , this makes ground source heat pump temperature characteristics
than conventional air conditioning system efficiency to 40% to 60%, thus saving energy and operating
costs to be about 40 % -50 %. Typically ground source heat pump energy consumption 1KW , 5KW users can
get more heat or cold 4KW above , so we call it energy-efficient air conditioning system.
2.No environmental pollution
GSHP pollutant emissions , compared to air source heat pump , representing a decrease of more than 40% ,
compared with electric heating, representing a decrease of more than 70% , the true realization of
energy saving .
3.One machine with more using
Ground source heat pump system can be heating, cooling, domestic hot water are also available , one
machinewith more using, a system that can replace the original boiler plus two sets of air-conditioning
equipment or systems.
4.Low maintenance costs
GSHP systems fewer moving parts than conventional systems , thereby reducing maintenance, system
installation indoors, not exposed to the weather , but also from damage , more reliable and longer life.
5.Long life
GSHP buried underground selection polyethylene and polypropylene plastic tube, a life span of 50 years.
Higher than the 35-year life of ordinary air .
6.Saving much space
No cooling towers, boiler rooms and other equipment , eliminating the boiler room, cooling towers occupy
valuable area , resulting in additional economic benefits, and improve the environment external image.
Ground source heat pump system energy from natural energy . It does not emit any exhaust gas , waste
water,waste to the outside world , is an ideal "green air conditioning ." Is considered as the most
environmentally -friendly and most efficient heating and cooling systems available. The system is either
coldregions or tropical regions can be applied. Be broad application in office buildings, hotels,
schools ,dormitories , hospitals, hotels, shopping malls , villas and residential areas .
7.To achieve the recycling of water resources
In the form of ground source heat pump heat source diversification , whether it is clean and clear of
groundwater, seawater and efficient use of resources can not be large , or domestic and industrial
wastewater , surface water , or suppression , can be efficiently utilized to achieve the transfer of
solar energy . Improve the recycling rate of water , once solved the problem of sewage disposal
problems and freshwater resources are scarce . While avoiding the consumption of renewable resources
to achieve sustainable green development strategy.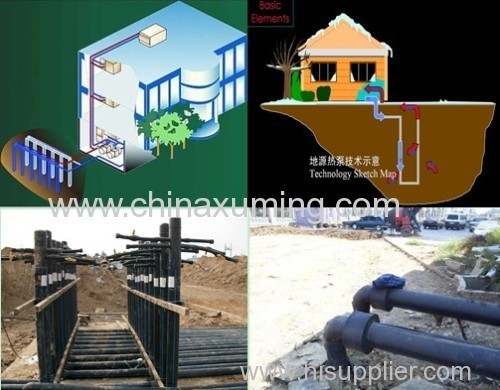 ***Specifications of HDPE Ground Source Heat Pump Socket Double U Type Head Pipe Fittings
Size
MOQ
Dn25
1000pcs
Dn32
1000pcs
***Export to the following countries