HDPE Butt Fusion Injection Repair Section Pipe Fittings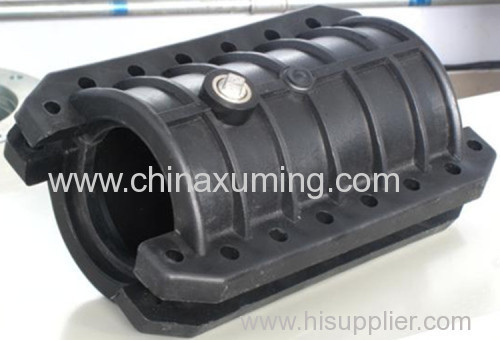 PE pipe repair section , as the name implies , is used to repair a pipeline fittings used . Currently
repair section of specifications : φ40, φ50, φ63, φ75,φ90, φ110, φ125, φ160, φ200, φ225,
φ250, φ315 these types of specifications. These specifications are also in accordance with the outer
diameter of the tube comes . In everyday life , we may also encounter the pipeline rupture , or trimming
on the road when digging machine accidentally ran PE, PPR water supply and drainage , as long as the gap
is not big, you can use to repair the piping section repair. So that you can save manpower and financial
resources, but also can save time, but also can reduce the water supply to the citizens to bring
unnecessary trouble.
Under normal circumstances it is difficult to PE pipe rupture . We all know that the Japanese side of
the equator , is earthquake-rone , in the course of using the pipe they found PVC PPR after experiencing
an earthquake prone to rupture phenomenon becomes open , but was able to keep the prototype PE pipe .
This illustrates the point , toughness PE pipe is very good. So now some of the country 's major cities
will gradually drain , communications switch on the PE pipe . PE pipe though , but a lot of businesses
in order to reap more profits , lower than used in pipe pressure through water pressure. In addition ,
PE pipe is used underground , so to be able to give timely supply water network was on , PE pipe repair
section came into being.
Stage PE pipe fittings have been used in large cities , these cities on the water supply and drainage
pipes are in use PE pipe, but because sometimes in the course of the water pressure is too large and
cause water pipes bursting , as long as the length is not too long , use repair section not only
convenient, but also insurance.
***Specifications
Size
MOQ
DN40
100PCS
DN50
100PCS
DN63

100PCS
DN75
100PCS
DN90
100PCS
DN110
100PCS
DN160

100PCS

DN200
100PCS
DN225
50PCS
DN250

50PCS
DN315
50PCS
***Export to the following countries