We can supply you the suitable machines according to your requirements. But firstly, you should inform us the pipe diameter.
PU insulation pipe production line features:
1.easily continous operation,good profits
2.high efficiency, stable capacity
3.special designs,saving energy
4.heating insulation with smooth surface
One step thermal insulation pipe production line introductions:
This one step insulation pipe production line technique is the pioneering invention at home and abroad to coat the pipe with corrosion resistance layer, thermal insulation layer as well as the protection layer synchronously to form the anticorrosion and thermal insulation coat for steel pipes. Compared with other methods, it has features of continuous operation, high production efficiency,low cost, energy saving and environmental protection, etc. Such technology has won the second National Prize for Progress in Science and Technology and one of the Top Ten Patents in Shandong Province. Through many years of in One-step forming method line for anticorrosion and thermal insulation is high degree of automation and the operating line can work for φ48-φ1000mm above. The insulation coating quality absolutely meet the national standard.
| | | | | |
| --- | --- | --- | --- | --- |
| PE external pipe size | Thick type | Thin type | Steel pipe size | Heating thickness |
| 110 | 2.6 | 2.0 | ¢45×3.0 | ~29 |
| 125 | 2.6 | 2.0 | ¢57×3.5 | ~30 |
| 142 | 2.8 | 2.2 | ¢76×4.0 | ~38 |
| 160 | 3.0 | 2.4 | ¢89×4.0 | ~30 |
| 180 | 3.2 | 2.4 | ¢108×4.5 | ~33 |
| 200 | 3.5 | 2.5 | ¢133×4.5 | ~30 |
| 225 | 4.0 | 2.5 | ¢159×4.5 | ~39 |
| 250 | 4.5 | 3.2 | ¢159×4.5 | ~40 |
| 265 | 4.0 | 3.0 | ¢194×5.0 | ~30 |
| 310 | 4.5 | 3.2 | ¢219×6.0 | ~40 |
| 365 | 6.0 | 4.2 | ¢273×6.0 | ~40 |
| 420 | 6.5 | 4.7 | ¢325×7.0 | ~40 |
| 470 | 7.0 | 5.5 | ¢377×7.0 | ~54 |
| 550 | 8.0 | 6.0 | ¢426×7.0 | ~54 |
| 600 | 8.5 | 6.0 | ¢478×8.0 | ~55 |
| 655 | 9.0 | 6.5 | ¢529×8.0 | ~55 |
| 760 | 10 | 7.5 | ¢630×9.0 | ~55 |
| 850 | 12.0 | 8.0 | ¢720×11.0 | ~55 |
| 960 | 14.0 | 10.0 | ¢830×11.0 | ~60 |
| 1054 | 16.0 | 12 | ¢960×11.0 | ~62 |
| 1155 | 17.0 | 12 | ¢1000×11.0 | ~65 |
| 1275 | 17.0 | 13 | ¢1120×12.0 | ~65 |
| 1380 | 18.5 | 14 | ¢1220×12.0 | ~65 |
| 1590 | 21.5 | 15 | ¢1420×14.0 | ~70 |
Steel pipe after shotblasting and derusting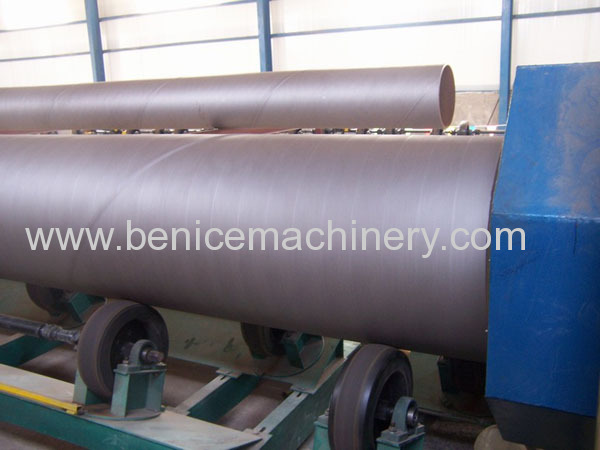 PU insulation pipes produced the production line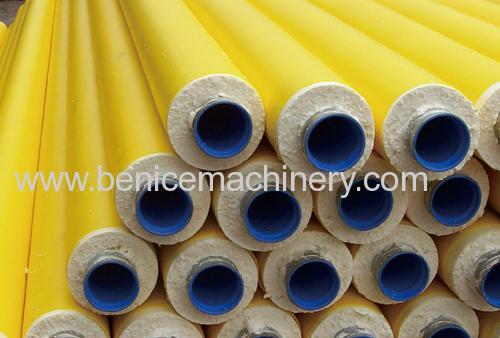 Total production line before delivery