Product name: hydraulic conductor lifting drum jack stand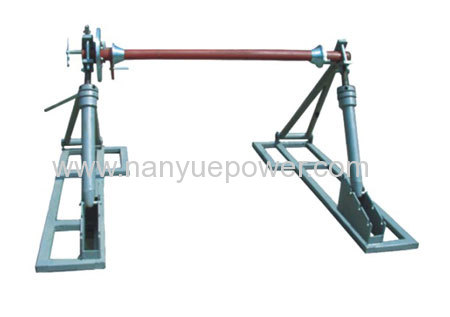 Description of hydraulic conductor lifting drum jack stand
This integrated reel stand with disc tension brake can support the reel when applied to tension stringing or mechanical traction wire-laying. Also, it can be used for the braking of reel. For easy transportation, this product can be disassembled into three parts. Our SIPZ-7 type product is designed with the double disc brake structure.
Detailed Data
Item Number
15141
15142
15143
Model
SIPZ3A
SIPZ5A
SIPZ-7
Applicable Reel
Diameter of Coil (mm)
Φ900~1600
Φ1600~2400
Φ1800~2500
Width of Coil (mm)
≤1350
≤1350
≤1700
Diameter of Axle Hole (mm)
Φ65-100
Φ65-100
Φ120
Maximum Weight (kg)
3000
5000
7000
Braking Torque (N·m)
1000
1000
2000
Pay-off Speed (m/min)
80
80
80
Weight (kg)
200
215
480
♦ Notes:
1. Integrated reel stands with disc tension brakeis supporting reel in tension releasing wire or mechanically linepulling wire and to brake the reel
2. can be disassembled into 3 pieces ,convenient transportation .
3. SIPZ-7 is double –disc brake .
We Nanyue Power manufacture and supply various series of stringing equipments and tools for overhead, OPGW and underground power transmission lines construction and installation totally over 2000 stringing equipments and accessories. Till now we have established good and long-lasting business relationship with many companies home and abroad, our major offered stringing equipments and accessories include as below:
Overhead Conductor Stringing Cable Puller(Winch) Tensioner: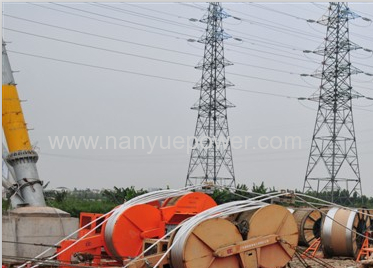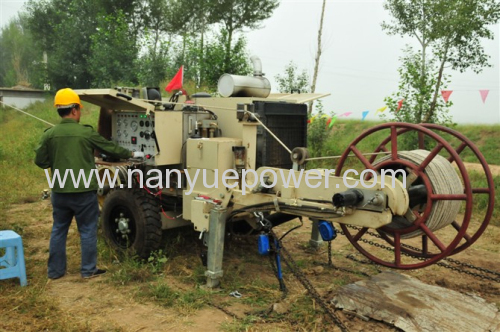 Conductor Stringing Cable Pulley Blocks: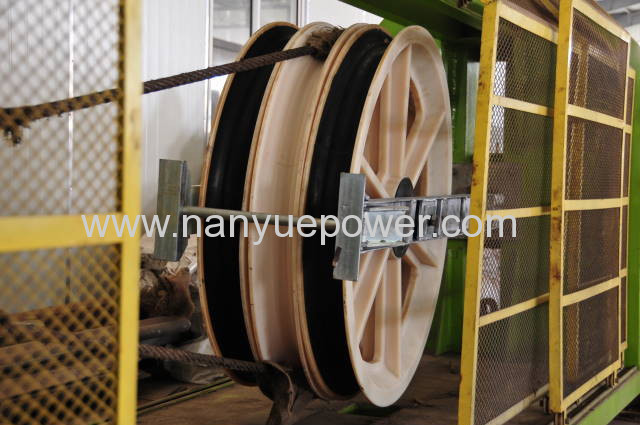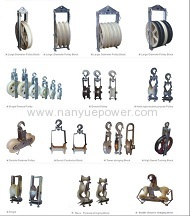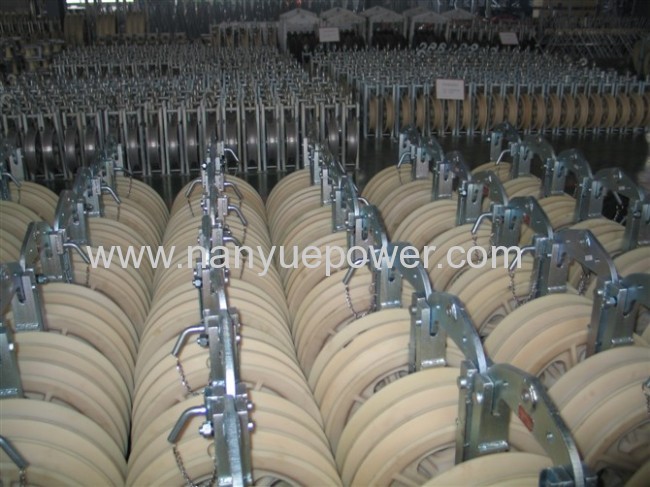 Come A-Long Clamps: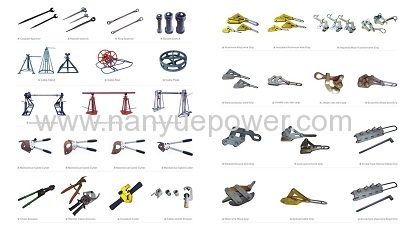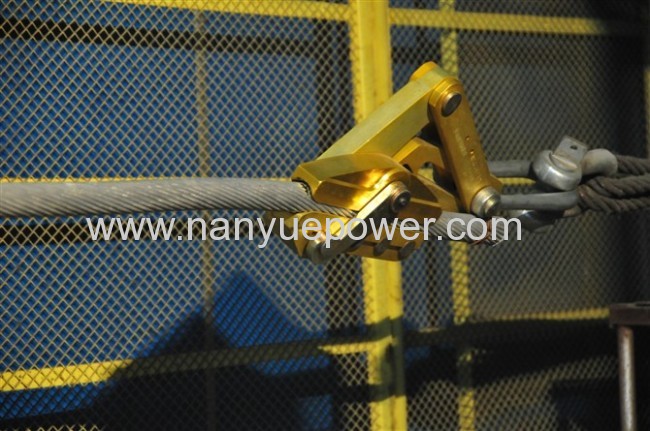 Diesel Petrol Gasoline Engine Powered Winch: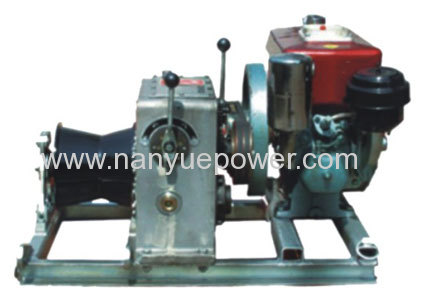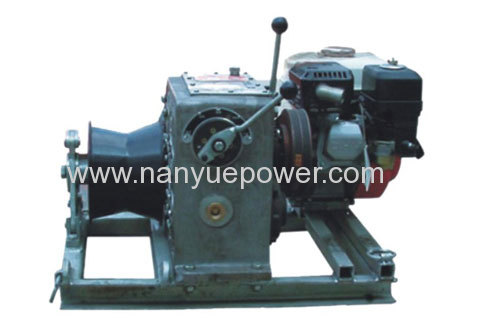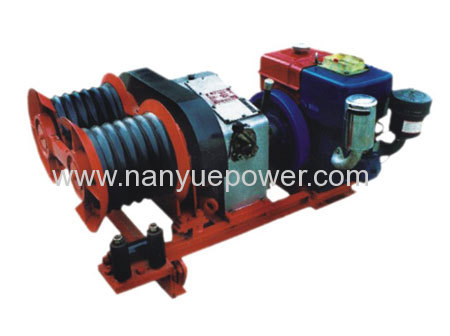 Underground Cable Installation Machines and Tools: cable sender, cable pusher, cable feeder, cable puller and rollers.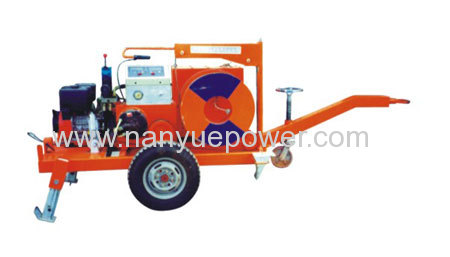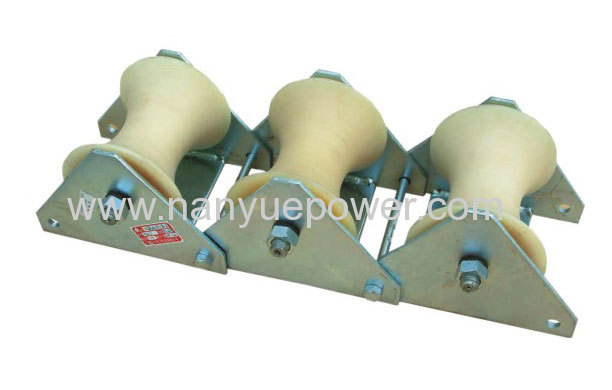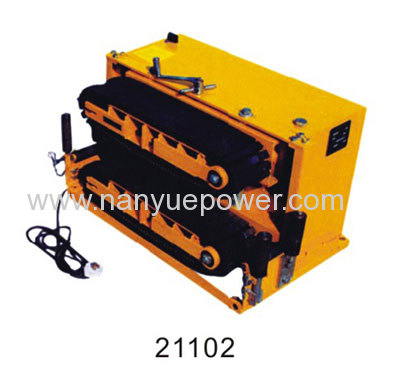 Hydraulic Conductor Drum Jack, Reel Stand, Reel Elevator, Reel Winders: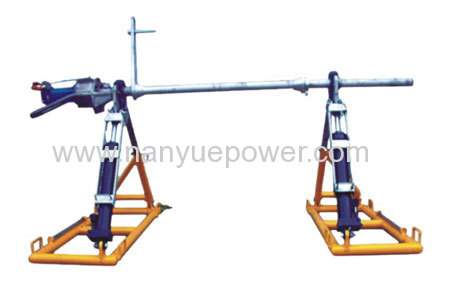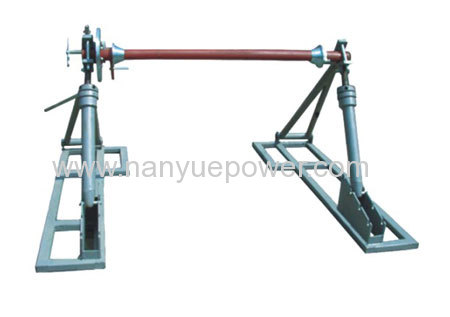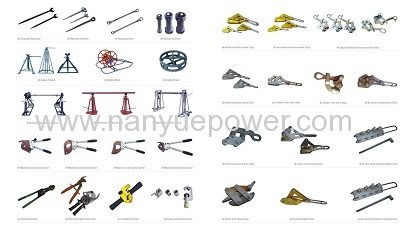 Anti-twisting Braided Pilot Wire Rope: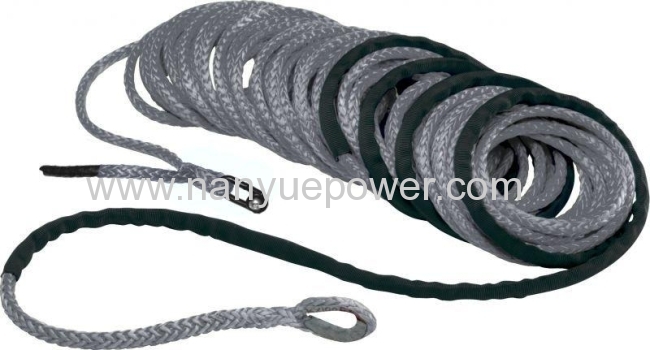 Fiber Optical OPGW Installation Stringing Accessories: OPGW running board, Clamps, self-traction machine, OPGW pulley blocks.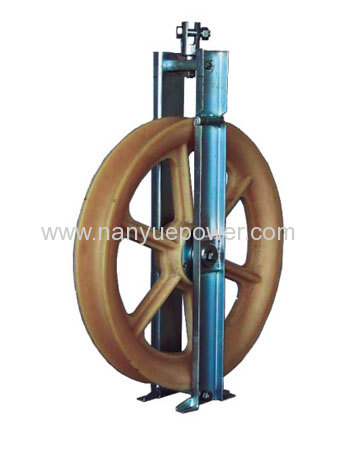 Other Overhead Power Transmission Lines Stringing Accessories:lines stringing swivel, zoom sag scope, hydraulic compressor, cable cutter, conductor cutter, dynamometer, grounding trolley, inspection trolley etc.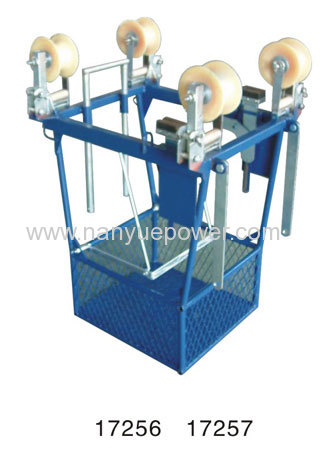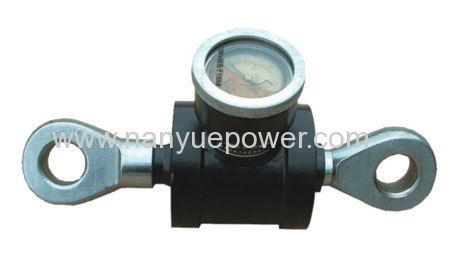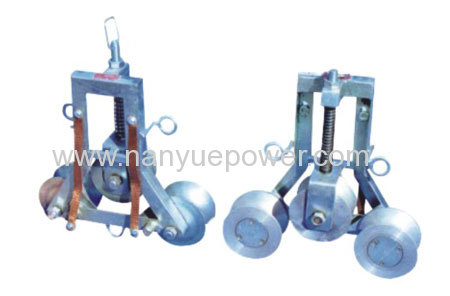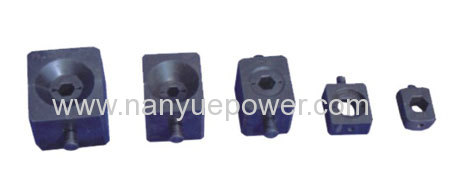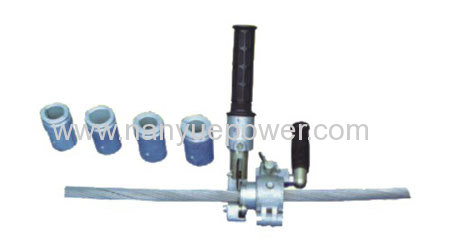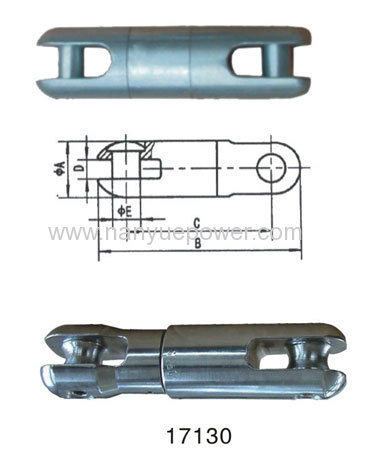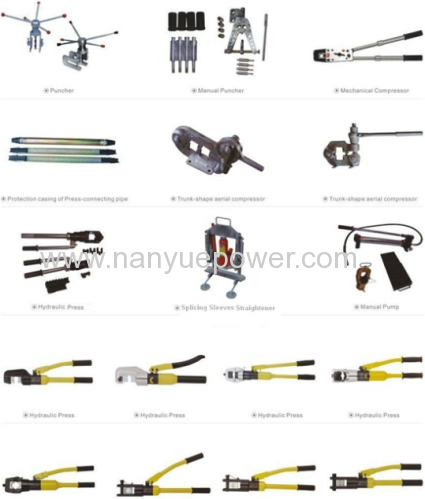 About Overhead Power Transmission Lines Construction:
Overhead power lines are the infrastructure for electric power transmission and distribution along large distances. It consists of one or more conductors suspended by towers or utility poles. Since most of the insulation is provided by air, overhead power lines are generally the lowest-cost method of power transmission for large amounts of electric energy.
Transmission-class line construction is very specialized. Compared to distribution construction, structures are taller, spans are longer, conductors are larger/heavier/stiffer, and pulls are longer and can extend over steep and very uneven terrain. In addition, aluminum conductors vary in construction requirements, calling for special handling techniques, tools, and equipment.
Transmission construction also involves different line and structure designs, as well as different conductor configurations (including simultaneous stringing of multiple conductors ('bundles") using a single pulling line). These configurations can range from single to bundles of two, three, four, and six conductors per phase. Some lines are strung using conventional, ground-based equipment and tools, while others require stringing using helicopters.

Nowadays the great challenge is to increase the transmission efficiency and the transmission distance. Nanyue technology can help reaching these goals, thanks to its low conductor damage and multiple conductor machines and the capability of stringing any type of new generation conductor.
Explore Nanyue range of machines and accessories for stringing operations here.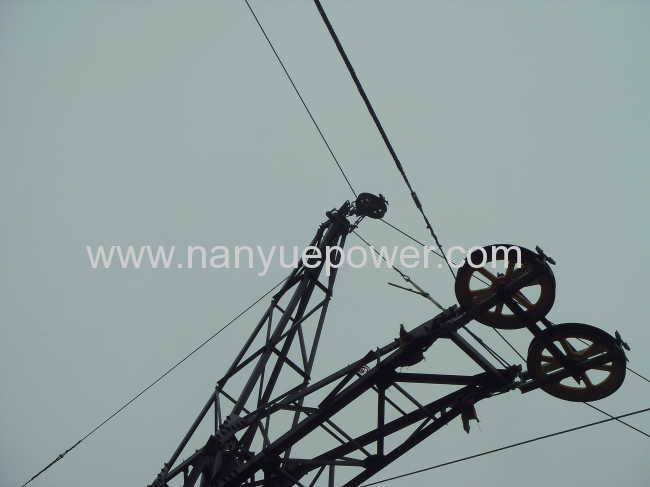 About Optical Ground Wire(OPGW)
Optical ground wire (OPGW) is a type of cable used in the construction of electric power transmission and distribution lines. This cable combines grounding and data transmission functions.
The OPGW cable are located at the ends of high-voltage pylons: its conductive part serves to bond adjacent towers to earth ground and shields the high-voltage conductors from lightning strikes. The optical fibers within the cable can be used for high-speed data transmission.
Nanyue is largely experienced in the installation of OPGW cables and this knowledge has been applied on a range of high performance machines.
Explore Nanyue range of machines and accessories for stringing operations here.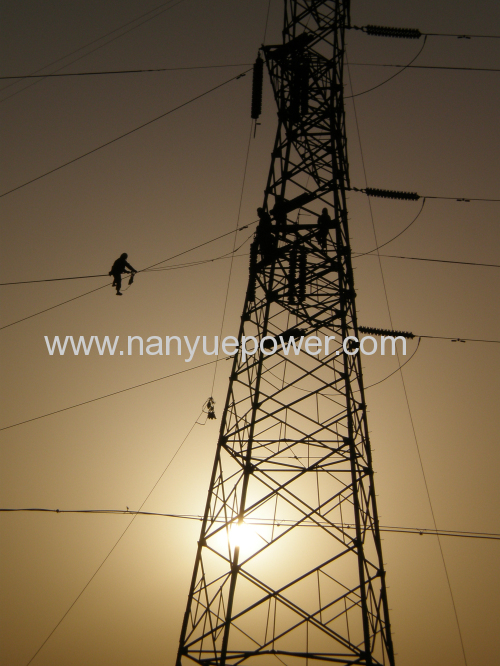 About Reconductoring:
Power transmission owners and operators need to develop solutions to maintain the transmission efficiency over time or to increase the capacity of existing lines, that are acceptable to the public, reliable and economical. Reconductoring is the key: renewing the old conductor (line refurbishment) or replacing standard conductors with those of last generation (line improvement).
Long lead times for new lines, limited availability of right-of-way and increasingly complex procedures for applications and permits justify the increasing attention in lines improvement and consequently reconductoring operations.
Nanyue has a great experience in reconductoring operations, especially in the installation of new generation conductors.
Explore Nanyue range of machines and accessories for reconductoring operations here.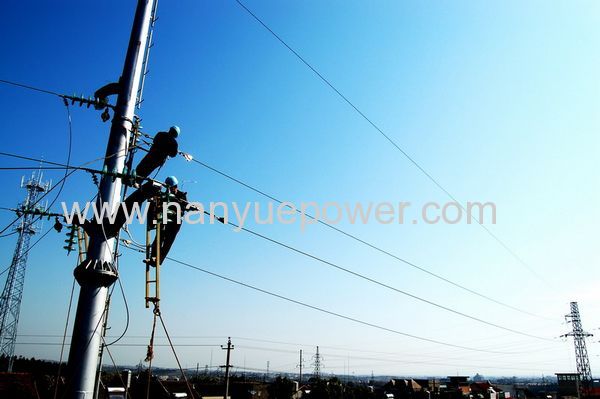 About Underground Cables Laying Installation
Communication, electricity and transport lines often require the installation of underground cables in order to obtain high-level performance and low impact on the environment. Underground cables need stringing equipment capable of operating under any condition, always providing good performance, high power and working accuracy. Nanyue stringing machines and accessories to install underground cables are designed and built to ensure the highest performance in terms of quality and resistance.
Explore Nanyue range of machines and accessories for the installation of underground cable here.
About Yunnan Nanyue Electric Power Equipment Co., Ltd
Yunnan Nanyue Electric Power Equipment Co., Ltd., located in Yunnan, China, who is specializing in researching, manufacturing, selling and after-sales services of power transmission and distribution equipments for all over the world. Our company has many years of production experience in complete sets of power transmission and distribution equipments.
Because of the company's growth need, now the company has relocated and expanded the professional production base, offering a variety of products at home and abroad, including complete sets of power transmission lines equipments, power distribution lines equipments, optical fiber cable stringing equipments, cable installation mechanism & tools, foundation construction mechanism &tools, Auxiliary devices and other equipments with a total of 1,000 specifications and export to many countries and areas such as Africa, Southeast Asia, the Middle East and other regions in the world. The products from our company are highly appreciated by the customers with excellent quality and perfect service.
Whenever you want to find quality complete sets of power transmission and distribution Stringing Equipments, Yunnan Nanyue Electric Power Equipment Co., Ltd. is always the best place for you, we offer a reasonable price with comparable quality and consistent service.
Our Competitive Advantage:
Professional Manufacturer Direct:
We Nanyue Power manufacture and supply directly various series of stringing equipments and tools for overhead, OPGW and underground power transmission lines construction and installation totally over 2000 stringing equipments and accessories.
R & D Capability:
We invest large number of funds into developing new products and enhancing quality of products each year to make sure the the most state-of-art of the overhead and underground power transmission lines stringing equipment and accessories.
Hi-tech Production Equipment and Plant:
1): High testing tower and big outdoor testing field which is suitable for the simulated test of 30 Ton hydraulic pullers, 18 Ton hydraulic tensioners, electrical crossing structures, emergency restoration towers and gin poles;
2): 100 Ton horizontal tensile tester and 60 Ton multifunctional vertical tester which is fit for the tensile test of construction tools and machines of transmission lines up to1000KV.
3): Professional hydraulic testing table ensures the reliable hydraulic system and the more smooth development of hydraulically driven equipment, like pullers and tensioners.
Quality Control:
We have very strict quality control for each item product from the materials sourcing, production, packaging till safe delivery goods to customers.
Competitive Price:
Thanks to our modern production equipment, plant and management system, we control our production cost successfully when all goods meeting high standard quality, that always helps and make sure our price will always will be most competitive with good quality.
Consistent After-sales Service:
Our company own professional and excellent after-sales team by 7x24 for techanical problems and any feedback from our customers to help them improve the work efficiency, that means, you never worry anything to buy and use our goods.