Polyester embroidery thread
A> Asmortex
Ningbo Asmortex Imp & Exp Co.,Limited is specialized in manufacturing all kinds of thread and has been exporting threads for 16 years.
With the annual production capacity of 5,000 tons polyester sewing thread, Embroidery thread, elastic thread, Nylon thread, Metallic yarn, Cotton thread, Etc.
We can do OEM or produce semi-finished thread according to customers' requirements.
2. We also supplier many kinds tailoring mateira, Lace, Button, Beads, Zipper, Ribbon, Tape, Elastic band, Machine needle & parts, Fabric, Curtain accessories.
B> Paking:customer's pack is accept.
| | |
| --- | --- |
| materia | Polyester or rayon. |
| Spe. | 120D/2 150D/2,210D/2, 300D/1, 600D/1 |
| Use | Embroidery |
| Length | 1000yds, 5000yds, 10000yds/cone |
C> Recommend products
You also maybe interested in following products: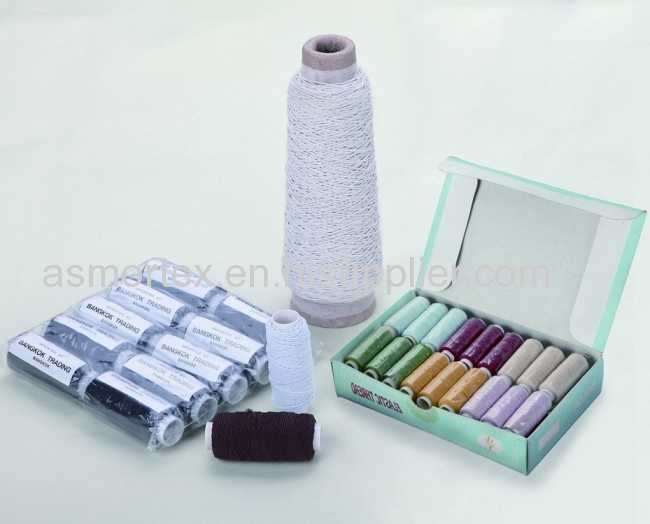 D> About Asomor
ASMOR started from thread (small tube & big cone) in Ningbo in 2006.
Now as a well known company specialized in providing a variety of garment accessories & tailoring materials, ASMOR have succeeded in its business range from:
* Thread & yarn
* Ribbon & tape
* Fabric & lining
* Trimming & lace
* Zipper & slider
* Buttons & buckles
* Beads & sequins
* Sewing kits & sewing machine parts
* Other daily uses & light industry products
In addition, many general merchandises such as: stationary, fashion ornaments, chemical dyestuff, etc. can be supplied as per customers requirement.