HDPE Stop/Shut-off Valves Pipe Fittings
PE shut-off valve features:
Three friends stop valve PE Pipe Fittings health, non-toxic, corrosion-resistant, water and no secondary pollution; installation and connection easy.
Product pressure grade: SDR11, SDR13.6, SDR17, SDR21.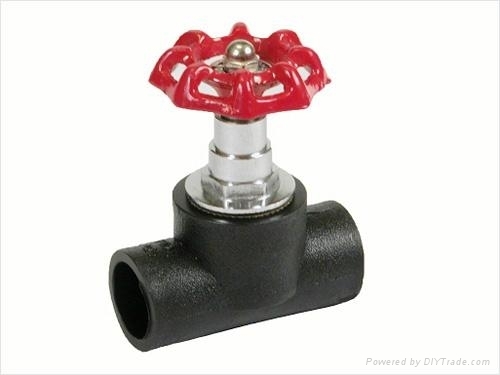 Application areas:
Polyethylene pipe industry globe valves used in urban water supply projects in rural areas, industrial and mining water projects, irrigation and livestock drinking water, garden irrigation projects.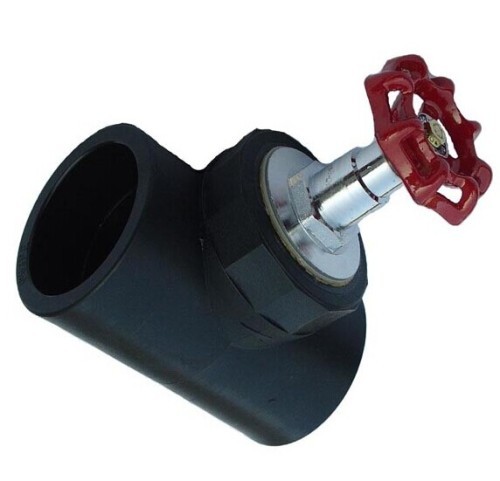 ***Workflow of HDPE Stop Valve
HDPE Stop Valve is closed parts (valve) moves along the centerline of the valve seat. According to this form of valve moves, changes in port of the valve seat and the valve stroke is directly proportional relationship. As such the valve stem to open or close the relatively short trip, but also very reliable cut-off function, and because the trip is proportional valve port and valve changes, very suitable for flow regulation. Therefore, this type of valve is suitable for cutting or regulation and throttling.
***Specification of hdpe shut-off/stop valve
Size
MOQ
dn20
1000pcs
dn25
1000pcs
dn32
1000pcs
dn40
500pcs
dn50
300pcs
dn63
200pcs
dn75

100pcs
dn90
100pcs
dn110
100pcs
dn160
100pcs
***Basic performance of raw materials for pipe fittings
Paramenter
Units
Requirement
Test Value
Density
kg/m³
≥930
23ºC
Melt flow rate
g/10min
0.2~1.4
190ºC,5kg
Thermal slaility (OIT)
min
>20
200ºC
Volati lematter content
mg/kg
≤350


Moisture content
mg/kg
≤300
ASTM D 4019:1994a
Carbon black content
%
2.0~2.5


Crbon black dispersion
grade
≤3


Gas proof components
h
≥20
80ºC,2MPa(Hoop stress)

Resistance to slow crack growth

(En>5mm)

h
165

80ºC,0.80MPa(Testing pressure)

80ºC,0.92MPa(Testing pressure)
***Performance requirement of pipe fittings
NO.
Item
Requirement
Test value
1

20ºC hydrostatic

strength

No damage, no leakage

Hoop stress:

PE80 10.0MPa

PE100 12.4MPa

Testing temperature: 20ºC

Testing time: ≥100h

2

80ºC hydrostatic

strength

No damage, no leakage

Hoop stress:

PE80 4.50MPa

PE100 5.40MPa

Testing temperature: 80ºC

Testing time: ≥165h

3

80ºC hydrostatic

strength

No damage, no leakage

Hoop stress:

PE80 4.50MPa

PE100 5.40MPa

Testing temperature: 80ºC

Testing time: ≥1000h

4

Tensile strength of

butt-fusion

pipe fittings

Test to destruction:

Flexible is good

Testing temperature:23ºC±2ºC
5

Welding strength of

electro-fusion

pipe fittings

Percentage of brittle peel:

≤33.3%

Testing temperature:23ºC±2ºC
6

Oxidation induction

time

>20min
200ºC
7
Melt flow rate

Tube melt rate of change not exceeding ±20% of the raw material

190ºC, 5kg
***Our workshops