4 Ton HYDRAULIC PULLER TENSIONER with Reel Winder
1.Hydraulic Puller Tensioner Equipment with Reel Winder Machine
2.Max Pulling Force:40KN
3.Continuous Pulling Force:35KN
4.Max Pulling Speed:5km/h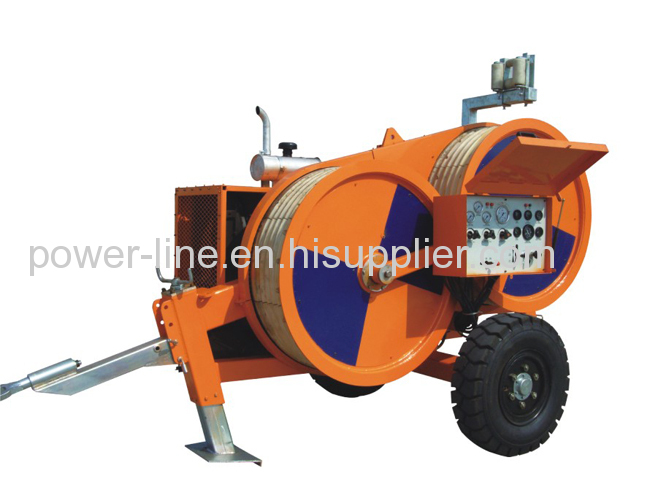 Application: It is suitable for stringing single conductor or OPGW and steel wire rope in overhead transmission line. It is ideal equipment for re-conductoring on existing power line (for exchange OPGW or conductor project).
Features:
l.Closed hydraulic circuit, infinitely variable pull/tension control in both rotating directions;
2. The max. tension / pull force for conductor stringing operation can be preset, and the pull / tension force in the conductor can be read on the pull / tension gauge;
3. Spring applied hydraulic released brake acts automatically in case of hydraulic failure to ensure safety concern;
4. Hydraulic oil cooling system;
5. Bull wheels are lined with wear proof MC nylon segments;
6. With hydraulic oil output for driving hydraulic reel stand
7.Mounted on trailer with rigid axle for towing at max. speed of 15 km/h.
8.l Model C is equipped with automatic hydraulic reel winder.
Main components:
-Engine: Deutz air cooled diesel engine (German)
-Main variable displacement pump and main motor: Rexroth (German)
-Reducer: R.R. (Italian)
-Main hydraulic valves: Rexroth (German)
-Hydraulic Instrument: WIKA (German)
-Quick couplings: EMB (German)
-Radiator: AKG (German)
-Hydraulic motor for reel winder: Danfoss (Denmark)


| | |
| --- | --- |
| Item No. | 07223 |
| Model | SA-YQZ40C |
| Max. Pulling / Tension Force (KN) | 40 / 40 |
| Continuous Pulling / Tension Force (KN) | 35 / 35 |
| Max. Stringing Speed(km/h) | 5 / 5 |
| Diameter of wheel (mm) | Φ1200 |
| Number of grooves | 5 |
| Max. Conductor Diameter (mm) | Φ32 |
| Model of Engine | DEUTZ air cooled |
| Power of Engine | 51 KW |
| Rotate Speed of Engine (rpm) | 2500 |
| Electrical system: | DC12V |
| Weight (kg) | 3600 |
| Dimension (m) | 4.17 x 1.85 x 2.40 |