JDK(Shenzhen) Makeup Brush Factory is a professional manufacturer and trader of cosmetic brush and other cosmetic tools for 10 years. Products are exported to Spain, USA, UK, Greece,France, Turkey, Belgium, Germany, Australia, Indian,etc. OEM brands include: Julien , Korres, Yverocher, Christna Aguilera, AVON, VICHY, etc.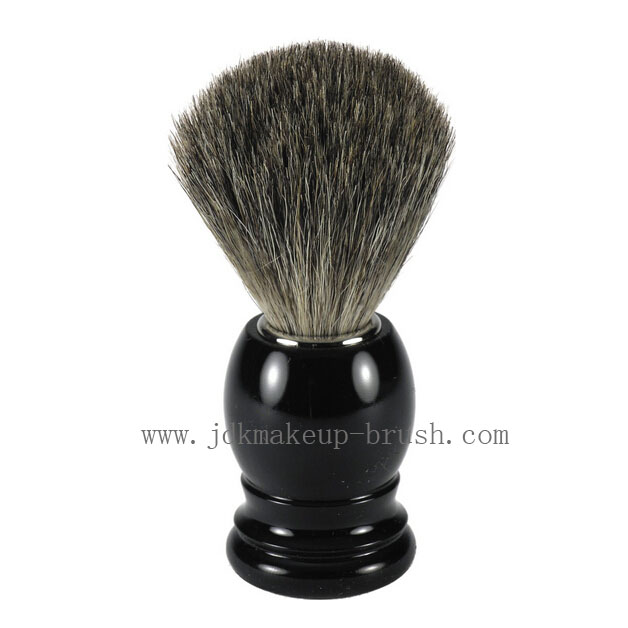 Badger Hair has been used for more than two centuries to make the best shaving brushes; in the past it was the preserve of the wealthy, now it is available to all. Badger hair is quality graded according to the appearance and softness of the hairs; the ascending classifications are Best, Super and Silver-tip. The price of a brush will depend on the quality of the hair and the amount of it used in the brush - it is an expensive resource and the highest standards of quality control are used when the hair is sourced. The hair is cleansed and sterilized to ensure that it is not only clean but performs to meet user expectations.
Why Use Badger Hair?
Badger hair is different to many types of fur - like human hair it absorbs water and it is this characteristic that makes badger hair perfect for shaving brushes. The lathering process whips hot water, soap and air into a warm foam that cleanses the skin and lubricates the path of the razor. Water is the key element in a good shave and the more a brush can hold, the better the lather and shave will be. The fine tips of the hairs help to make a smooth and creamy lather and the exceptional softness of badger-hair cleanses the face gently, giving a comfortable and reliable shave.

Products detail:
-hair: badger hair, bristles, synthetic hair .. for your option.
-Handle: Plastic, wooden handle for your option
-Design: According to your request
USE STEP
Enjoy the Perfect Shave:
1. Moisten the area to be shaved with warm to hot water
2. Dip the badger hair brush into hot water
3. Then dip the brush into your shaving cream or soap and swirl around to create the lather
4. Apply the lather to your skin in circular strokes
5. Leave on the face for 1 to 2 minutes
6. Shave
7. Rinse the brush with clean water
8. Shake excess water from brush and place in a holder with the bristles pointing downwards
Why JDK

1.We are manufacturer not trader, which means we can absolutely control the quality and production time.

2.We have been worked n makeup brush for more than ten years, which means we are really experienced.

3.Our factory located in Shenzhen,China, which is a perfect location to ship goods conveniently and promptly.

Shippment

1.Door to door services by courier.By TNT,FEDEX, UPS, DHL,etc to all countries.

2.By air or sea through your pointed forwarder is the normal way we do.

3.We can also find the cheapest forwarder to ship goods to your pointed port.

Payment

30% in deposit in advance and 70% before shpping
Production Process: