4 IN 1 PUNCHING & BINDING MACHINE SUPER4&1
This is great machine for people who want more options in a single binding machine .
High-performance machines built specifically for companies that do a lot of book binding that requires different binding formats, such as comb , twin wire loop ,single wire binding .The depth margin and side margin controls on theMulti Function Revolver Punching And Binding Machine ensure that the all punches are well-centered and are placed at the correct spot along the margin
This multi-format versatility that makes the Multi Function Revolver Punching And Binding Machine a popular choice among schools, colleges, print shops, corporate marketing departments, churches, and business development departments.
Features:
Electric foot pedal operation
Punch capacity: Up to 22000 sheets of 20 lb paper for an hour
Fully disengageable pins
Adjustable depth margin
Heavy duty motor and gearbox
With comb binding,wire closing,coil inserting
interchangeable punch die by easy manual revoving ,no need to change die ,no need any tool .
Discription:
4 in 1 binding machine
Easy to operate
International patent design
Electric punching for 30,000 sheets /hour
Punching up to 30-35sheets each time
Puncing width :11"/A4/A3
International patent design

High speed punch capacity up to 22000 sheets per hour
Install 4 patterns punch dies at customer's request
The high quality precision die sets of this machine will last for years of production
All metal construnction make it durable and many years worry free
Punching 2:1Wire ,3:1wire ,4:1coil(Round or oval hole ) ,5:1 ,6MM coil,Comb and calendar
With wire binding,coil binding and comb binding
Punching margin &side margin is adjustable
All metal construction make it durable and many years worry free
Machine dimension :500x600x400mm
Machine weight :80kg
| | |
| --- | --- |
| specification | Multifunction binding machine |
| Model name | SUPER4&1 |
| Punching capacity | 25-35 sheets depending on different dies |
| Binding capacity | 500sheets for comb binding,318sheets for coil and 380sheets for double wire |
| Punching width | A4 and A3 and any sheets smaller than A4 |
| Machine certification | CE,CETL ,SAA |
Detail
Any 4 kind of different punching and binding system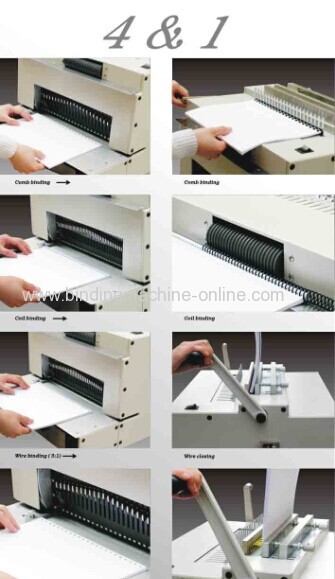 Can choose any 4 kind of holes from the drawing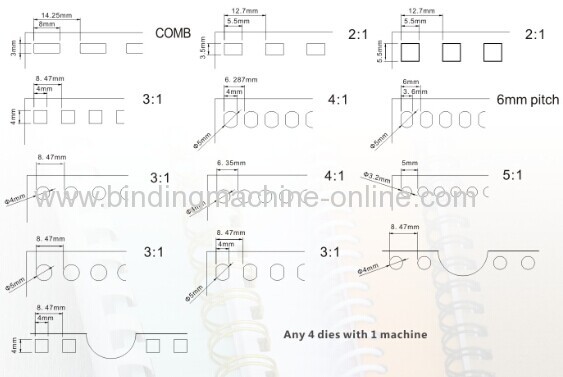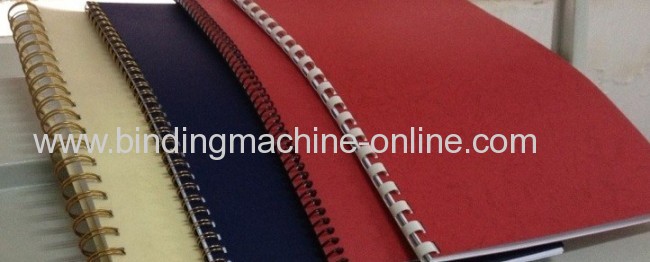 InternationaL Innovation patent
CE,CETL ,SAA CB certification
Shows