SA-YQ40 33KV Overhead Power Line Transmission Stringing Equipment
1.SA-YQ40 33KV Overhead Power Line Transmission Stringing Equipment
2.Max Pulling Force:40
3.Continuous pulling Force:35KN
4.Root Diameter:400mm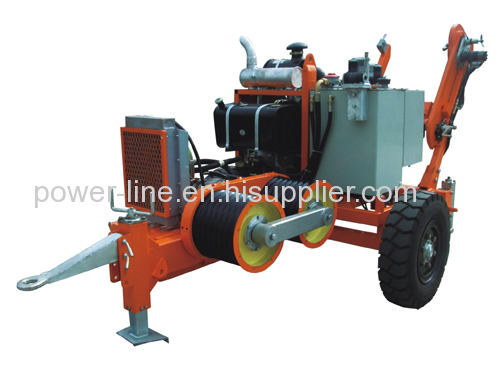 | | |
| --- | --- |
| Item No. | 07011 |
| Model | SA-YQ40 |
| Stringing capacity | 1 PILOT WIRE ROPE |
| Max. Pulling Force (KN) | 40 |
| Continuous Max. Pulling Force (KN) | 35 |
| Speed at Max. continuous pull: | 2.5km/h |
| Max. Pulling Speed (m/min) | 5km/h |
| Root Diameter of Bull wheel (mm) | Φ400 |
| Number of grooves | 7 |
| Max. Steel rope Diameter (mm) | Φ16 |
| Model of Diesel Engine | Water cooled diesel engine |
| Power of Diesel Engine | 60 KW |
| Rotate Speed of Engine (rpm) | 2000 |
| Electrical System | DC24V |
| Weight (kg) | 2500 |
| Dimension (m) | 3.5 x 2.0 x 2.3 |
Application: The hydraulic puller is used to pull pilot wire rope for overhead transmission line. It is equipped with hydraulic system, and can be easily used and maintained
Features:
-With closed hydraulic circuit and variable displacement plunger pump, the pulling force could be step less controlled.
-The max pulling force for stringing operation can be preset.
-Automatic over pulling protection system
-With the radiator imported from Germany, the machine has good heat dissipate performance.
-With a negative spring applied hydraulic released brake, and automatic overload protection.
-With hydraulic oil cooling system.
-Heat treated wear-proof bullwheels
-With rigid axle for towing at high speed, the machine looks beautiful.
-Integral self-loading reel winder with automatic level wind.
-Heavy duty R-tires with excellent shock-absorbing performance.
Main Components:
-Engine: Cummins water-cooled diesel engine (China)
-Main variable displacement hydraulic pump and main motor: Rexroth (Germany)
-Reducer: R.R. (Italian)
-Hydraulic instruments: WIKA (German)
-Radiator: AKG (German)