3 ton cable pulling winch machine
1.3 Ton diesel Engine Powered Motorised Winches
2.Engine power:4KW
3.Max speed, line pull:7/18.1
4.Reverse shift:-/5.2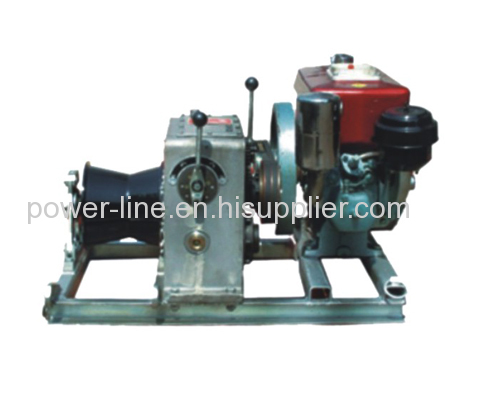 Order number

09111

09112

Model

JJC-30

JJC-50

Diesel power (hp)

4

6

Engine model

Z170F

R175A

Speed (rpm)

2600

2600

Linepull (kN)/speed (rpm)

Quick

7/18.1

15/13.8

Moderate

15/7.2

30/5.7

slow

30/4.6

50/3.6

Reverse

-/5.2

-/6.3

Drum bottom of groove diameter (mm)

Φ160

Φ160

Dimension (mm)

800×620×520

890×670×520

Weight (kg)

137

170


Product Culture
Power winch plays very important role in conductor line transmission operations. As we all know,conductors are produced in drums or bundles,so in transmission,we have to use power winch to spread the conductors. Besides spreading wires, winch machine can also used to tightening cables. And helps a lot in erecting towers which is a necessity in overhead line transmission works.
Due to its sringing and hoisting capabilities,power winch can not only used in line transmission,but also in building constructions as winding machine or winch windlass.
In loading and unloading,we should rely on its machinery strength,so we can see them in wharfs.Though it is mostly used in electric line constructions,because its remarkable strength,it becomes good helper in hoisting and widely used in other fields.