Mower (Lawn mower), also known as lawn mowers, lawn mowers, lawn trimmers and so on. Mower is a mechanical tool for mowing the lawn, vegetation, and it is by the cutter, engine, walking round, running gear, blades, handrails, control components. Walking cutter mounted on wheels, fitted with an engine on the cutter, the engine output shaft with blades, high-speed rotating blades using the engine to improve a lot in terms of speed, saving time weeding operations workers, reducing the amount of human resources.
Also known as lawn mower machine by cutter, engine, walking round, running gear, blades, handrails and control components. By a parallel four-bar lifting device, rack, about monoplane weeding device of offset machine, comb rotating bevel gear drive mechanism and growth modulation depth profiling comb device component; efficiency compared to manual weeding 8 10 times, seedling injury rate, in addition to high seedling clean
Brass Mowing machine axle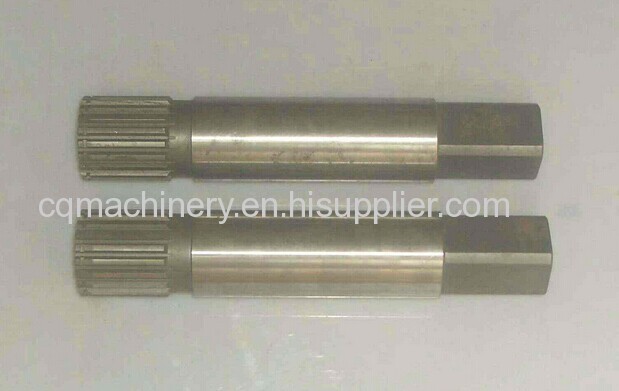 Classified according to different criteria, lawn mowers can have the following segments:
1, according to the road of: intelligent semi-automatic tow the line, after the implementation type, style mounts, tractor-mounted.
2, according to the power of: human animal driven, engine-driven, power-driven, solar-powered.
3, by way of: Hob, rotary knife, side-mount, flail.
4, according to the requirements of: flat type, halfway type, truncated style.
No hand-held rotary mower general configuration knife cutting disk, using high-strength nylon rope as forage cutting parts, flexible structures, rigid obstacles encountered are not afraid to use safer replacement is also very convenient.
Mower works have reciprocating and rotating it a higher mowing efficiency saves time and achieve a green, environmental landscaping features, simple operation, convenient, efficient, it is widely used. Compact machine is suitable for small and medium sized lawn. To use the mower on request, to determine the stubble height after mowing, very easy to use.
When mowing only the lateral trim along the slope, but not downslope trim. More conducive to modern mower operation.
non-standard mowing machine axle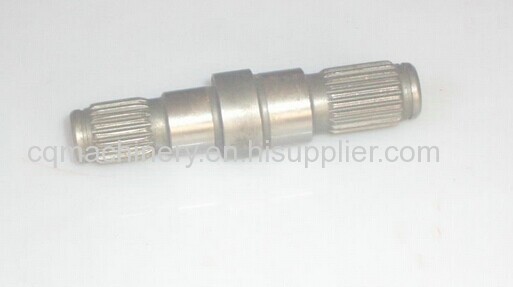 Cut grass or other crops can be made into hay and forage harvesting machinery placed on the shop floor.
There are two types of reciprocating and rotary.
Reciprocating mower:
Depend on the relative movement of the movable and fixed knife cut on the cutter cutting grass. It features stubble neatly cut pieces of units required less power; but for different pasture growth state of poor adaptability, easy to plug. Suitable for artificial grass flat natural grassland and general production. As the cutter vibration during operation, improve the operating speed limits. Knife cutting speed is generally less than 3 m / s, operating forward speed is generally 6 to 8 km / h.
plated black axle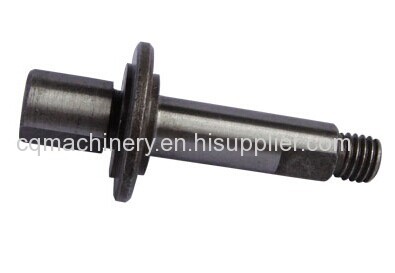 Tractor-mounted mowers:
Simple structure, lightweight, flexible. There are front suspension, side and rear suspension hanging type three, after hanging mower most widely used. Reciprocating mower by the cutter, cutter gear, consisting of the main components to enhance the cutter device, safety devices and block devices grass. Cutter working principle and structure and grain harvesting machinery cutter is basically the same. The bright blade and carved with a blade edge of two teeth. Generally use light blade moving blade. Gear cutter and grain harvesters are also similar, the use of offset crank linkage and swing ring mechanism. As the grass grow high density, high moisture content, the average speed is higher than the knife grain harvesters, generally 1.6 to 2.0 m / sec. Cutter lifting devices generally operated by a hydraulic system upgrade quickly and easily, to ensure that the cutter complex ground adaptability. Mainly to ensure the safety device and the cutter actuator safety. Higher operating speed of the mower, the general decoupling safety device. When the cutter resistance is too large, the safety device that automatically decoupled, oscillating cutter backwards, and cut off the power cutter. Some gear cutter mower with wooden rod or tape drive mode, connecting rod break or slip tape to protect other transmission parts and cutters are not damaged when overloaded. Grass block retaining device is usually installed in the outer ends of the grass cutting board or end, its role is to cut grass to the central cutter goes some distance, leaving a path through the next trip for tractor wheels to avoid or reduce rolling pastures that have been cut.
Rotary mower:
Depend on the impact of high-speed rotating cutter blade on cutting grass. Cutting speed (peripheral speed of the base of the blade edge) of up to 60 to 90 m / sec. Smooth, operating forward speed of up to 15 km / hour. Its characteristics are adaptable to forage for pasture yield, but not enough to cut neatly cut more weight, the unit needed to power larger swath.
all kinds of axle for mowing machine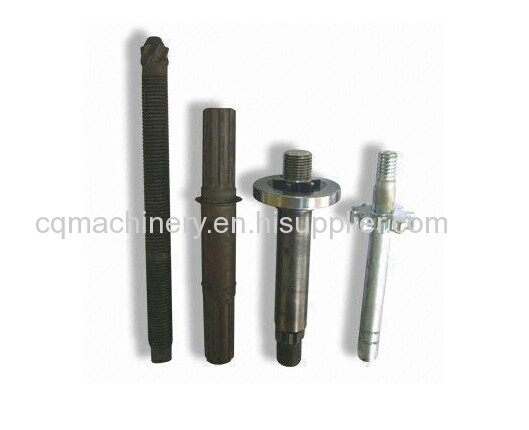 Rotary mower:
Mowers, rotary mowers categories:
There rotary drum and two ways: ① top gear drum mower located cutter, which is also called the drive rotary mower. A general drum-type mower with 1 to 4 juxtaposed vertical cylindrical or conical rollers. The bottom of each cylinder 2 to 6 with the hinged cutter blades adjacent to the path of rotation of the cutter blade with a certain amount of overlap to avoid leakage cut. Drum by a tape or bevel gear, the relative rotation of two adjacent cylinders, cut grass in the delivery roller pair reversed backwards into a neat laying grass strip. To meet the requirements of low-cut, but the structure is not compact. ② rotary mower gear located below the cutter, which is also called the next drive rotary mower. In rotary mower blade beam, generally tied with four to six cutter. Each hinge cutter blade 2 to 6. Configuration of the adjacent cutter blades are interleaved with a rotation trajectory of the blade overlap. Generally gear cutter, cutter adjacent steering opposite. Compact structure, smooth transmission, and reliable. However, due to gear cutter bottom and the higher position. To ensure low cut and re-cut decrease, cutter usually tilted forward at an angle. A rotary mower blade cutter hinged, when the high-speed rotary cutter, under the centrifugal force to maintain a cutting state. When the resistance is too large, or in case of fault, the blades that swing back, to avoid damage. While the blade edge wear can change sides after use. Reciprocating mower replacement blade is also more convenient. On rotary mower, except reciprocating mower is equipped with safety devices like outside, at the top of fortified guard cutter also added to ensure personal safety. Impact rotary mower blades rely on high-speed rotating cutter cutting grass. Cutting speed (peripheral speed of the base of the blade edge) of up to 60 to 90 m / sec. Smooth, operating forward speed of up to 15 km / hour. Its characteristics are adaptable to forage for pasture yield, but not enough to cut neatly cut more weight, the unit needed to power larger swath.
Standard tolerance value (basic dimensions greater than 6 to 500mm)
Basic

dimensions

mm

Tolerance grade

IT5

IT6

IT7

IT8

IT9

IT10

IT11

IT12

>6~10

>10~18

>18~30

>30~50

>50~80

>80~120

>120~180

>180~250

>250~315

>315~400

>400~500

6

8

9

11

13

15

18

20

23

25

27

9

11

13

16

19

22

25

29

32

36

40

15

18

21

25

30

35

40

46

52

57

63

22

27

33

39

46

54

63

72

81

89

97

36

43

52

62

74

87

100

115

130

140

155

58

70

84

100

120

140

160

185

210

230

250

90

110

130

160

190

220

250

290

320

360

400

150

180

210

250

300

350

400

460

520

570

630
Our factory: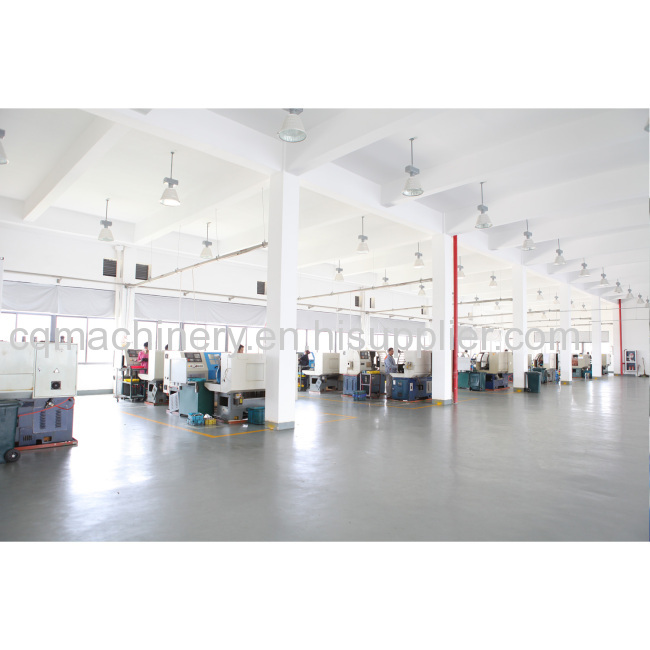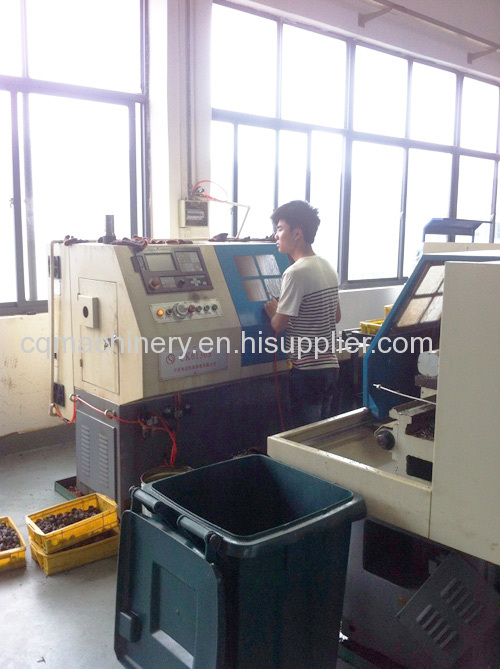 We can machine all kinds of connector,anxle,trread fitting. please feel free to contact with us and send the drawing to us.we will quote the competitive price to you.
Welcome to visit our factory.