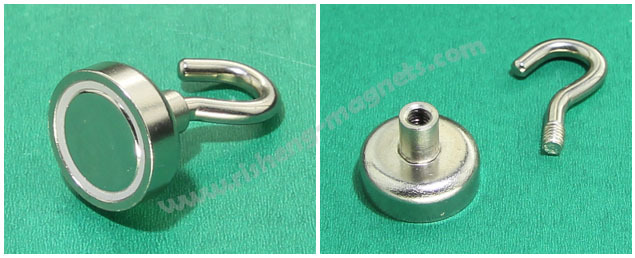 Description:
Total Size D20 x 37mm.
Size Detail D = 20mm, d= 8mm, M = 4, H1 = 7mm, H2 = 14mm, H = 37mm.
Material Neodymium magnet N35 + A3 steel
Surface Caoting Nickel coating.
Assemble Connected with screw-thread.
Weight 13 g.
Pull Force 9 kgs.
Max. Working Temperature 80 degree.
Application:
The magnetic hooksare small but very strong!
They can hang store signage, decorations and even holiday lights. Useful for hanging hot pads, keys, utensils, mirrors, ornaments and other decorations on metal doors, refrigerators, filing cabinets or other metal surfaces.
They are the perfect magnet for hanging tools, keys, utensils and more from any ferrous metal surface.