18 NOTE MAGNIFICENT WIND UP MUSIC BOX MOVEMENT GIRL GIFTS,
- Metal struction,mechanic pinned drum, polishing process 18 note wind up musical movement.
- More than 800 tunes for choice
- Also accept to custom made your own tunes, and you need offer music file,Midi file will be better,and the developing&mould charge will be about 200usd, and need take about 4 weeks to fnish developing and making mould for a tune.
- Developing Step,
1)Send us the midi file(staff or mp3 ,but midi file is the best), 12~15 seconds music
2)Cofirming your music file
3)If suitable ,we send you a new midi file after finish developing
4)If ok,then to make mould for this new tune, if not,discuss and revise
DIFFERENCE BETWEEN STANDARD and LUXURY,
- Drums of Music box movement,
Luxury 18 note musical movement's drum is a pinned drum, made by hand
Standard 18 note musical movement's is a common drum, made by mould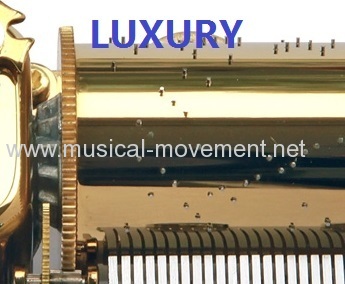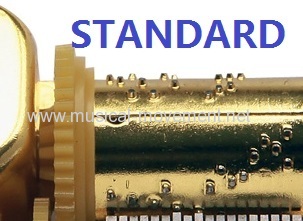 - Appearance Of Music Box Movement,
Luxury music box parts apperance is polishing, Very beautiful and interesting
Standard music box parts apperance is not with extra process of polishing
- Core Part,Sound Comb Of Music Box Movement,
Film special process for Luxury musical movement, and do not for the standard musical movment.
OUR LUXURY CLOCKWOR SPRING DRIVEN MUSIC BOX PARTS ,
1)Most professional and largest supplier in the field of musical movement in the world.
2)Beautiful sound: We use special alloy for main parts, have proprietary technique on the core part Comb,and the mechanism smooth running on the correct tempo
3)More than 20 years improvement,Very stable quality and long service life
4)Low defect,may offer extra if large order
5)Existing more than 800 tunes for selection ,also be customized.
6)500,000pcs/year,Strong production capacity,Deliver on time.