Horse Chestnut P.E.
Botanical Source: Aesculus hippocastanum L.
Used Part: Fruit
Specification: 20%--98% Aescin
Appearance: powder
Test Method: HPLC
Bulk density: 0.35-0.75g/mL
Moisture:<5%
Ash:<5%
Description:
Aescin is a three-terpene compounds, which including Aescin A, B, C, D. and Aescin A and Aescin B are known as escin beta-escin, while Aescin C and Aescin D are called alpha-escin. Alpha-escin and beta-escin are two isomers of Aescin. Although two melting point, optical rotation, hemolytic index and water solubility of two Aescin are not the same, they are not much different effect.
Such years of pharmacological research and clinical application, which proved that Aescinate applied to play an anti-inflammatory, anti-oxidation role and keep moisturizing. In terms of relative sodium aescinate, aescin has a great significant treatment effect on the human body and few side effects. It can replace sodium aescinate in cosmetics and medicines.
Function:
1. It has anti-inflammatory health effects.
2. Buckeye makes veins strong and flexible, improves blood flow through veins.It inhibits an enzyme responsible for breaking down vessel walls rendering them enlarged and inefficient.
3. Diminish varicose veins.
4. Heal hemorrhoids.
5. Reduce edema.
6. It can increase the skin gloss and slow down skin aging.
Application:
1. It has efficacy of antiinflammation and detumescence;
2. Tt used to cure blood circulation disorder and rheumatism;
3. Aesculus chinensis extract can be used in cosmetic products, because it has efficacy of resistance for skin's inflammatory.
Packing&Storage:
Package:Double plastic bag inside, aluminum foil bag or fiber drum outside.
Delivery Detail:Within one week
Storage: Stored in a clean, cool, dry area; keep away from strong, direct light.
Shelf Life:Two years when properly stored.
Supply Ability:
a. Production capacity: 1000kg/month, large stock available;
b. Supplying conventional and customized plant extract products
Producing Process:
Plant==>Raw Material==>Extraction==>Filtration==>Cool Down==>Spray Dry(much methods to dry) Into Power==>Sifter Powder==>Packing
Advantages:
1. Small order is acceptable
2. Free sample for you
3. Have self-export rights
4. Have right to do commodity inspection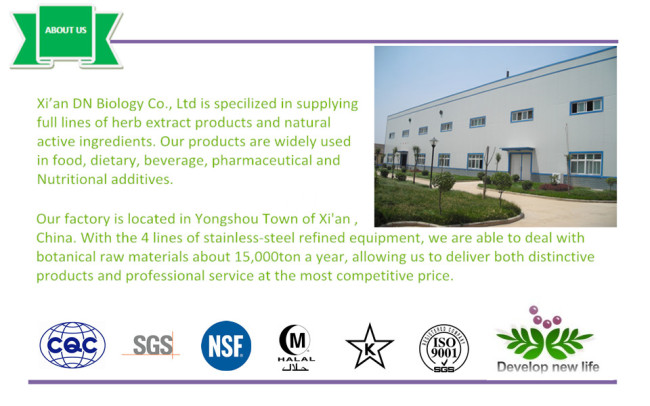 Our Commitment
At DN biology, we strive to exemplify professionalism and leadership in the herb extract and natural botanical ingredients industry by exceeding the expectations of the people we serve. This is achieved through diligent attention to detail and strict adherence to deadlines.
For a closer look, please visit our website: www.dnbiology.com
Our Mission Statement
To be an industry leader providing first class service to buyers and clients by meeting their needs and exceeding their expectations through honesty and reliability, resulting in long lasting sustainable relationships.
The factory: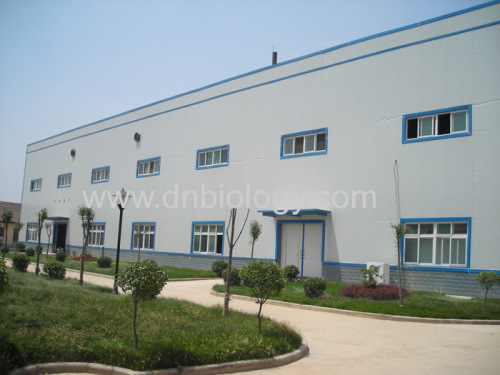 The interal figure of factory :