Mulberry P.E.
Botanical Source: Morus alba L.
Used Part: Friut
Specification: Anthocyanidin 5%,10%,20%,25% (UV)
Appearance: purple powder
Test Method: HPLC
Bulk density: 0.35-0.75g/mL
Moisture:<5%
Ash:<5%
Description:
Morus, a genus of flowering plants in the family Moraceae, comprises 10–16 species of deciduous trees commonly known as mulberries growing wild and under cultivation in many temperate world regions.
Function:
1. Scavenge free radical activity, anti-oxidation.
2. Anti-cancer, lower blood pressure.
3. Accelerate skin regeneration, anti-aging.
4. Make skin soft and elastic.
Application:
Pharmaceuticals, cosmetics, food additives.
Packing&Storage:
Package:Double plastic bag inside, aluminum foil bag or fiber drum outside.
Delivery Detail:Within one week
Storage: Stored in a clean, cool, dry area; keep away from strong, direct light.
Shelf Life:Two years when properly stored.
Supply Ability:
a. Production capacity: 1000kg/month, large stock available;
b. Supplying conventional and customized plant extract products
Producing Process:
Plant==>Raw Material==>Extraction==>Filtration==>Cool Down==>Spray Dry(much methods to dry) Into Power==>Sifter Powder==>Packing
Advantages:
1. Small order is acceptable
2. Free sample for you
3. Have self-export rights
4. Have right to do commodity inspection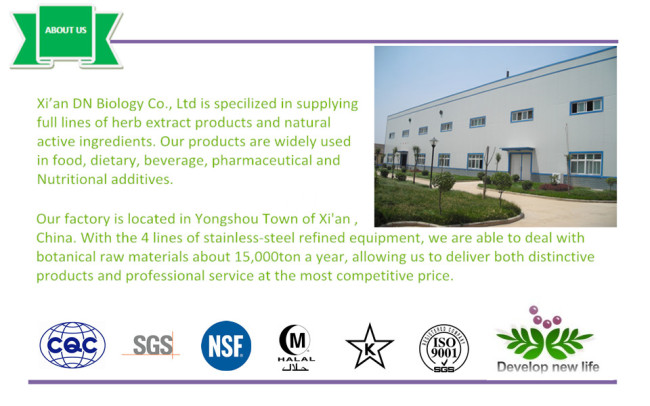 Our Commitment
At DN biology, we strive to exemplify professionalism and leadership in the herb extract and natural botanical ingredients industry by exceeding the expectations of the people we serve. This is achieved through diligent attention to detail and strict adherence to deadlines.
For a closer look, please visit our website: www.dnbiology.com
Our Mission Statement
To be an industry leader providing first class service to buyers and clients by meeting their needs and exceeding their expectations through honesty and reliability, resulting in long lasting sustainable relationships.
The factory: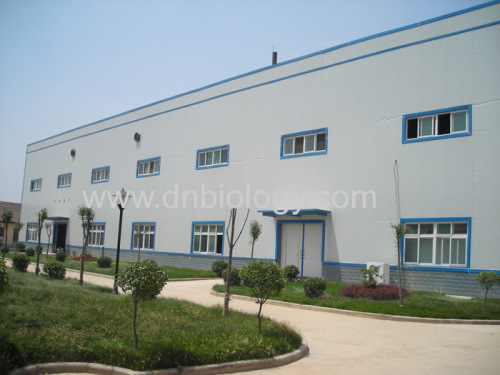 The interal figure of factory :