Tart Cherry P.E.
Botanical Source: Cerasus pseudocerasus (Lindl.) G. Don
Used Part: Fruit
Specification: 5:1, 10:1, Vitamin C 17%, 25%;
Appearance: light yellow or light red
Test Method: TLC/HPLC
Bulk density: 0.35-0.75g/mL
Moisture:<5%
Ash:<5%
Description:
Tart cherry extract is derived from a cherry variety known as tart or sour cherry. This fruit extract is typically made by combining the fruit with a solvent such as a consumable alcohol and letting the combination infuse in a cool, dark place for a time. The process results in an intense flavoring that is often used in cooking and baked foods. This potent extract -- available in liquid, powder or capsule form -- also has potential health benefits.
Function:
Eating foods rich in anthocyanins is linked to decrease risk for certain diseases such as cancer. Anthocyanins are the pigments that give red, purple or blue fruits and vegetables their color. An article published in the "Journal of Agricultural and Food Chemistry" in 2006 noted dietary anthocyanin-rich tart cherry extract may help increase the effectiveness of certain cancer medications in reducing chemotherapy side effects and in protecting against colon cancer.
Application:
Tart Cherry extract can be added to a variety of food, beverage, nutraceutical and cosmetic preparations
Packing&Storage:
Package:Double plastic bag inside, aluminum foil bag or fiber drum outside.
Delivery Detail:Within one week
Storage: Stored in a clean, cool, dry area; keep away from strong, direct light.
Shelf Life:Two years when properly stored.
Supply Ability:
a. Production capacity: 1000kg/month, large stock available;
b. Supplying conventional and customized plant extract products
Producing Process:
Plant==>Raw Material==>Extraction==>Filtration==>Cool Down==>Spray Dry(much methods to dry) Into Power==>Sifter Powder==>Packing
Advantages:
1. Small order is acceptable
2. Free sample for you
3. Have self-export rights
4. Have right to do commodity inspection
Certifications:

About DN biology
DN biology is specilized in supplying full lines of herb extract products and natural nutritional ingredients. Our products are widely used in food, dietary, beverage, pharmaceutical and Nutritional additives.
Our factory is located in Yongshou Town of Xi'an , China. With the 4 lines of stainless-steel refined equipment, we are able to deal with botanical raw materials about 1500ton a year, allowing us to deliver both distinctive products and professional service at the most competitive price.
Our Commitment
At DN biology, we strive to exemplify professionalism and leadership in the herb extract and natural botanical ingredients industry by exceeding the expectations of the people we serve. This is achieved through diligent attention to detail and strict adherence to deadlines.
For a closer look, please visit our website: www.dnbiology.com
Our Mission Statement
To be an industry leader providing first class service to buyers and clients by meeting their needs and exceeding their expectations through honesty and reliability, resulting in long lasting sustainable relationships.
The factory: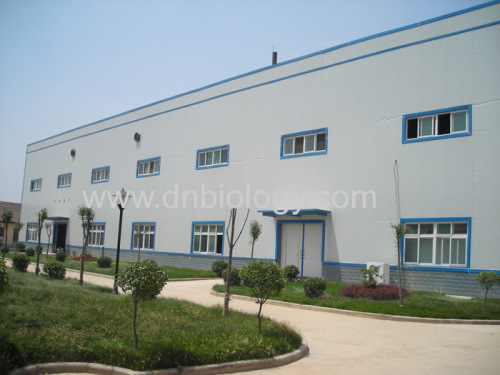 The interal figure of factory :