Mangosteen Extract
Botanical Source: Garcinia mangostana L.
Used Part: Fruit
Specification: 4:1, 10:1, 20:1
Appearance: Brown Powder
Test Method: UV
Bulk density: 0.35-0.75g/mL
Moisture:<5%
Ash:<5%
Description:
Mangosteen (Garcinia mangostana Linn.) is a tropical evergreen fruit tree of the family Guttiferae, with deep reddish purple fruit, cultivated in Southeast Asian countries. In Thailand, the fruit of this plant is very popular and has been known as the "Queen of fruits".
Mangosteen rind was found to have strong antioxidant properties, due to the high content of Xanthones. Of the 200 known xanthones, nearly 50 are found in the "Queen of Fruits". α-, β-, γ-mangostin are the major components, the most abundant of which is α-mangosti.
Function:
1. Histamine receptor antagonist and 5-hydroxytryptamine receptor antagonist.
2. Inhibit of COX and sphingomyelinase.
3. Process similar function of estrogen, anti-oxidation.
4. Anti-bacterial, anti-malarial, anti-AIDS.
5. Treat breast cancer.
Application:
Food additives, Pharmaceuticals, Cosmetics
Packing&Storage:
Package:Double plastic bag inside, aluminum foil bag or fiber drum outside.
Delivery Detail:Within one week
Storage: Stored in a clean, cool, dry area; keep away from strong, direct light.
Shelf Life:Two years when properly stored.
Supply Ability:
a. Production capacity: 1000kg/month, large stock available;
b. Supplying conventional and customized plant extract products
Producing Process:
Plant==>Raw Material==>Extraction==>Filtration==>Cool Down==>Spray Dry(much methods to dry) Into Power==>Sifter Powder==>Packing
Advantages:
1. Small order is acceptable
2. Free sample for you
3. Have self-export rights
4. Have right to do commodity inspection
Certifications:

About DN biology
DN biology is specilized in supplying full lines of herb extract products and natural nutritional ingredients. Our products are widely used in food, dietary, beverage, pharmaceutical and Nutritional additives.
Our factory is located in Yongshou Town of Xi'an , China. With the 4 lines of stainless-steel refined equipment, we are able to deal with botanical raw materials about 1500ton a year, allowing us to deliver both distinctive products and professional service at the most competitive price.
Our Commitment
At DN biology, we strive to exemplify professionalism and leadership in the herb extract and natural botanical ingredients industry by exceeding the expectations of the people we serve. This is achieved through diligent attention to detail and strict adherence to deadlines.
For a closer look, please visit our website: www.dnbiology.com
Our Mission Statement
To be an industry leader providing first class service to buyers and clients by meeting their needs and exceeding their expectations through honesty and reliability, resulting in long lasting sustainable relationships.
The factory: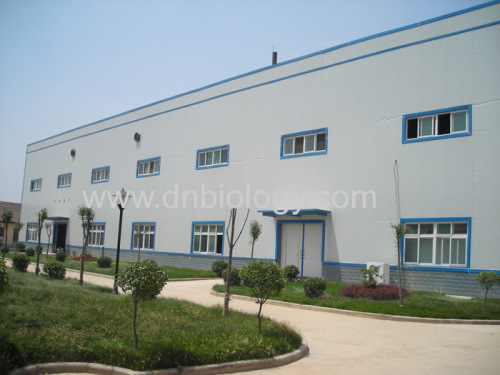 The interal figure of factory :