THT RESOURCE, JUST FOCUS ON THE FIELD OF MUSICAL MOVEMENT,
- LARGE CLOCKWORK MUSIC BOX MOVEMENTS,LUXURY 30 NOTE,
- 30 note Deluxe type, polishing appearance and plant-teeth pinned drum muisc box movement
- Applications to luxury wooden music box .
- Many tunes for selction,and also can custom your own songs
- Safety Packing For ship,
One set music box movement, one special packing ,following for reference,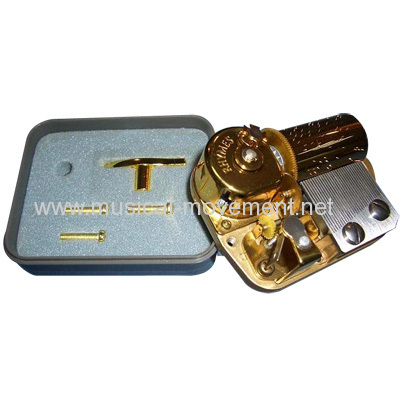 CUSTOM YOUR OWN TUNES,
1)Send us the music file(staff or mp3 , midi file is the best formate), 20 to 30 seconds music for this Luxury 30 note model .
2)Cofirming and developing according to your file
3)Send you a new midi file for your confirmation within 2b week(We may make some change as the characteristc of mecanism)
4)If confirmed,finish develoing. If not,discuss and continue to adjust
5)If ok finally,place your order
6)Developing Cost,about 240usd
SIMILAR TYPES,
- 30 Note large luxury music box movement top-winding
- 30 Note big deluxe music box movement with rotating shaft on top(also can be as the winding shaft)
OUR DELUXE MECHANICAL MUSIC BOX MOVEMENTS ADVANTAGE,
1)Beautiful sound: We use special alloy for main parts, have proprietary technique on the core part Comb,and the mechanism smooth running on the correct tempo
2)Safer,Environment metrial for Polyresin water globe and musical movement.
3)More than 20 years improvement,Very stable quality and long service life,Low defect
4)More than 100 tunes for selection ,also be customized.
5)Stong production capacity,Deliver on time.