Usage:
Inflate vehicle, SUV,RV' tire, sport ball, motorcycle tire etc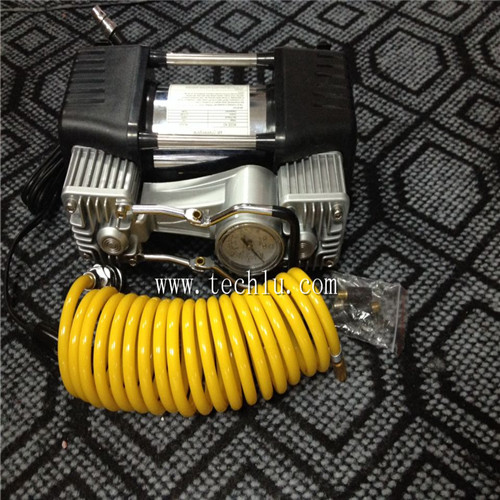 DESCRIPTION:
1 Portable and lightweight
2 Thermally protected
3 Low noise
4 Auto stop
5 proper design for installing hose and cord
6 ideal for inflating vehicle tires and other high pressure inflatable
7.Easy to use and carry
8.Long life to use
9.Adapters for inflating sports balls, toys, and other recreational need
10.Ideal for inflating all vehicle tires and other high-pressure inflatables
11.It is good for the emergency needs when you are on highway and country side road rushing for office in the morning while the tire is at a low pressure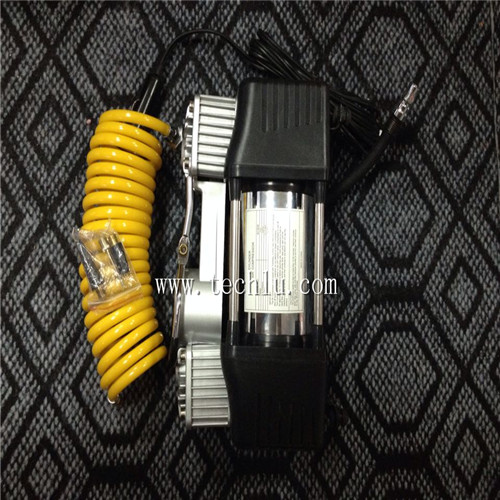 | | |
| --- | --- |
| Certificate | ISO9001, CE, GS |
| Displacement | 70L/Min |
| Duration | 12-15Min |
| Maximum Air Flow | 85 litres per minute |
| Maximum Ambient Temp. | 60℃ |
| Maximum Working Pressure | 105 PSI |
| Maximum Amperage Draw | 30A |
| Maximum Restatr Pressure | 200 PSI |
| Maximum Voltage | 13.8volt |
| Maximum duty cycle time | 40 mins/40 psi (24℃) |
| Minimum Ambient Temp. | -55℃ |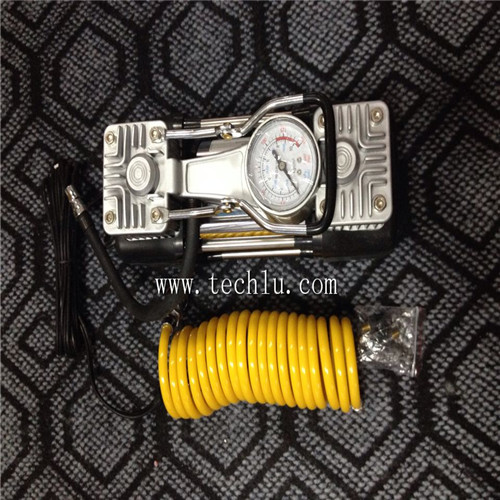 OUTSTANDING PERFORMANCE THAT PUTS IT TOP OF ITS CLASS
1.A class beating 85 litres per minute output.
2.Get back on the road with faster inflation times.
3.All the features you want in a high quality portable air compressor.
4.The most powerful portable Air Compressor in its class, with a huge 50 Ipm@ 30 psi.
5.Will easily pump a 10R.15 off-road tyre from 15 psi to 32 psi in 1 minute and then comfortably continue to do so for five of your mate's vehicles as well, before there is a chance of the thermal shut down switch kicking in.
6.Unit can be permanetly mounted and hard wired if desired.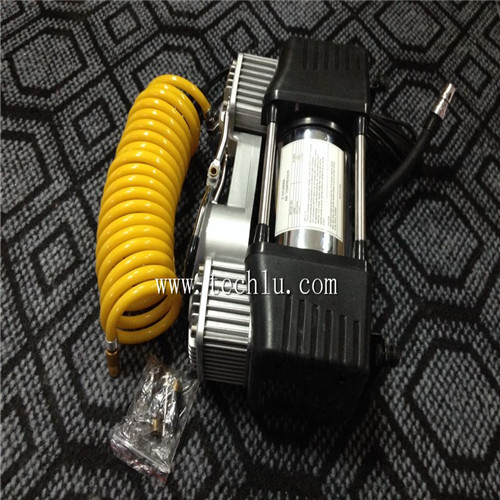 IMPORTANT:
This Air Compressor is equipped with THERMAL OVERLOAD PROTECTOR. If unit should shut off automatically during operation, do not attempt to restart Compressor. Turn Compressor ON/OFF switch to tse OFF position. Allow Compressor to cool off for approximately 15 minutes before resuming use. Each successive so that no more than 15-20 minutes, machine cylinder fever, stop using, wait until the machine cylinder is not hot, and then continue to use. Minors can not use this product.