SALENT 1 1/4" (32mm) High Temp Reinforced 90 Degree Elbow Coupler Silicone Hoses
SALENT 90 Degree Elbow Silicone Hoses are used by professionals in industries such as high performance racing vehicles, commercial truck and bus, Marine, agricultural and off highway vehicles, urbo diesel, food and beverage, and general manufacturing industries.
SALENT 90 Degree silicone elbow coupling hoses are available in both standard inches and hard-to-find Metric sizes. In order to meet the high demand and shorten the turnaround time, up to 90% of SALENT 90 Degree elbow coupling silicone hoses are instock and ready to ship or pickup from SALENT store.
Features
SALENT High Temp 90 Degree Elbow silicone hoses are made of 4-ply reinforced and knitted premium polyester fabric with high temperature silicone rubber, engineered for extreme temperature and various pressure ranges where high performance levels are required.
Technical Specification
Temperature Range:-50℃ to 220℃
Reinforced Layer: 4-ply
Color: Blue/Black/Red/Purple
Remark
Silicone hose is NOT compatible with fuel or oil.
Silicone hose is compatible with water or anti-freeze such as coolant.
SALENT 1 1/4" (32mm) High Temp Reinforced 90 Degree Elbow Coupler Silicone Hoses

Black/Blue/Red/Purple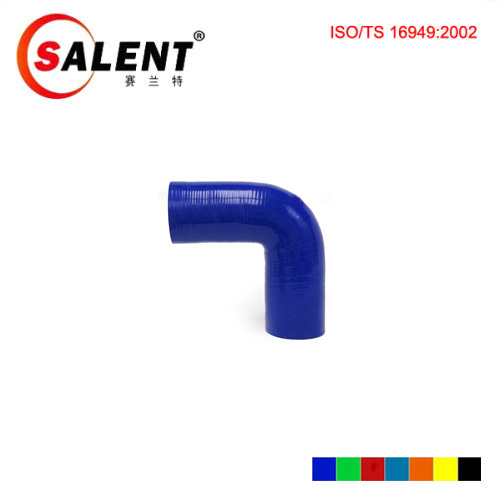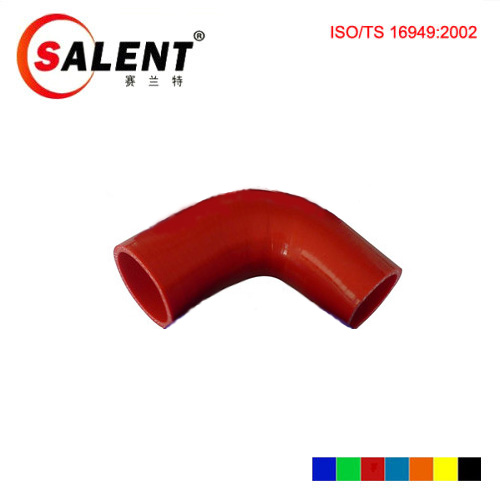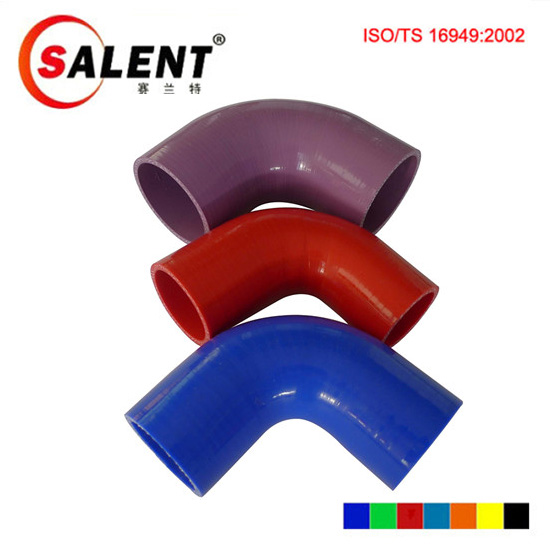 Hose Inside Diameter

Leg length

on Each Side

Reinforced

Layer

Thickness

1/4" (6.5mm)

2 1/2"

4-Ply

5.0mm

5/16" (8mm)

2 1/2"

4-Ply

5.0mm

3/8" (9.5mm)

2 1/2"

4-Ply

5.0mm

7/16" (11mm)

2 1/2"

4-Ply

5.0mm

1/2" (13mm)

4"

4-Ply

5.0mm

5/8" (16mm)

4"

4-Ply

5.0mm

3/4" (19mm)

4"

4-Ply

5.0mm

7/8" (22mm)

4"

4-Ply

5.0mm

1" (25mm)

4"

4-Ply

5.0mm

1 1/8" (28mm)

4"

4-Ply

5.0mm

1 3/16" (30mm)

4"

4-Ply

5.0mm

1 1/4" (32mm)

4"

4-Ply

5.0mm

1 3/8" (35mm)

4"

4-Ply

5.0mm

1 1/2" (38mm)

4"

4-Ply

5.0mm

1 5/8" (41mm)

4"

4-Ply

5.0mm

1 3/4" (45mm)

4"

4-Ply

5.0mm

1 7/8" (48mm)

4"

4-Ply

5.0mm

2" (51mm)

4"

4-Ply

5.0mm

2 1/8" (54mm)

4"

4-Ply

5.0mm

2 1/4" (57mm)

4"

4-Ply

5.0mm

2 3/8" (60mm)

4"

4-Ply

5.0mm

2 1/2" (63mm)

4"

4-Ply

5.0mm

2 9/16" (65mm)

4"

4-Ply

5.0mm

2 11/16" (68mm)

4"

4-Ply

5.0mm

2 3/4" (70mm)

4"

4-Ply

5.0mm

3" (76mm)

4"

4-Ply

5.0mm

3 1/8" (80mm)

4"

4-Ply

5.0mm

3 1/4" (83mm)

4"

4-Ply

5.0mm

3 1/2" (89mm)

4"

4-Ply

5.0mm

3 3/4" (95mm)

4"

4-Ply

5.0mm

4" (102mm)

4"

4-Ply

5.0mm

4 1/2" (114mm)

4"

4-Ply

5.0mm

5" (127mm)

4"

4-Ply

5.0mm