Metal Wire Clip Metal Stamped Process
Material: stainless steel, spring steel, copper, brass, bronze, aluminum, iron, alloy, zinc etc.
Surface finish: plating, painting, anodizing, phosphating, etc.
Plating technology: continuous plating, partial plating, and spot plating, ect.
Plating material: nickel, tin, copper, zinc, silver, gold, etc.
Process: bending, welding, casting, tapping, drawing, punching, flanging etc.
Custom force, tensile, corrosion resistant.
| | |
| --- | --- |
| MOQ | 1000PCS |
| Packing details | Pack in polybag, tray, plastic case, tape |
| Payment term | T/T , westunion, cash etc |
| Mould/Sample time | 10-20 work days |
| Lead time | 8-15 work days |
Property
Based on customer requests, our precision metal stamping parts have accordingly property. Such as high precision, good conductivity, heat dissipation, resilience, fatigue.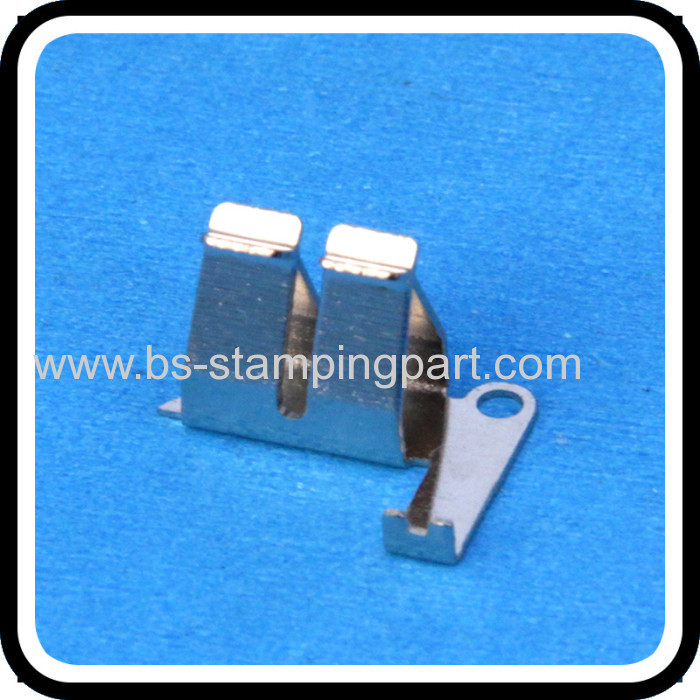 Metal fabrication is the building of metal structures by cutting, bending, and assembling processes:
Cutting is done by sawing, shearing, or chiseling (all with manual and poweredvariants); torching with hand-held torches (such as oxy-fuel torches or plasma torches); and via numerical control (CNC) cutters (using a laser, mill bits, torch, or water jet).
Bending is done by hammering (manual or powered) or via press brakes and similar tools. Modern metal fabricators utilize press brakes to either coin or air-bend metal sheet into form. CNC-controlled backgauges utilize hard stops to position cut parts in order to place bend lines in the correct position. Off-line programing software now makes programing the CNC-controlled press brakes seamless and very efficient.
Assembling (joining of the pieces) is done by welding, binding with adhesives, riveting, threaded fasteners, or even yet more bending in the form of a crimped seam. Structural steel and sheet metal are the usual starting materials for fabrication, along with the welding wire, flux, and fasteners that will join the cut pieces. As with other manufacturing processes, both human labor and automationare commonly used. The product resulting from fabrication may be called a fabrication. Shops that specialize in this type of metal work are called fab shops. The end products of other common types of metalworking, such as machining, metal stamping, forging, and casting, may be similar in shape and function, but those processes are not classified as fabrication.
Our service
Strict quality control
With ISO9001:2008 quality management system and advanced quality testing devices. We strictly control the quality although the producing process.
We have gained us more reliability from our customers with high quality control.
Reasonable price
With high producing efficiency and strict management,
we can offer the best prices for our products like terminals, rivets, flanges, washers, brackets and other hardware accessory
Timely respond for urgent requirement
Our plenteous material stock and prompt process can meet your urgent requirements. We can arrange the urgent order any time
Quick delivery
We keep close relationship with FedEx, DHL, UPS, TNT and other express companies for quick delivery
Passed ISO90001, using eco friendly material, meeting RoHS.
1. Incoming material will be checked carefully before production.
2. Strict processing quality control
3. 100% inspection before shipment.