1.Product Name
Hot selling barbecue tool set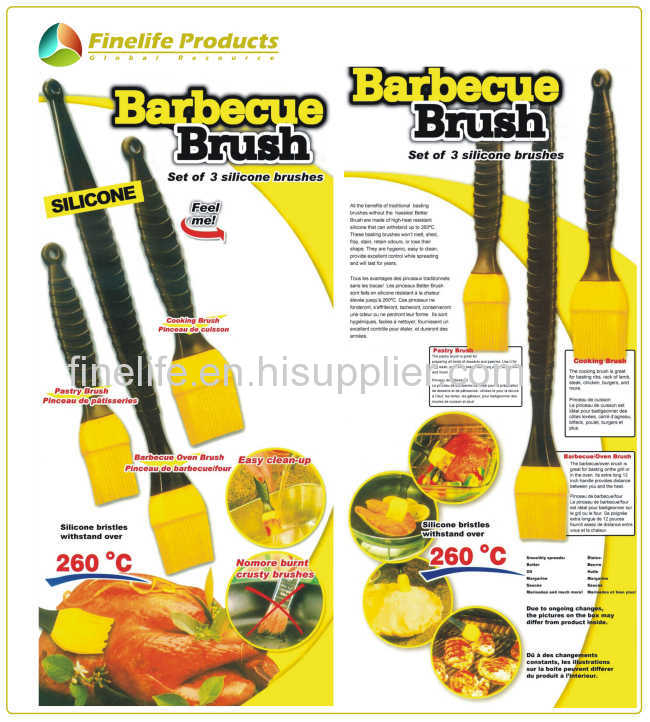 2.Product Packing
1)Product size:35.5/20.5/17.5cm
2)mateiral: PP handle + silicone
3)silicone bristles with stand temperatures up to 260c
4)silicone brush will not retain odours,durable,melts,lose their shape,stran or shed
5)easily spead butter,oil marinades and more.

3.Product Description


Features:

1.100% food grade silicone with FDA & LFGB approved
2. Different colors, sizes & styles are available
3. Safe for dishware,microware, oven, freezer, easy to clean and remove
4. No abnormal odour or staining
5. Eco-Friendly, Softness, Non-stick finish
6. Flexible, lightweight and portable, easy to store and transport
7. Durable, long-standing, long life time
8. Hardness: according to customer's request
9. Reasonable price, high quality
Useful Tips:
1.Don't impact violently or scratch with sharp instruments!
2.Be sure to wash it using dishwashing detergent and wipe off the water when using it for the first time.
3.Do not use it on open flame, and do not expose to open flame or heat. It may become deformed or discolored. In addition, be sure to use it below the allowable temperature limit.
4.After using it with oil or fat, immediately wash it with dishwashing detergent. It may become discolored.Avoid using scouring powder or deodorizers..
5.After use, wash thoroughly with a sponge, etc., using detergent and wipe it off before storage.
6.Use only for intended purpose.
4.Product Image