1.Product name:Store n spin 49 piece food container/Spin store plastic container set/smart spin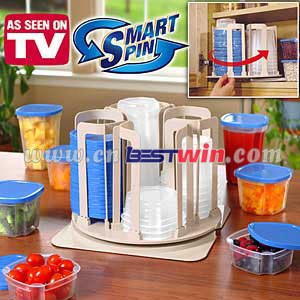 2.Product description:
Is your plastic container drawer getting out of hand? Can't find a lid when you need one?Tired of using those non-see through recyclables? Spin N Store Storage Systems not only organize three sizes of plastic storage containers in a spinning carousel, but also ensure you're not wasting time looking for a matching lid – their lids fit all the sizes!Spin N Store Storage System conveniently holds all your storage needs, right at your fingertips. It's unique patented design slides forward, then spins like a carousel, for easy selection. You could even find a container with a blindfold on.Spin N Store Storage System holds an enormous amount of food, yet takes up about the space of a coffee maker. Order your very own Spin N Store System today. These units will easily fit in a cupboard or in a kitchen drawer.They hold 8 – 24 oz, 8 – 16 oz, and 8 – 8 oz containers, with 24 lids that fit them all. What a convenience. These are more economical than buying the equivalent amount of containers, in small packages of other brands, and they would also make a great gift idea or wedding shower prize.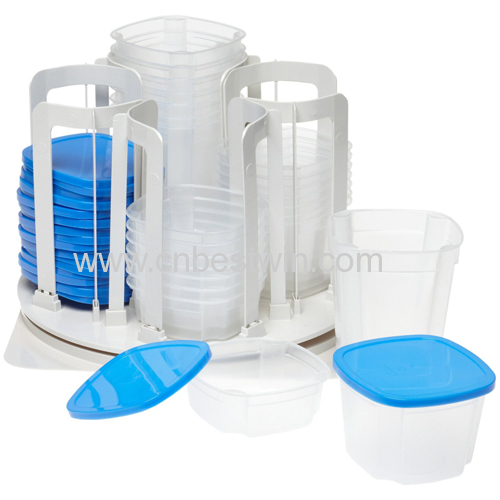 Store n spin 49 piece food container features:
Clear containers make it easy to see what each one holds.
Each container features measuring marks on the side
Great for office, garage, or refrigerator
Same size locking lids make it easy make it easy to find the right size lids every time.
Safe for the dishwasher
Spin around carousel holder keeps your containers organizer and ready-to-use.