1. Product name: Derma Seta Spa Skincare manufacturer Handheld Derma Seta hair removal system
Model No.: BW-50038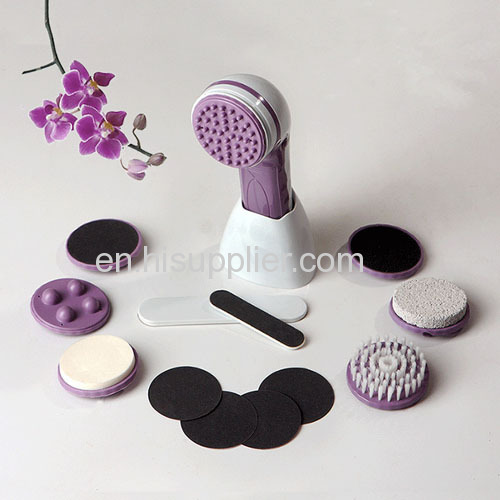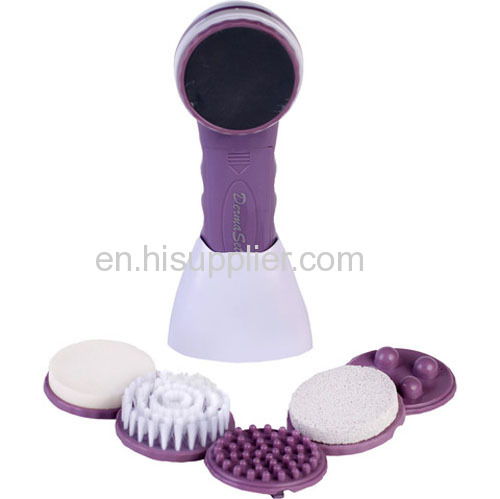 2. Product Features:
· Painlessly removes hair with derma crystal pads.
· Exfoliates dry skin.
· Compact size lets you bring the Derma Seta anywhere
· 9 great attachments for a full body spa treatment.
· Great for men too! Remove unwanted hair on arms, backs, legs, and more
3. Includes:
· Derma Seta unit
· Derma Crystal Hair Removal Pad.
· Foot Smoother.
· Pumice Stone.
· Macro & Micro Massage Modules.
· Body Buffer.
· Facial and Bikini Line Hair Removal.
· Deep Cleanser Brush.
· Requires 6 x AA batteries (not included).
Derma Crystal Hair Removal Pad - The derma crystal Hair Removal pad contains the Derma Seta crystals that painlessly bump hair out of the follicle leaving your skin smooth and silky to the touch.
Foot Smoother - The Foot Smoother attachment for your Derma Seta works to help smooth out ugly and unattractive
calluses on your feet to leave your feet looking like you spent a fortune on an expensive pedicure.
Pumice Stone - The Derma Seta pumice stone is a great attachment to help give your feet a smooth and beautiful look. Facial Line Hair Remover
Bikini Line Hair Remover - The Facial and Bikini Line hair removal attachments help to gently and painlessly remove unwanted hair from your face and your bikini line without expensive, painful and embarrassing trips to the spa or salon.
Deep Cleanser Brush - Deep Cleanser brush gently and effectively helps to open pores and deep clean your face to keep your skin oking and feeling amazing. Macro Massage Module
Micro Massage Module - Our massaging heads and massaging attachments help to turn your Derma Seta into your best friend. Not only do they help to smooth out your legs and hips, but they also help to leave you feeling calm, refreshed and relaxed like you had just had a nice long professional massage. Body Buffer :Our Body Buffer attachment helps you finish off your skin spa treatment and buffer your skin so that you walk away looking and feeling fresh, clean and vibrant.