1.Product Name
Bag filling racks stay open bag holder kitchen tools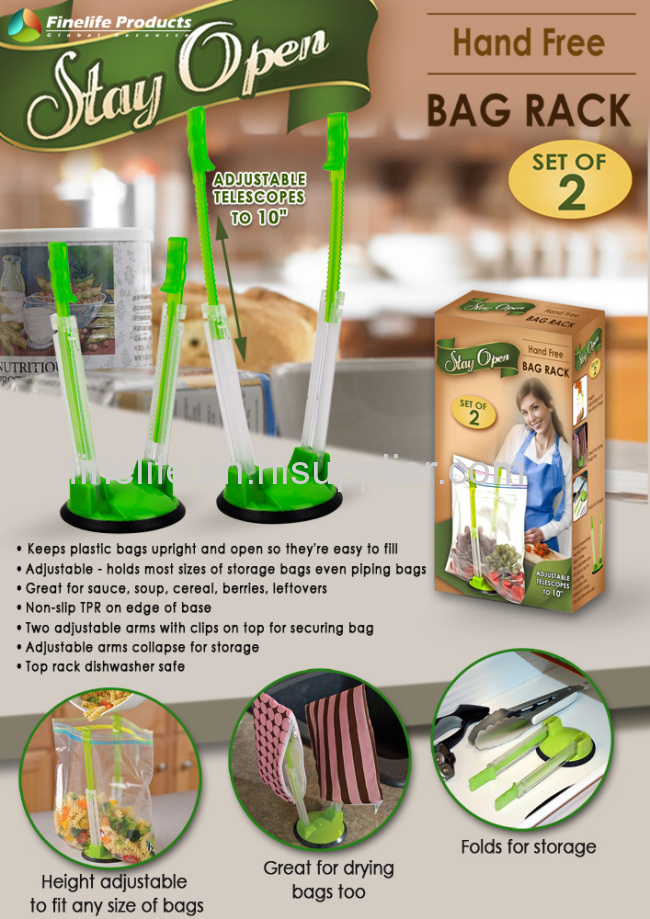 2.Product Description

baggy rack
1.unfold baggy rack arm up from flat position.
2.insert food storage bag under clips on arms.Adjust height of arms,if needed,so that storage bag rests on base of baggy rack.
3.fill storage ba ,carefully remove bag from clips and seal tightly.
4.To use as a baggy washer follow instructions 1-2 ,invert baggy rack and place into rack of dishwasher.
5.To use as a baggy dryer,oper arms and place one bag upside down on each arm,place in sink or on dish mat to air dry.
6.top rack dishwasher safe,Folds flat for easy drawer storge.
Adjustable device is like having an extra set of hands—holds your plastic baggie open for easy filling!
The Baggy Rack also doubles as a baggie dryer.
Folds flat for storage.
Hand wash.
About 3 1/2" diameter

Hands Free Bag Opener securely holds open a wide variety of household storage bags so you can easily fill, pour or place food, snacks, candy and more into a bag without worrying about making a mess or having to juggle multiple talks at once. Suction base keeps holder in place on a table or countertop. Features adjustable arms designed to accommodate taller bags. Plastic.

More often than not, you will make a bit of a mess when trying to get liquids and sloppy foods into plastic storage bags.
To expedite this process, Jokari has made the Baggy Rack Pro to hold your bags open while you pour.
Convenient and hands free, the rack's arms clip around the mouth of the bag, and adjust to accommodate plastic bags of most sizes.
The Pro version improves on the original Baggy Rack by including a suction cup bottom and locking mechanism for clips.
When not in use, the rack folds flat for quick and easy storage, and doubles as a drying rack for plastic bags after they have been washed.
Hold open storage bags while you pour - hands free operation

Adjustable for most sizes of storage bags

Bags fasten under clips to hold open for filling

Locking suction cup base and baggy clips

Adjustable arms hold various bag heights and sizes

It's like having an extra set of hands.

Measures: 9.5" x 3.5"

Folds flat for easy storage

3.Product Image