feng shui car crystal ornaments--chinese dragon-Pixiu
Material: Colored glaze (Liuli in Chinese, crystal in overseas market)

2. Producing method: Pate de verre

3. Preparing time: About 15 days

4. Color: Multi-color as the pictures


5. Size: 7cm*7cm*1.4cm/gift box
6.feng shui hanging crystals

7. Note: Each item is UNIQUE. Please note due to the making process, the color layering and movement of the actual work WON'T be exactly the same as shown on the picture.

Colored glaze, Regarded as the first among the "Top Five Wares" of China, and one of the "Seven Treasures" of Buddhism.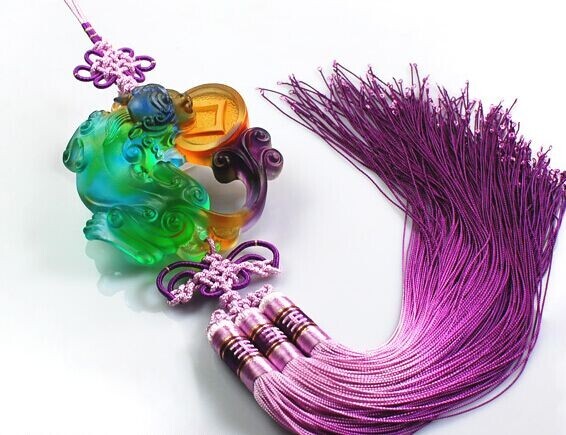 Information:

1. About our company's products

You`ll see some of the products in our company are ethnically characterized by fashion, trendy, dignity & beauty. They are: Antique fashion earrings, colored glaze (crystal called in overseas markets) products, fashion necklaces, fashion bracelets or chains, special finger rings and so on.

You can bid any item in our company with confidence, because:

1) Every item is handmade and different from the other. Every one is specially showing fashion and personality.

2) They are very select, every one has very good handwork, so we think you`ll never miss!

3) Every item will be checked carefully before shipment by QC people.

4) Big discount for big order, so please feel free to contact me for any detail.



2. About our company's goal

1) We`d like to introduce something special to worldwide though they don`t possess famous fame just now. We believe something ethnic is something worldwide.

2) We`d like to bring beauty and surprise to you to decorate your beautiful life.

3) We're doing trustworthy business and we guarantee every item has top quality.

4) We will keep effective and timely comunication with you via Email.



3. Contact us

If you feel we may have any help for you, please feel free to contact us. Thank you very much!
Colored Glaze Knowledge
In old days of China, glassware is generally called colored glaze. Its a kind of material that could be dated back from 3000 years ago, which was only used by regius people. Colored glaze is regarded as one of the most famous ware of China, as well as the treasure of Buddhism.
Nowadays, we take colored glaze as an auspicious material that would bring good luck, for both health and wealth.
Colored glaze can be defined as lot of crystal glass. It presents color when rare metal is melted under high temperature. It is reflected well under light, brilliant and but pure, with the intensity of colors and the myriad subtle shades. When passion or connotation is brought into every product, it comes a life with its singularity.
Colored Glaze Maintenance
1.Do not collide or scrape to avoid surface scar.
2.Keep in ordinary temperature. Do not keep under humid or high temperature. Do not heat or cool without professional instruction.
3.If put on smootThe world is full of riches and honour, with everything going well.
Justice calls in good portend; kindness brings bright future.
Good luck companies all wishes coming true!h surface, mat or cushion should be placed.
4.Polish by pure water. Keep colored glaze surface shinny and clean.
5.Avoids with contact of sulfur gas, chlorine to avoid chemical change.