1. Product name : Football shape popcorn maker
Item No.: LK-90040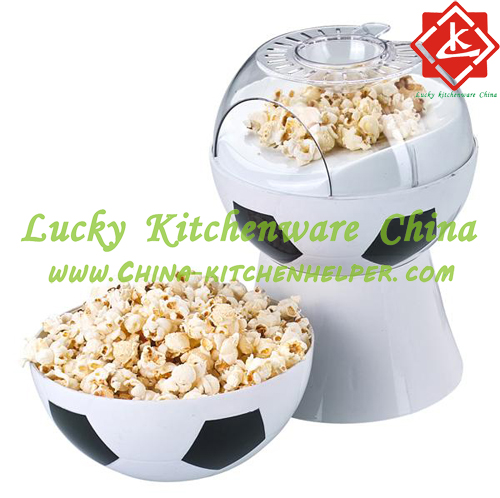 2. Description:
230V50Hz1200W
1)Popping (insider): aluminum. Base housing: PP.Measuring cup and inner cover: PC.
2)Runs for 3 to 3.5 minutes per cycle and a maximum of 3 consecutive cycles.
3)It can be used for events or fun times with family or friends indoors or outdoors.
4)It's easy to clean, maintain, with adetachable, dishwasher proof bowl.
5)Best of all it's simple to use, and comes complete with a fool proof user guide, and instructions foruse.
6)Using hot-air instead of oil means that it's a much healthier option than popcorn makers that require oil.
7)Once popped you can add salt, sugar,or chili flavoring to your popcorn for more adventurous tastes!
8)There is a built in butter tray which sits over the popcorn.
Item

Football shape popcorn maker

Item size

20x20x29.4cm

Capacity

0.27L

Material

ABS/PC/PP

Power

1200W,230V~50HZ

Normal packing standard

6PCS/CTN

Carton Size:65x42x30.5cm

3000PCS/20'

5020PCS/40'

7284PCS/40'HQ