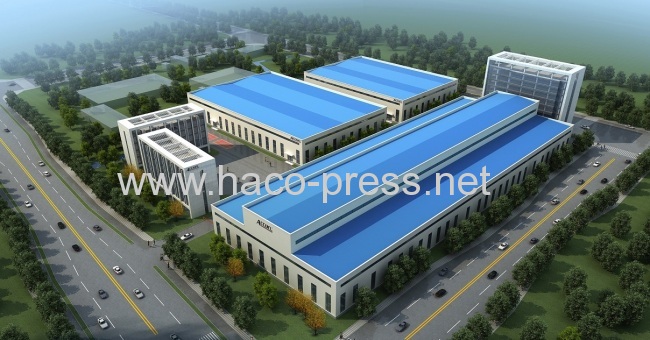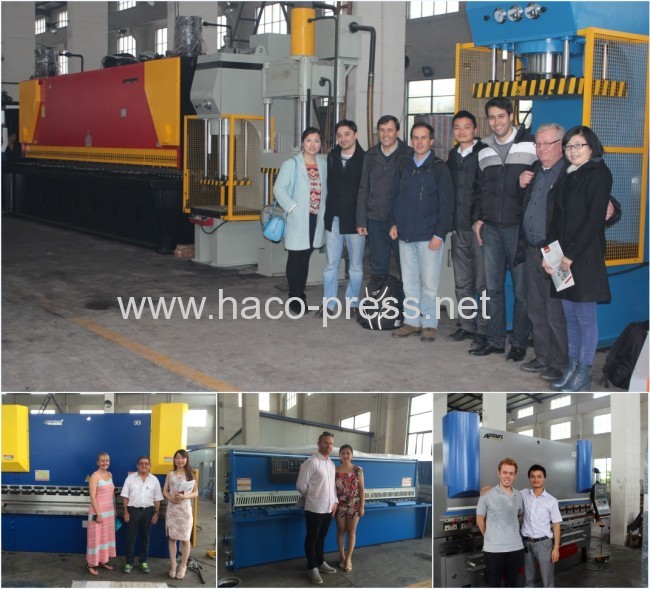 ■ Hydraulic Press Machine Structural Feature::
1.HBP Series 4- Column Hydraulic press is applicable for metal sheet stretching and pulling, stretching, punching, bending. It is also used for pulling, stretching and pressing large-scale products. Presses offer fast, easy, and safe setup and operation as well as years of trouble-free service.
2. 4- Column Steel-welded frame, high rigidity and less deformation Compact,wide body frame eliminating vibration for improved ide life and machine.
3.Fully enclosed drive, easily accessible for maintenance, eliminates, exposed over hanging parts,slide and bolster tables with T-slots.
4. Highly advanced, rigidly supported gears, operate in oil bath without any noise saves space, reduces, shaft deflection, increases gear life.
5. The entire equipment be totally security (according to EN292:1994, EN60204:1994 and NR12) and defined as Level 4 of safety.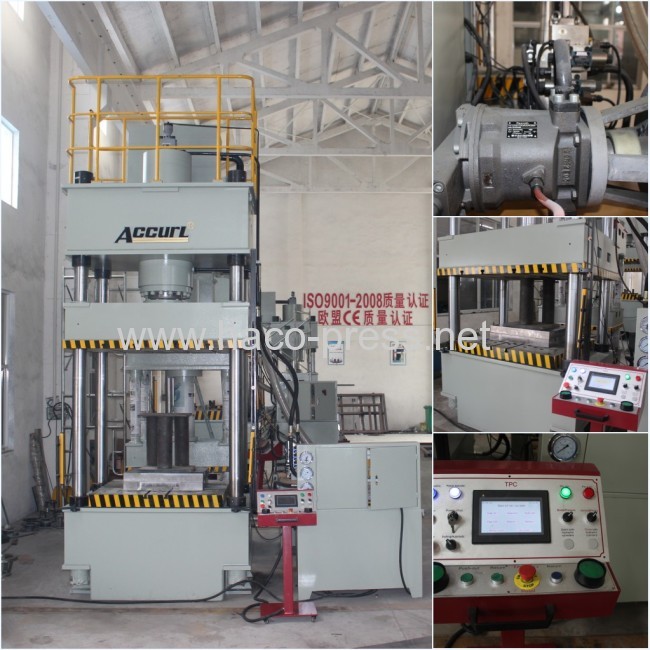 ■Hydraulic Press Features :
1.Uses a variable flow piston pump - offers high pressure resistance, high velocity, durability and low noise.
2. Main cylinder is specially designed for high velocity, motor uses less power, high ascending and descending speed, increased efficiency.
3. The press adopts hexahedral rectangle lengthen gib, which has high guiding precision and steady precision.
4.Hydraulic pipe system uses integrated circuits - manifold block fits inside the press to reduce piping and oil leaks, easy to maintain, simple and safe. Hydraulic system is from Bosch,Germany.
5. Piston has been heat treated and precision ground finished, uses high quality, imported oil seals & packing; high wear resistance and durability.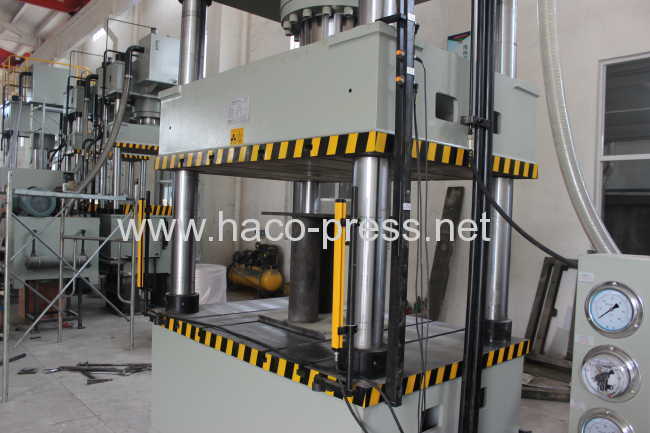 6. Machine is with both hands button and foot switch to achieve continuous, single and inching practices.
7. Overload overflow protection is outfitted to hydraulic system,which can assure no leakage,and the oil level can be read or seen directly.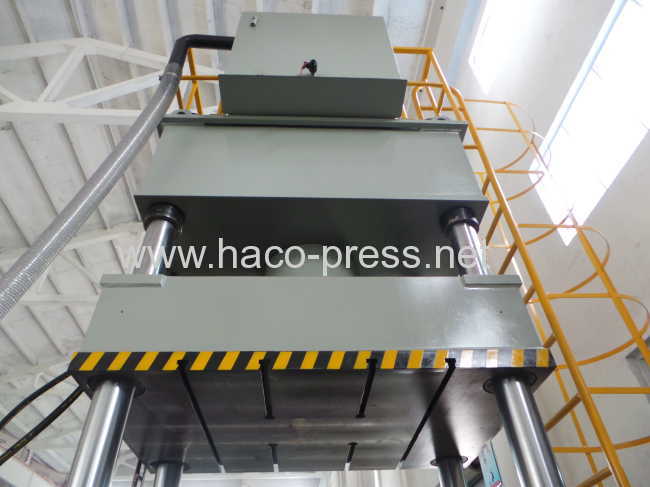 8.All pipes, flange and joint with vibrations proof and leakage proof design and setting .
9.Machining is carried out on modern Pentahedron machining center and CNC boring & milling machine to guarantee maximum precision.
■ Hydraulic System Features :
1.Adopt integrated hydraulic control system, more reliable and easy for maintenance.Hydraulic system is from Bosch – Rexroth,Germany.
2. All seals in cylinder is PARKER from USA,the most famous brand,good quality and high performance
3. Overload overflow protection is outfitted to hydraulic system,which can assure no leakage,and the oil level can be read or seen directly.
4. The hydraulic system is made in compliance with current regulations (Directive 98/37 EC).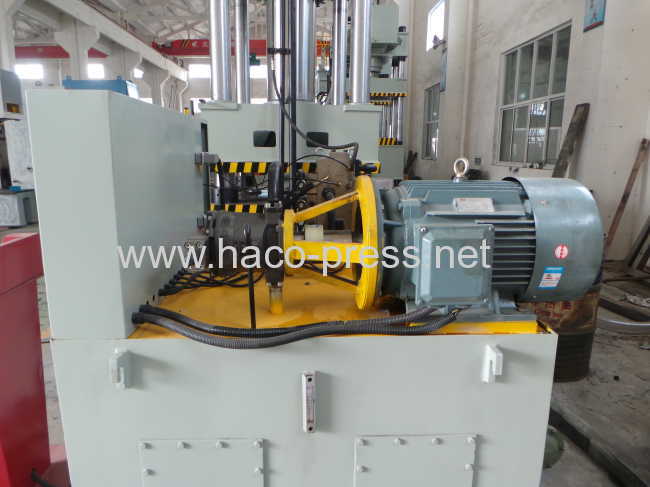 ■Hydraulic Press Electrical system and the safety interlock:
1.Electrical components are imported or from Sino-foreign joint Venture,in accordance with international standards,reliable safety,long life,good anti-interference ability,a radiation unit is fitted in electrical cabinet.
2.Protective fence and the safety interlock to ensure the operation safety. Have a movable single-hand pedal switch,easy to operate.
3.The machine by the European Union CE certification and ISO quality system certification.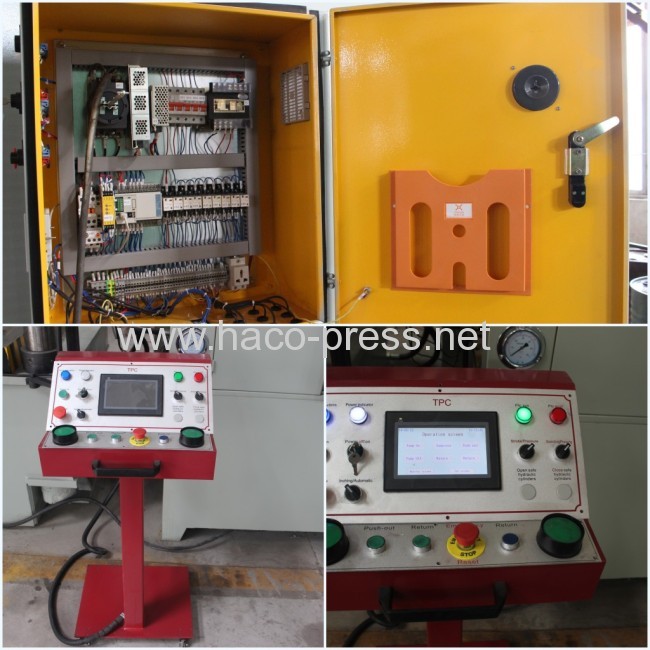 ■ Hydraulic Press Details of the photo: