Product Name: wiper blade
Specifications: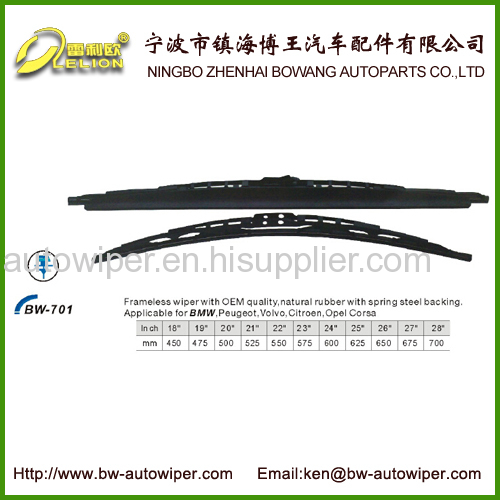 1, Speed of high way's wiper blades will not be air lifted to leaving the strip ,more
attached to the glass, the sound more lighter, more uniform force, without beating, shaven
cleaner, safer to and clear by air kinematics design..

2, The product is made of the wiper strip is the result of Terre Long technical processing,
in the middle there is partial shade wide anti-aging effects, wiper blades with no floating
steel skeleton structure, completely eliminate motion shaking, long life, light weight, thus
extending the life of the wiper motor and linkage.

3 ,wiper blades are very flexible, easy grit residue can protect and extend the usage of
the windshield, wiper stronger adhesion than the traditional, more clean brush.

4 ,Easy installation, no need to replace the wiper arm, just install it manually, without
the use of other tools.

5, different sizes for you to choose, suitable for different U-shaped hook interfaces cars.