Product Name: wiper blade
Specifications: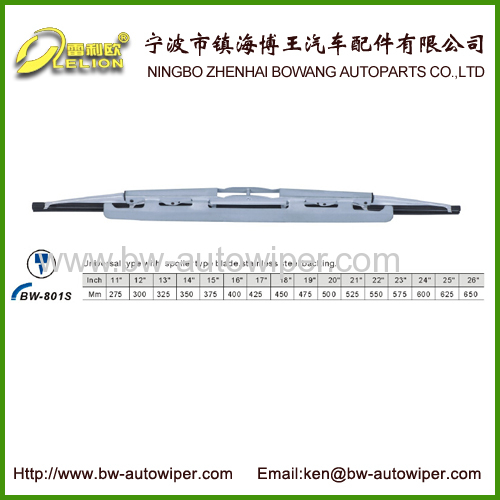 A. Structure:
•Contains more than 50% of natural rubber made by latest high performance rubber formula with special water repellent coating,which ensure no streaking, clearer visiblity and can work in different kind of climates worldwide.
•Rubber surface with graphite treatment resist ultraviolet radiation,heat,cold, and can prolong the life of the blade
•High carbon anti-rust steel frame are precisely tailored to the curvature of the windscreen for optimum effectiveness which provides maxximum safety vision.
•The latest aerodynamic stream guidance design, which can reduce the noise and wind movment and make wiping more stable when the car is in high speed.
B. Performance:
•Virtually streak-free visibility – in rain, sleet and snow
•Smooth, chatter-free wipe – as a result of the specially blended graphite coated rubber blade
•Enhanced flexibility and grip – from the durable, rubber-encased substructure
•Significant noise reduction and wind lift – through a built-in aerodynamic spoiler
•All weather tough – with a synthetic rubber squeegee that will withstand extreme weather conditions
•Prevents ice and snow build-up – through the elimination of exposed metal components
Applicable Car Models:
Japanese car models: TOYOTA / MAZDA /LEXUS/NISSAN/SUBARU/MITSUOKA/HONDA SUZUKI/ISUZU/MITSUBISHI/DAIHATUS/HINO
American car models: GM/BUICK/CHEVROLE/CADILLAC/FORD/LINCOLN/CHRYSLET /JEEP/MERURY/
DODGE
Europen car models: DACIA/SAAB/SKODA/VOLVO/SEAT/TRAMONTANA/SPYLCER/BUGATTI/CITROEN
PEUGEOT/RENAULT/ASTAN MARTIN/BENTLEY/ JAGUAR/ FENARI/FIAT