19'' 42U server rack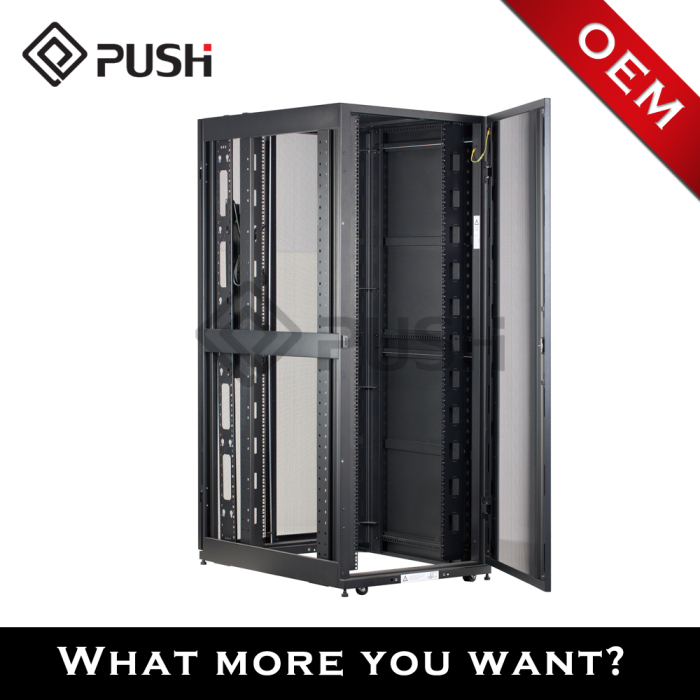 network cabinet-- Highligts
Reversible Front Door

Due to the unique front door lock, whether you'd like to open the door from left or right, you just need to reverse the front door instead of adjusting the direction of lock.

Ideal for High-Density Data Centers

Heavy-duty PSG-series server racks hold up to 1050 kg and support advanced cooling, cable management, power distribution and monitoring features that keep critical servers and network equipment operating nonstop. Perforated doors permit massive front-to-rear airflow that exceeds server manufacturer requirements. SSG-series server racks are fully compatible with hot-aisle / cold-aisle data center configurations. Airflow optimization accessories prevent air recirculation that compromises cooling efficiency

Wide Range of Models

About 20 popular sizes can be selected and can be used with almost all Safewell's rack acessories from cable management, cooling fan, PDU, etc.

Built for Your Convenience

With a design streamlined by years of customer feedback and IT best practices, PSG-series Server racks make your job easier. Enclosures ship fully assembled for rapid deployment and roll into place on heavy-duty casters. Toolless mounting slots allow quick installation of PDUs and vertical cable managers. Adjustable mounting rails include an easy-view depth index to eliminate time-consuming measurements. Lightweight modular doors and side panels provide safe, convenient service access. Integrated baying tabs facilitate combining enclosures in rows for standard data center baying applications.
network switch rack-- Features
A. Adjustable Mounting Rails

D.Split Rear Doors(Lockable/Removable)




Front and rear sets of vertical

rails adjust in quarter-inch

increments. Adjustment is

quick and convenient-simply

unscrew the rails, slide them

to the required depth and

refasten.




Split rear doors reduce

clearance requirements for

service access. The doors

are perforated for optimal airflow.

B.Top Cover

E.Side Panels(Lockable/Removable)




Spring-loaded pins allow

the top panel to be removed

and replaced in seconds.

Includes cable access channels




Side panels are removable and

lockable, improving ease of

installation and service. Standard

24U models include two side panels.

Standard 42U and 48U models

include four side panels.

C. Patented&Innovative Front Door Lock

F. Heavy -Duty Casters and Levelers (Removable)




The door is perforated for

optional airflow. The door

handle at two sides make

the door open from either

the left or the right side.

The perforation rate of the

front door can reach over 78%.




Casters support a rolling

load capacity of 1050kg,

allowing racks to be

pre-configured and rolled

to the final installation

location.
The component of PSG server rack



| | | | |
| --- | --- | --- | --- |
| S/N | Name | Quantity (24U) | Quantity (42U/48U) |
| 1 | Front vented door with single lock | 1 | 1 |
| 2 | Top cover | 1 | 1 |
| 3 | Split rear door | 2 | 2 |
| 4 | Door frame | 2 | 2 |
| 5 | Side panel | 2 | 4 |
| 6 | Horizontal beam | 4 | 6 |
| 7 | Cable management rail | 2 | 2 |
| 8 | Heavy duty caster(without brake) | 4 | 4 |
| 9 | Levelling feet | 4 | 4 |
| 10 | Vertical rail | 4 | 4 |
Main Dimension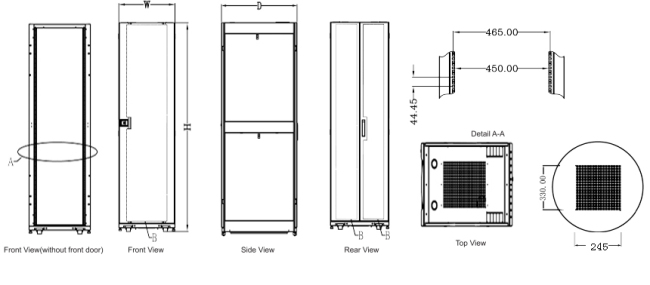 How to define our Model
Specifications of SSG series server racks
Type
Item No.
Dimension (W*D*Hmm)
N.W(KG)
Payload(KG)
PICTURE (product,package)
NAME
QTY
MATERIAL
FEATURES
PSG*600 Series
PSG6624
600*670*1191
79.2
1000
Top Cover
1
1.2mm cold rolled steel
1,Color:RAL9005(black)&RAL7035(Gray). 2, Curved Perforated front door allow the best air flow. 3, Strong metal frame for big payload requirement. 4,Beautiful shape design.
PSG6824
600*870*1191
84.3
1000
Side Panel
4
1.0mm cold rolled steel
PSG6124
600*1070*1191
89.5
1000
Front Door
1
1.5mm steel /curved perforated,long spring lock
PSG6627
600*670*1326
81.73
1000
Rear Door
2
1.2mm steel /double perforated ,long spring lock
PSG6827
600*870*1326
86.9
1000
Mounting Rail
4
2.0mm steel/U marks
PSG6127
600*1070*1326
92.5
1000
Cable manager rail
2
117mm wide,1.5mm ,height(with cabinet)
PSG6637
600*670*1770
94.9
1000
Horizental Beam
6
1.5mm steel
PSG6837
600*870*1770
101.05
1000
Main Frame
1
2.0mm steel
PSG6137
600*1070*1770
107.5
1000
Triangle Fixer
2
1.5mm steel
PSG6642
600*670*1992
114.8
1000
Castor
4
2'' castors without brake
PSG6842
600*870*1992
122.2
1000
M12 levelling Feet
4
M12 screw adjusting
PSG6142
600*1070*1992
125
1000
Bottom Plate
0
/
PSG61142
600*1170*1992
135.3
1000
Fan tray
0
/
PSG61242
600*1270*1992
146.1
1000
Cable manager
0
/
PSG6648
600*670*2259
132.5
1000
PDU
0
/
PSG6848
600*870*2259
141
1000
shelf
0
/
PSG6148
600*1070*2259
150
1000
PSG61148
600*1170*2259
162
1000
PSG61248
600*1270*2259
174.9
1000
PSG*800 Series
PSG8824
800*870*1191
97.9
1000
Top Cover
1
1.0mm cold rolled steel
1,Color:RAL9005(black)&RAL7035(Gray). 2, Curved Perforated front door allow the best air flow. 3, Strong metal frame for big payload requirement. 4,Beautiful shape design.
PSG8124
800*1070*1191
106.4
1000
Side Panel
4
1.0mm cold rolled steel
PSG8827
800*870*1325
109.9
1000
Front Door
1
1.5mm steel /curved perforated,long spring lock
PSG8127
800*1070*1325
119.5
1000
Rear Door
2
1.5mm steel /double perforated ,long spring lock
PSG8837
800*870*1770
125.1
1000
Mounting Rail
4
2.0mm steel/U marks
PSG8137
800*1070*1770
140.61
1000
Cable manager rail
2
1.5mm ,117mm wide
PSG8842
800*870*1992
153.69
1000
Horizental Beam
6
1.5mm steel
PSG8142
800*1070*1992
163.5
1000
Main Frame
1
2.0mm steel
PSG81142
800*1170*1992
179.85
1000
Triangle Fixer
2
1.5mm steel
PSG81242
800*1270*1992
197.8
1000
Castor
4
2'' castors without brake
PSG8848
800*870*2259
172.3
1000
M12 levelling Feet
4
M12 screw adjusting
PSG8148
800*1070*2259
183.2
1000
Bottom Plate
0
/
PSG81148
800*1170*2259
201.4
1000
Fan tray
0
/
PSG81248
800*1270*2259
221.5
1000
Cable manager
0
100mm wide,metal with plastic finger,
PDU
0
/
shelf
0
/
Note:
1.Package:Build-up (BU) or Knock-Down(KD)
2. Hardware:50sets cage nuts
Optional Accessories:
1. Shelves (see the shelf models in Accessories web page)
2. cable management
3.Cooling solution system
4.Air-flow Management
5.PDU
6.Bottom Panel
Knock -Down Packing
Production Capacity
Certificates/Patent of Products and production management