Cold Applied In-line Fiber Optic Splice Closure, Optical Fiber Joint Closure, Horizontal Fiber Splicing Enclosure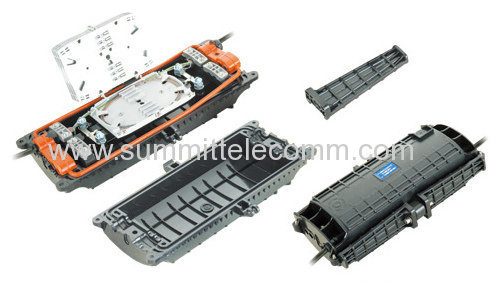 Item Code: GJS-FOSC101
Outside dimension (LxWxH)

390×210×120mm

Weight (excluding outside box)

1900g-2100g

Number of inlet/outlet ports

3 ports on each side

Diameter of fiber cable

Φ7—Φ16(mm)

Capacity of FOSC

Bunchy: 6—96(Cores)

Ribbon: max. 144 (Cores)
1. The casing of fiber optical splice closures is made of quality engineering plastics.
2. Good performance of resisting wild environment and intensive climate changes. The protection grade reaches IP66.
3. The Fiber Optic Splicing Enclosures are applicable to ribbon optical cables and common Fiber Optical Cables.
4. The splice trays inside are turn-able like booklets. Adequate curvature radius for fiber winding 40mm. Each optical cable and fiber can be operated individually.
5. The elastic rubber seal rings inside the Fiber Closure have good sealing and sweat-proof performance.
6. The casing can be opened repeatedly without air leakage. No special tools are required. The operation is easy and simple.
7. Applications of the Fiber Joint Closures: aerial, underground, wall-mounting, wall-mounting in duct and handhole.