2/2 twill weave selling well woven fusing interlining fabrics for suit
1. ITEM NO.: 8276
2. COMPOSITION: 100% POLYESTER
3. CONSTRUCTION: 2/2 TWILL WEAVE
4. WEIGHT: 58GSM
5. COLOR: WHITE / GREY / BLACK
6. COATING : DOUBLE DOT PA COATING , MESH: 17
7. FUSING CONDITION:
TEMPERATURE: 130~150 C
PRESSURE : 2-4 BAR
TIME: 10-15 S
8. PRODUCT CHARACTERISTIC:
a. soft and plump hand feeling, moderate elasticity in warp and weft direction, following the fabric to change, Helpful for the apparels' shape and style.
b. Garment washed at 40C
c. Lower and wider fusing range, better hand feeling after ironing
d. Used for jackets, coats and suits.
PRODUCT PICTURE: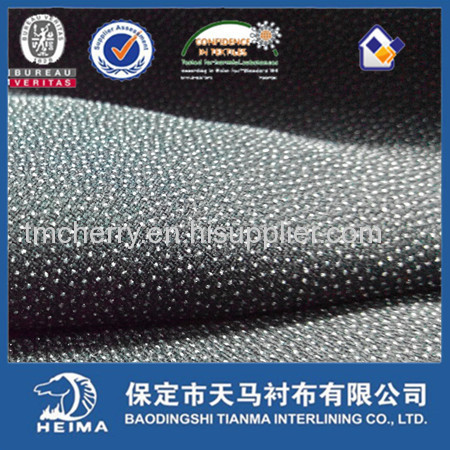 CERTIFICATION:
OEKO-TEX STANDARD 100 & ISO 9001