Magnetic Feature:
1)Strong magnetic force
2)High intrinsic coercive force
3)Wide application,high remanence
We could produce the Sintered NdFeB Segment magnets according to customers' request:
1) Material: SinteredNeodymium-Iron-Boron;
2)Temperature: the max operation temp is up to 200 degreecentigrade or 380 curie temperature;
3)Grade:N35-N52,33M-48M,33H-48H,30SH-45SH,30UH-38UH and30EH-35EH;
4) Shape:ring,block,disc,bar and so on;
5)Size: according to customers' request;
6) Coating: Ni, Zn, gold,copper, epoxyand so on
7) Good quality with competitive price and best delivery date.
8) Application: sensors,motors, rotors,wind turbines,wind generators, loudspeakers,magnetic holder, filters automobilesand so on.
9)Certificate: ISO9001:2008, SGS test report
10)Packaging Detail: High quality cartons or according to customers' requirements
11) Shipment Term: Usually bysea or by air or by express
We are specialized in producing NdFeB Magnetover many years,We guarantee the best price based on the same quality andservice. You are welcome to contact us for more information.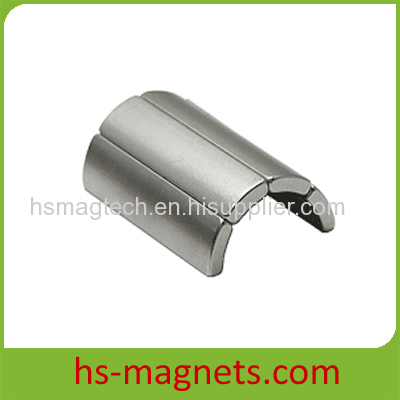 Standard Programme of Permanent Magnets
The standard programme of permanent magnets consists of sintered neodymium magnets (NdFeB), sintered samarium cobalt magnets (SmCo) and ferrite magnets (SrFe).
The magnets can be supplied under favourable terms.
For information on types, dimensions, quantities, prices etc. please contact us.
Please notice: When ordering standard magnets, an extra fee of 2,500.- we will be added to cover start-up costs for drawings, technical clarification and administration.
Terms of payment after agreement.